It's my opinion that a thorough skin care routine is make-or-break for how your skin looks, behaves, and ages. It affects every aspect of your skin, and can't be looked over in favour of occasional facials or 'miracle products'. A killer routine is the basis for awesome skin that gets compliments everywhere you go.
So I've crafted a resource for those wanting to dip their toes into the world of skin care for the first time – without the stress of remembering a whole routine from scratch. This routine planner lays out exactly what steps you need to do and when, and has spaces for you to fill in the details for your own unique set of products.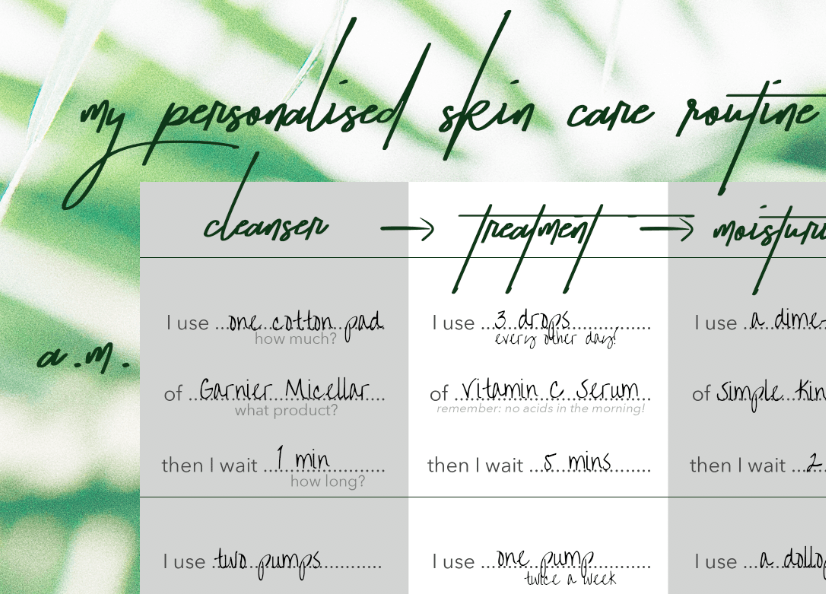 With minimalist styling that suits any bathroom, this exclusive printable planner will help guide you through your first skin care routine to kickstart happy, healthy skin forever!
Plus, you'll receive occasional updates with all my new content (plus more exclusive goodies) so you never miss a thing!
I know you'll love it and I can't wait to set you on your way! Dont' forget to share a photo with me on Twitter or Pinterest of how your planner looks in your bathroom setup 😉
PS: Don't forget to check your Junk and add [email protected] to your contacts.
By submitting your details, you are agreeing to receive emailed updates and marketing from me! But if you change your mind I won't be mad, just click the unsubscribe link in the footer of any email you receive from me, or contact me at [email protected]