I'm so excited to be bringing you another highly anticipated review – we're talking everything Melano CC serum: what's in it, what's it like, and whether it meets the hype or not.
I freakin' LOVE trying new products and especially new ingredients. This week's review brings us both, with my first full experience with vitamin C and a new product line (to me) to boot.
Now, I've tried a vitamin C serum before, but only for a little while. My first foray into The Ordinary's Vitamin C solutions were cut short by a sudden and very intense outbreak of fungal acne. Since then, I reintroduced my products slowly and they didn't make the cut. I was only using them sporadically and hadn't really seen anything spectacular nor was I too concerned about pigmentation then.
Since I beat fungal acne, my new routine has taken care of 75% of my acne and dehydration, and lately I've been documenting my skin and new treatments in excruciating detail, I've noticed that pigmentation is one of my biggest concerns. I have very fair skin and a lot of pale freckles under my eyes and on my cheeks. I've been thinking about extra ways I can beef up my anti-pigmentation efforts.
A few weeks ago I spotted Melano CC on the shelves of my local supermarket here in Japan, and recognised it from hours of internet reading about the hottest skin products. Knowing what I do about the awesome powers of vit C, I grabbed it for around 950 yen, and decided to give it a go!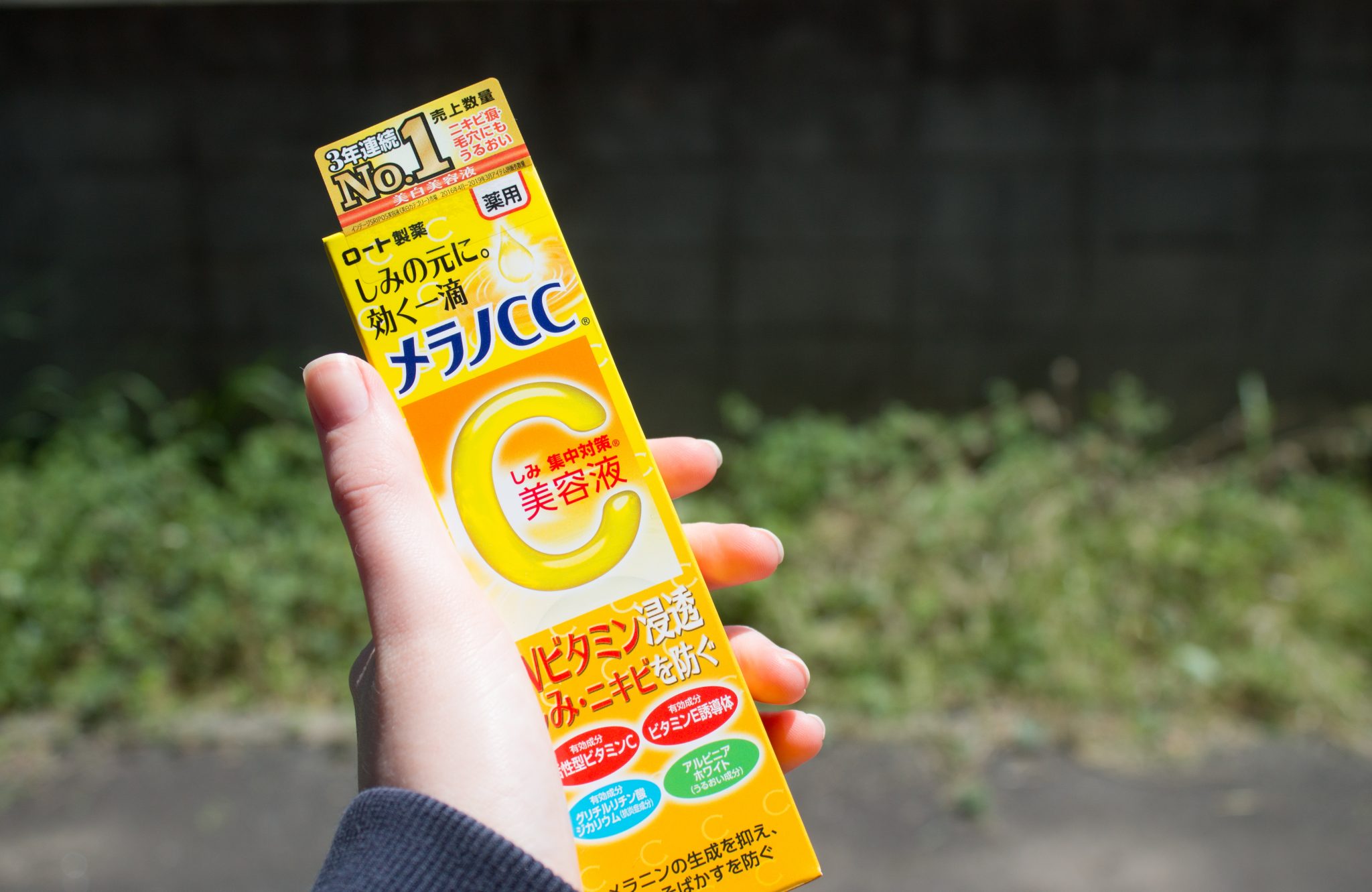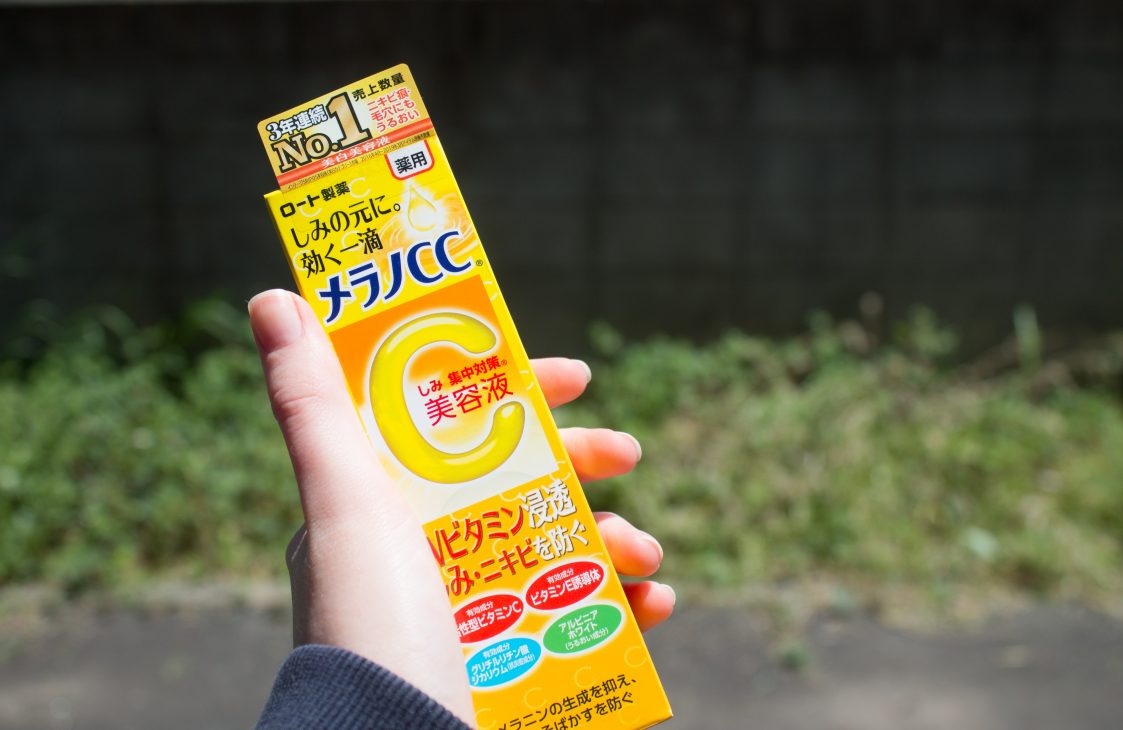 So here's my thoughts on Rohto Mentholatum Melano CC serum.
Vitamin C and your skin
Vitamin C is a water soluble vitamin that we don't produce in our bodies, but rather get through diet. It's not stored in the body either, so we need to have a constant supply for whole body health. It's found in lots of fresh fruit and veggies, most famously citrus.
For the skin, vitamin C has two big qualities: free radical protection and melanin suppression.
Vitamin C, as an antioxidant, is able to donate electrons to nasty free radicals created by sun, smoke, and stress. This prevents the oxidation reaction which is responsible for cellular damage and thus skin ageing. Awesome!
Secondly, vitamin C is known to suppress melanin (pigment) production. It does this by interfering with the pH necessary for the enzyme tyrosinase to work with melanocytes (pigment cells) to make melanin. That means that any treated areas of skin that have produced more pigment that normal (think freckles, sun spots, and acne marks aka. post-inflammatory hyperpigmentation) will slowly return to near-normal, given the proper amount of sunscreen use.
What Rohto claims Melano CC can do for you
Melano CC serum is one of the cult favourites of the asian beauty community. It's pretty much considered the creme-de-la-creme of affordable vitamin C serums. The reviews are glowing and widespread – but what does Rohto themselves have to say about their product?
The original source of this information can be found here in Japanese.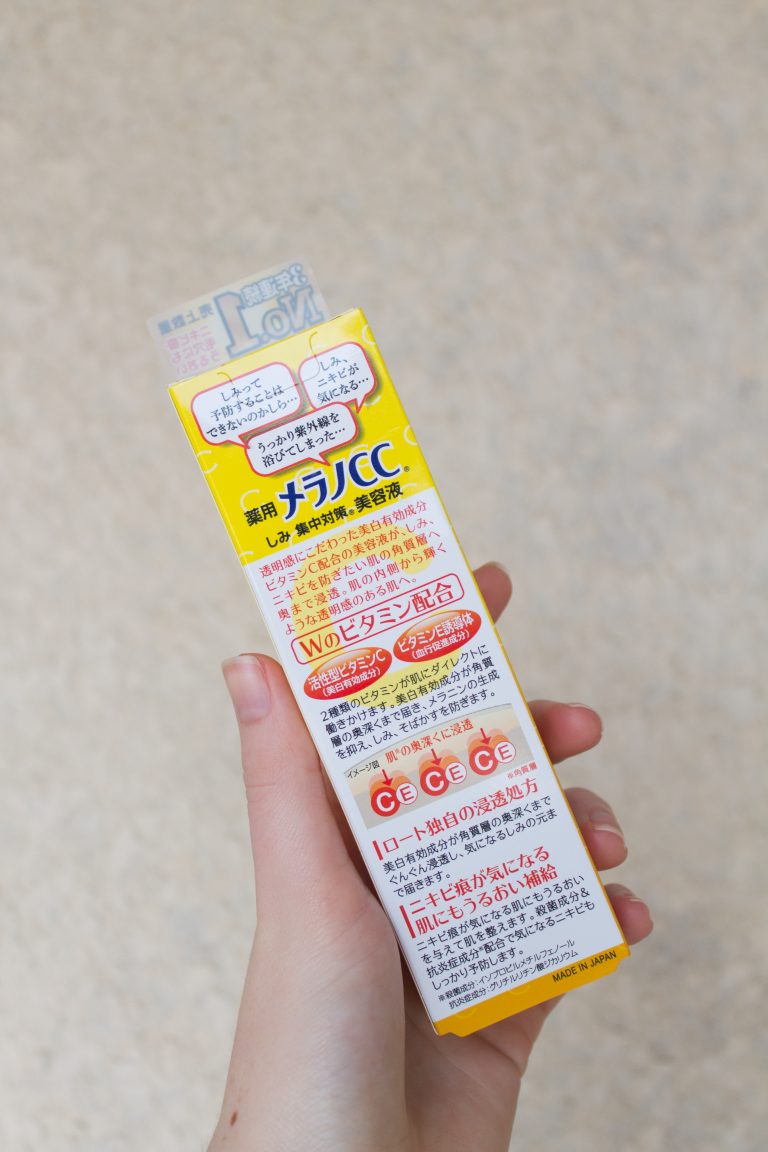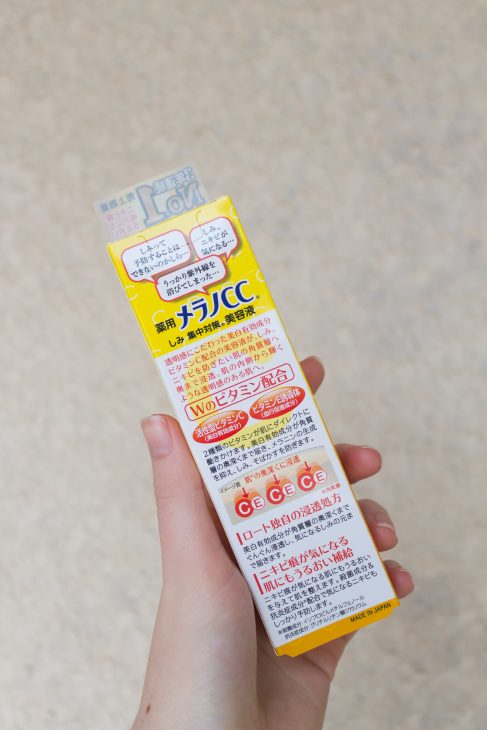 The 'Melano' in the name comes from melanin, the pigment responsible for freckles and dark spots.
Interestingly enough, the blurb for the Melano CC serum straight from the creators talks at length about its bactericidal and antiinflammatory proerties as a treatment for acne and blemishes. They claim the product can smooth skin, especially textural issues like large pores.
They do follow that up with the big claim: expect to see suppressed melanin production and thus fewer freckles. Finally, they tout the inclusion of vitamin E in the formula for stability and increased penetration and blood circulation. Also, there are the usual claims like "cleans, hydrates and keeps skin healthy". Also, 'prevents hot flashes and treats sunburn' (?).
From my experience, Japanese beauty proucts are quite vague and liberal with their marketing, leading to a lot of big claims. And especially in conflating acne "blemishes" (usually post inflamamtory pigmentation aka. acne marks) and freckles. They are both caused by melanin, so this is understandable.
They say the product can be used as a spot treatment or all over, as I've chosen to use it.
It's important to note than Rohto have recently released a new new cream version of this product (signified by a blue banner and the word cream "クリム") which I will not be reviewing today.
Melano CC Intensive Anti Spot Essence Serum Ingredients
The ingredients were a little hard to track down thanks to several formula changes and translations, but here's my best attempt at making a complete list:
Ascorbic Acid
Tocopheryl Acetate
Dipotassium glycyrrhizinate
Isopropyl methylphenol
Ethoxydiglycol
Butylene Glycol
Water
Acrylates/ C10-30 Alkyl Acrylate Crosspolymer
Ascorbyl Tetraisopalmitate
Alpinia Katsumadai Seed Extract
Disodium Edta
Fragrance
Let's break that down:
Vitamin C can be found in a lot of different forms. Each has different benefits and stability. The forms of vitamin C chosen for this product are Ascorbic acid and Ascorbyl Tetraisopalmitate.
Ascorbic Acid is the most direct form of vitamin C, but that does make it more potentially irritating to the skin. Though it's the most potent type of vitamin C you can get, it's not too common in skin care because of its instability to light and air. Fortunately, Rohto Mentholatum have come up with some pretty ingenious packaging to counter that (more on that later).
In addition to the Ascorbic acid, the second type – Ascorbyl Tetraisopalmitate – is a less potent form of vitamin C, that is also more stable and longer lasting.
Tocopheryl Acetate aka. Vitamin E is known to assist vitamin C in preventing oxidative damage, as well as helping to prevent the degradation of the vitamin C in the formula.
Isopropyl methylphenol aka. Thymol is a monoterpenoid phenol found in thyme oil, and is claimed to be an antiseptic agent.
Dipotassium glycyrrhizinate aka. Licorice root extract also has pigmentation-preventative and antioxidant properties.
I'm not a fan of the addition of fragrance, nor the fragrance chosen. The strong lemon and pine smell makes me think of floor cleaner, but thankfully it dissipates pretty quickly.
Packaging
I'm about to rave about the way this product has been thoughtfully packaged. It's perfect.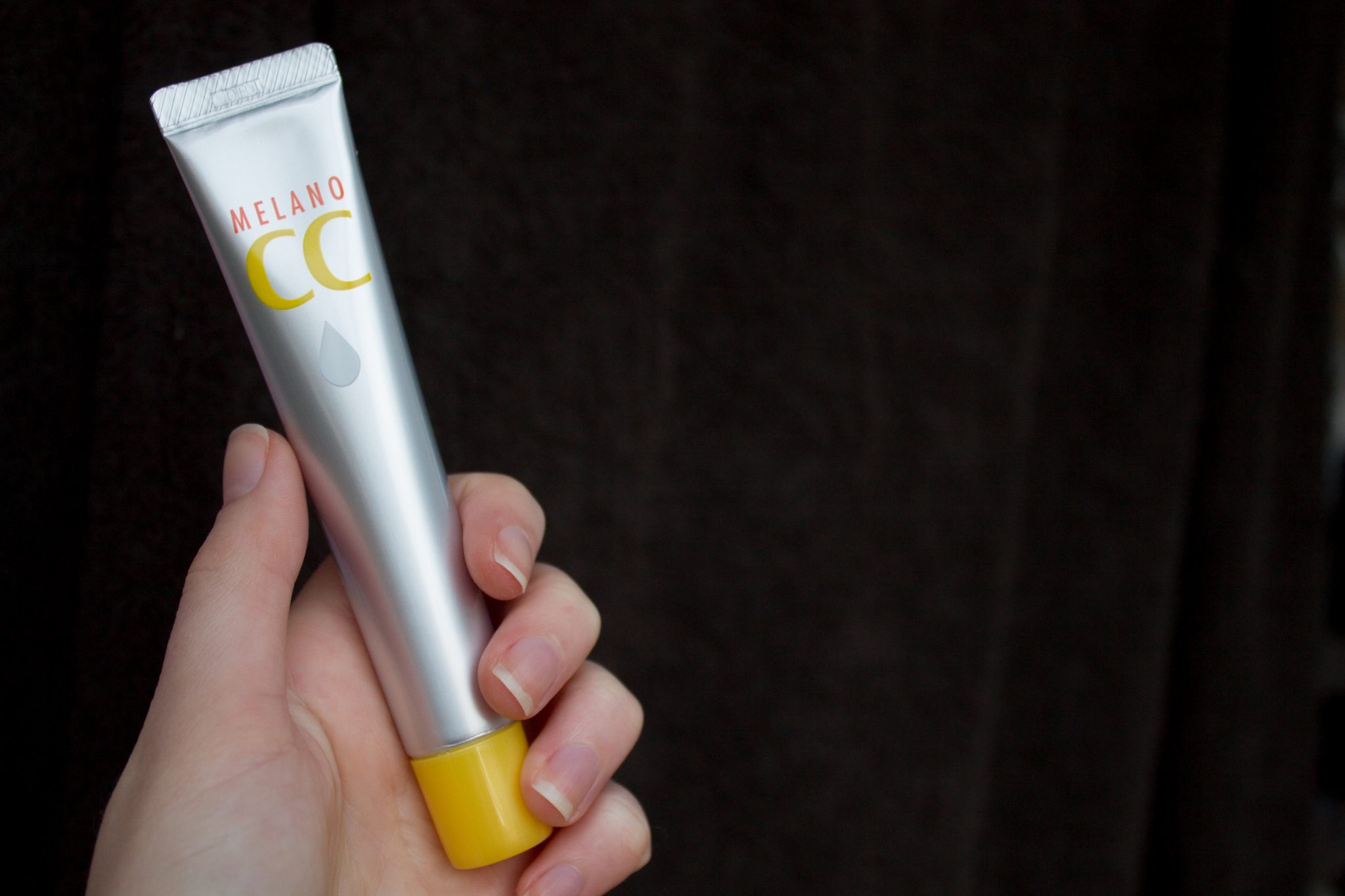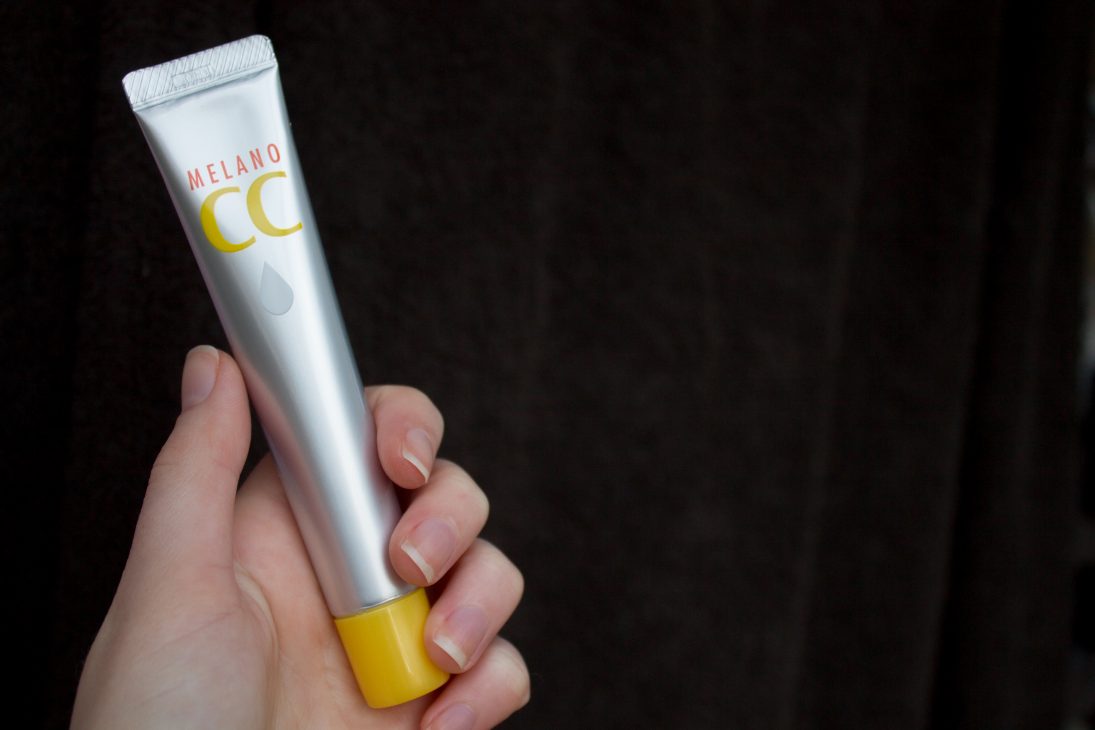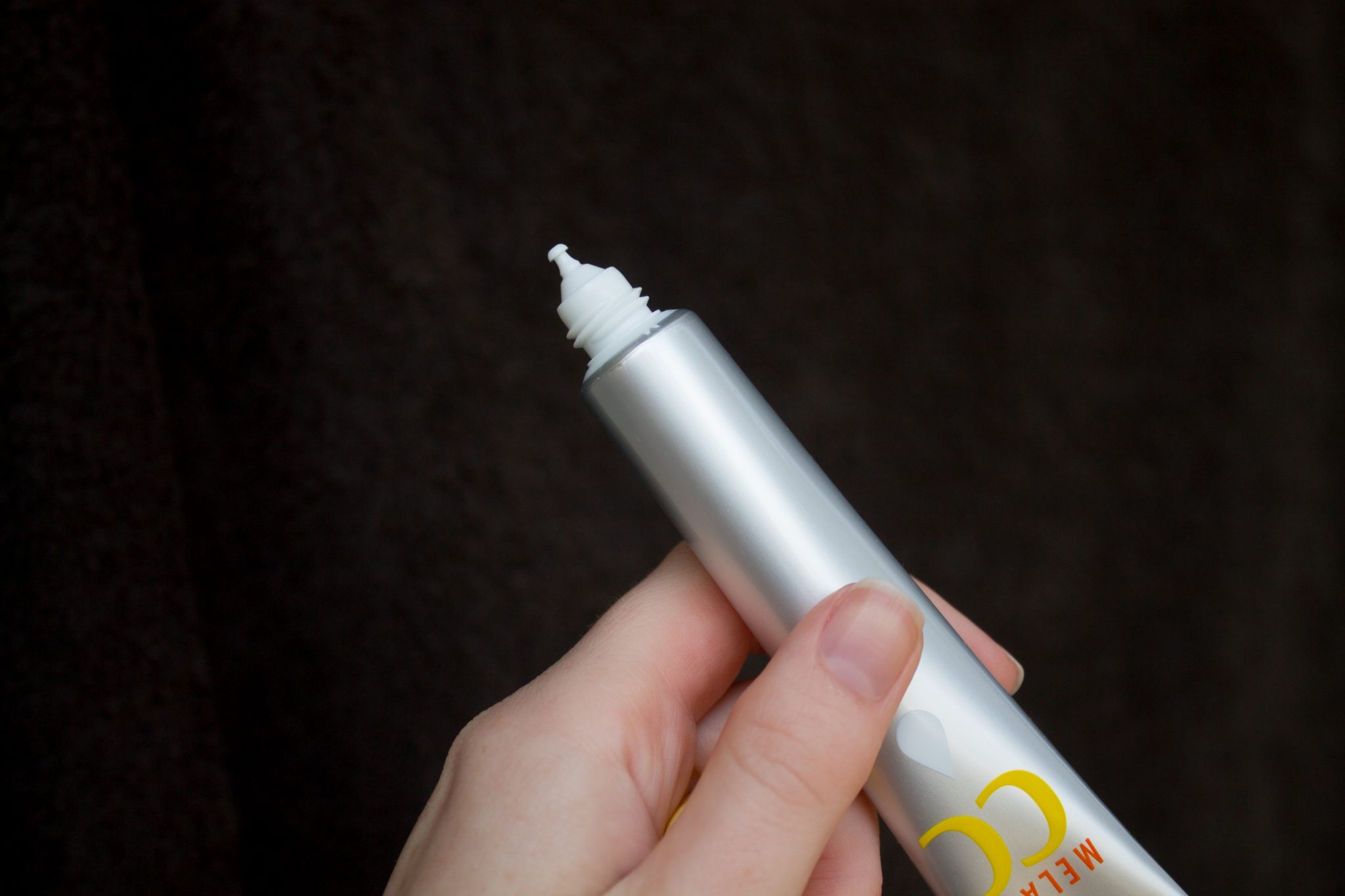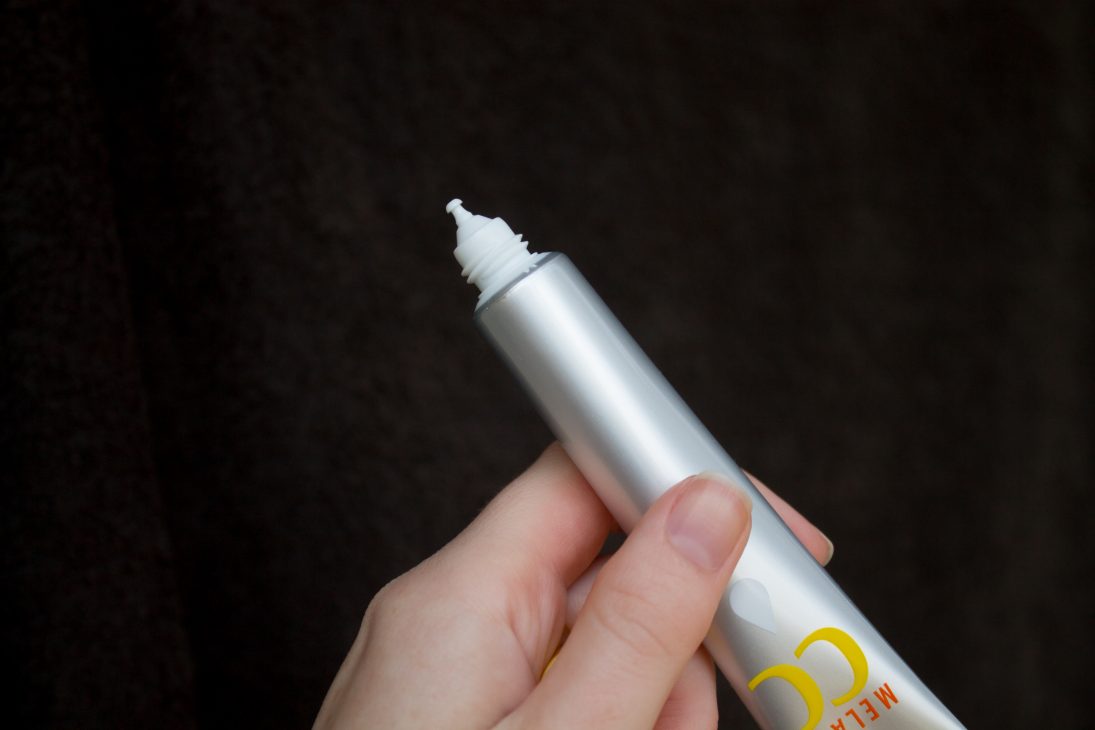 First, I'm struck by the cute and minimal pairing of the lemon yellow cap and silver tube. That tube is made of an aluminium that is easily squeezed from the top down, leaving no product wasted.
It's super slim and lightweight, and at only 20ml of product, it's so easy to pack into a bag for travel. The only downside of the distinctive shape is that it's pretty tricky to stand on end on a counter, if that's your usual style like me.
Another huge win, however, is the extremely precise nozzle applicator. Product comes out one teeny drop at a time, only when you squeeze quite firmly. That's to prevent any extra air getting inside and deactivating the notoriously unstable vitamin C. They say 4-5 drops a day will mean the tiny tube lasts 6 months, which I can see being true!
Texture & Application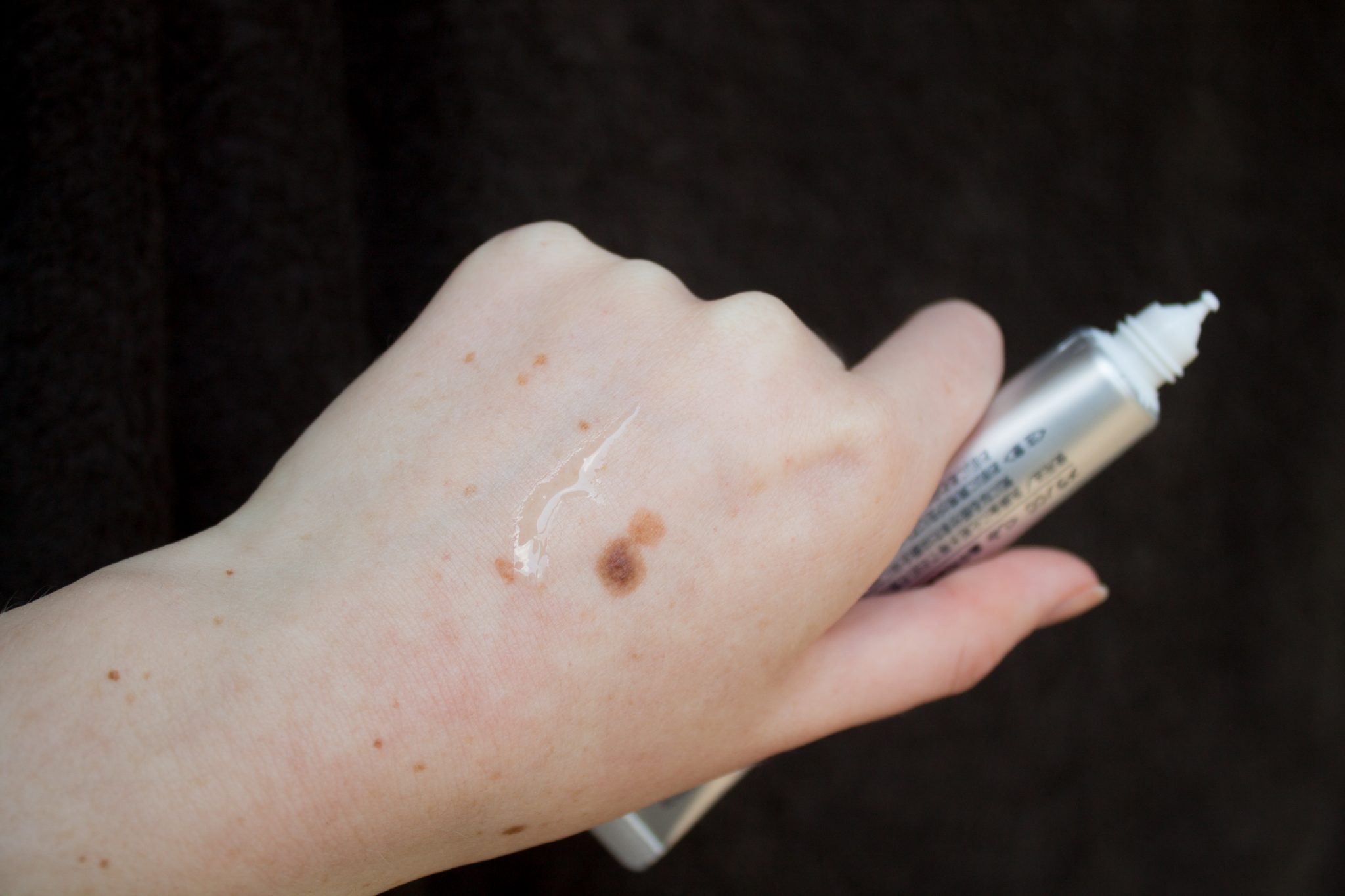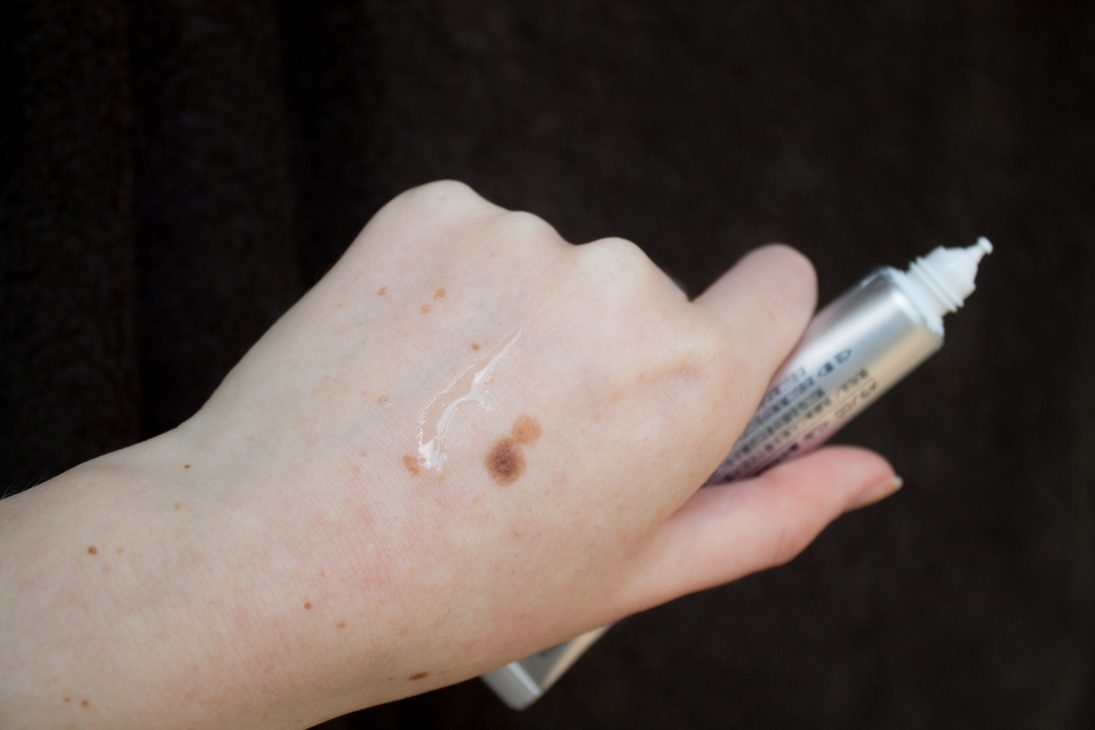 Melano CC serum isn't a traditional watery hydrating serum. It's a very thin, clear dry "oil".
Pro tip: Vitamin C serum should not change colour over time – if it does, it's a sign it's been exposed to light and air that's degraded it.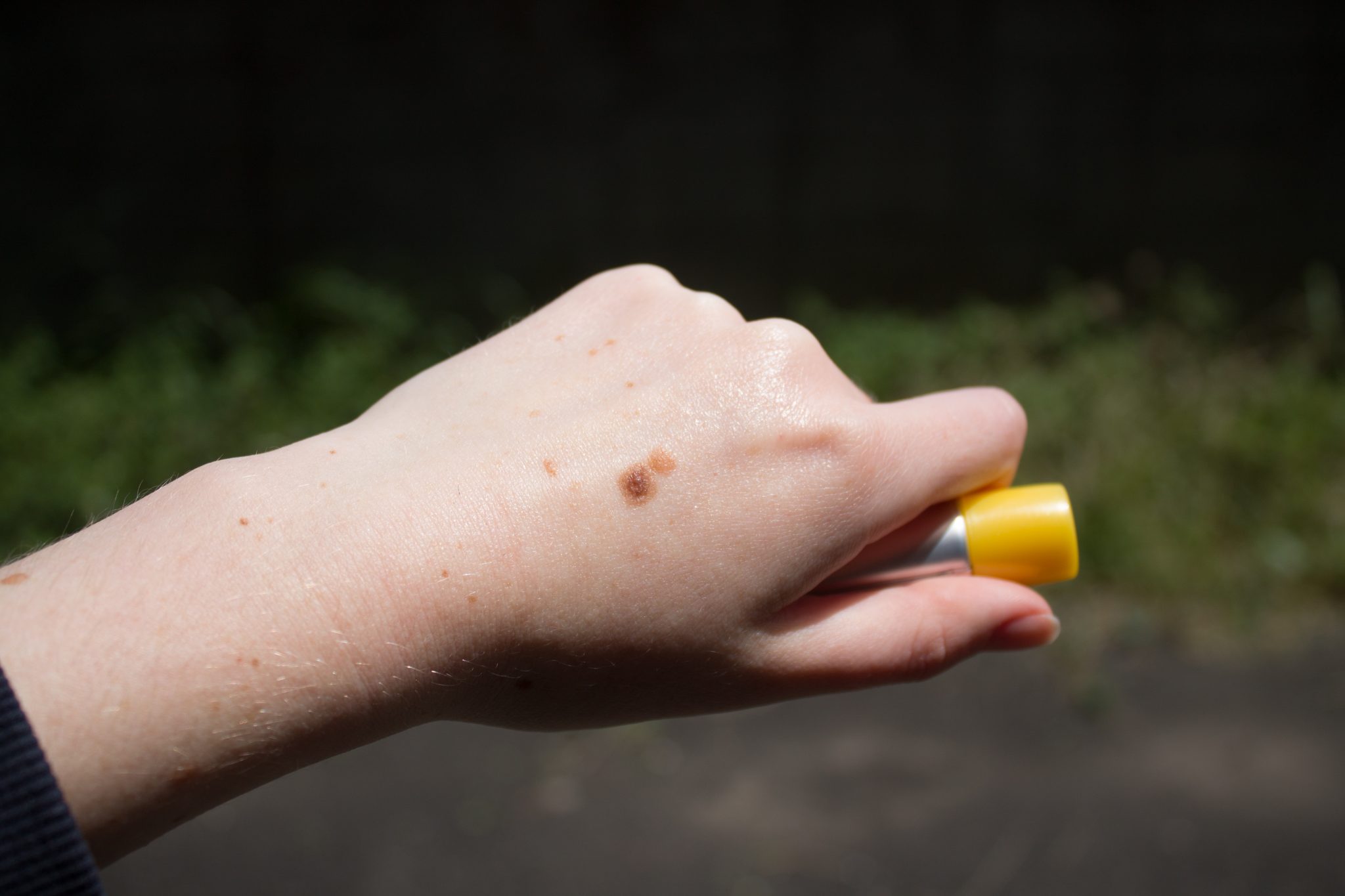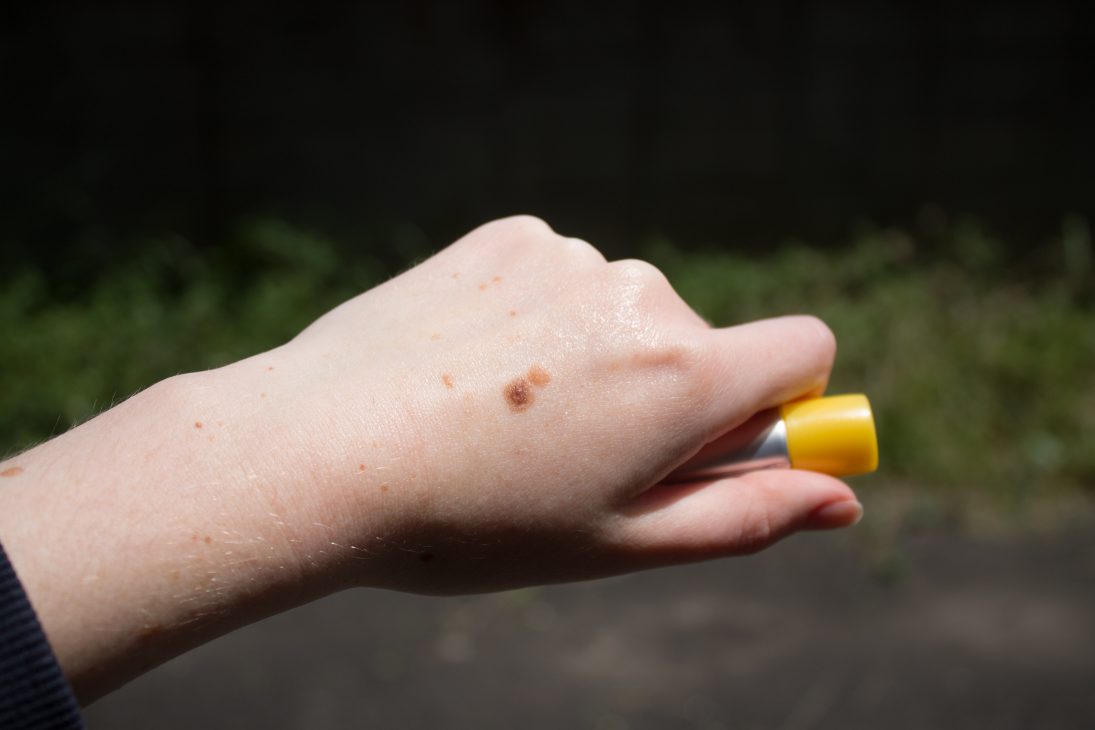 It's pretty easy to spread, though it's so thin (likely thanks to the solvent base of the product) I sometimes have to go back in for a little more, and pretty much absorbs in a few short minutes, leaving only the slightest sheen to give itself away.
Results
I wear my vitamin C in the morning, as as an antioxidant, vitamin C will help boost my sun protection efforts during the day. In theory it would work equally well against pigmentation overnight, as it soaks into the skin and remains in store for a short while, but I prefer to use it in the morning just for that extra protection. I do my routine first thing in the morning so it has plenty of time to soak in before being exposed to the sun's rays (and potentially put out of commission re: instability).
So far, I'm noticing greatly improved overall tone of my skin. Before, it was looking a little dull, but lately it's been very bright and even. Don't worry – I'm taking full-on progress photos for you, so check back in or follow me on Twitter to stay in the loop when I release them!
With such convenient packaging, pleasant application experience, and KILLER price, I'm keeping this in my rotation until further notice, and recommend you do too.