I have shit skin. There, I said it.
I always have. I'm not going to bore you with the details (you can find those here and here).
Nevertheless, I freaking love skin care and still treat my skin like a damn queen each and every day (with it generally being unappreciative as always).
I'm going to assume moving forward that you, too, have less-than-generous skin and you're wanting to find out what products you can buy to make it a little bit less 'inclined to surprise you with breakouts' and a little more 'surprisingly hydrated'.
I don't wanna cause alarm, but think I might've found the perfect routine. This combination of super affordable, effective, and all-rounder purchases has made it through rigorous testing to make up my latest skin collection. And when I say affordable, I mean under $15 each. Yeah.
Without further ado, these are the products in my everyday acne-prone, dehydrated skin care routine that pretty much blows my socks off and makes sure that 2020 is tracking to be my best skin year maybe ever.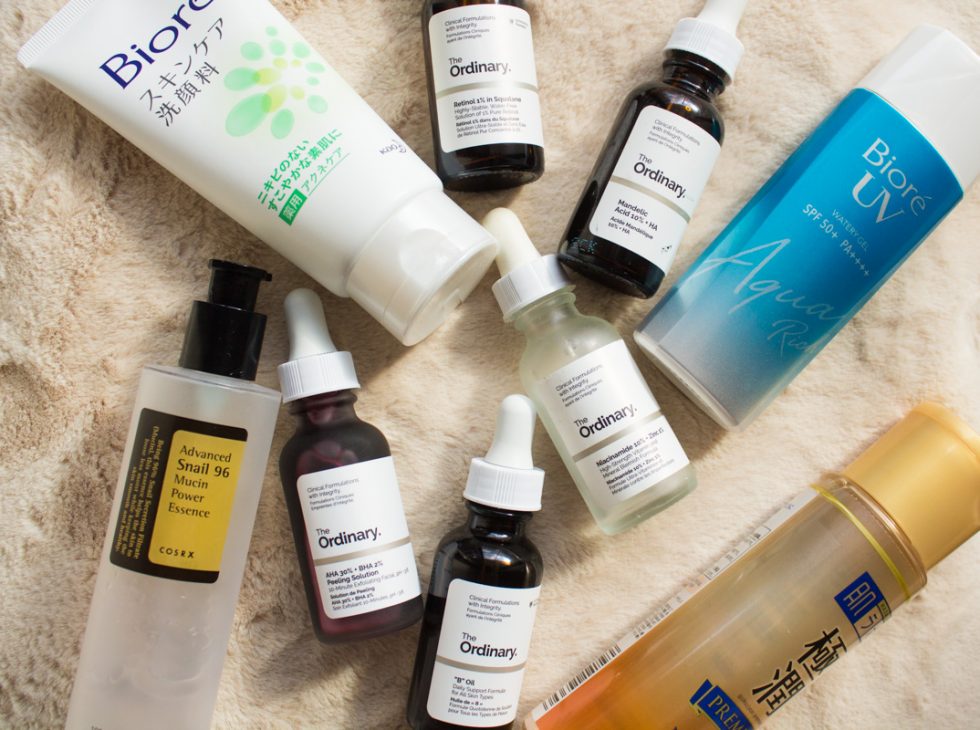 (As beautiful as they look on this blanket for the sake of this photo, rest assured that I usually store my products in the bathroom, like a normal person.)
The everyday products
Cleanser – Bioré Skin Care Facial Foam (Acne Care)
Ah, how cleanser and I have come a long way. From horribly over-cleansing with dandruff shampoo (that's right, on my face) to swearing off cleansers altogether during my 'micellar water' phase, now to settle somewhere in between. Something something balance something…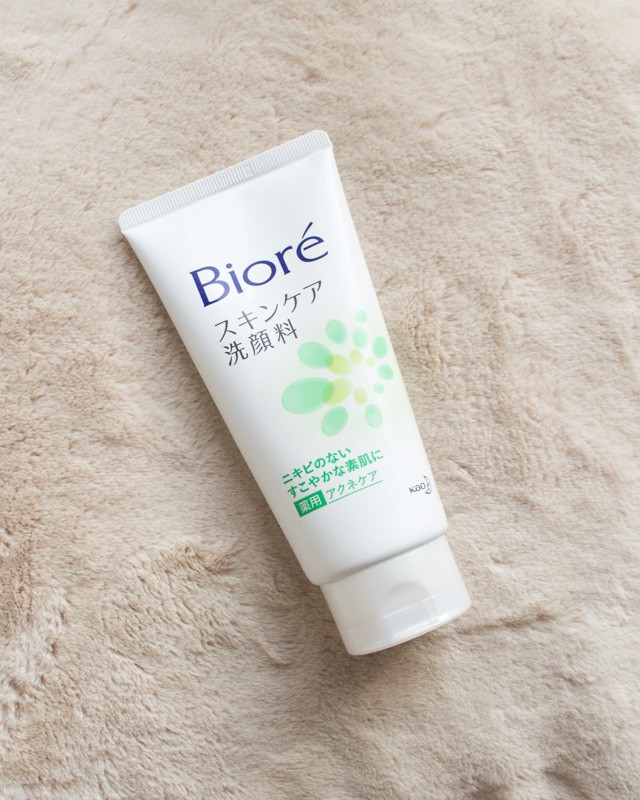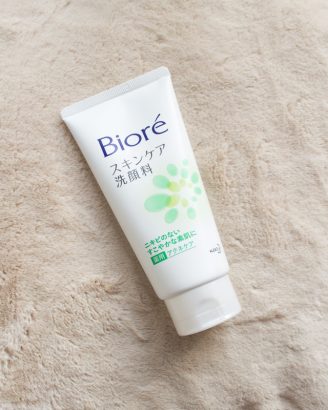 This latest cleanser crush of mine from Biore smells like soapy citrus (I keep fragrance out of other areas of my routine where possible, so this is like a guilty bit of luxury!).
It has that pearlescent cleansing texture some of you may be familiar with – its a little hard to suds up at first as it kind of runs away from you, but once you do: ugh! It's definitely on the 'sudsier' side for me, but all my other moisturising products do a great job of counteracting its cleansing power of foamy, creamy, delicious goodness.
As compared to my previous fling with Hada Labo Foaming Cleanser (a great product in its own right), I much prefer this so far, if only thanks to its handy squeeze-tube design – so much easier to travel with! I just love the ease of use and getting back to washing my face at the sink again, which is such a nice way to wake up. And the price is hard to argue with – I scooped this up at my local drug store here in Japan for around 450 yen.
Active treatment – The Ordinary Niacinamide 10% + Zinc 1% (AM only)
One of my main skin concerns is irritation, caused by… well I don't know what, but my face is always red. Pair that with vitiligo around my mouth and I'm in dangerous perpetual milk-moustache territory. A regular hit of Vitamin B is essential for fortifying and calming my skin.
My other main concern is of course the dreaded acne. While I am dehydration prone, my skin is also an oil factory when it wants to be. And with my serious history of your standard brekaouts and even a new, fun kind of acne caused by a fungal infection, it's always on my mind.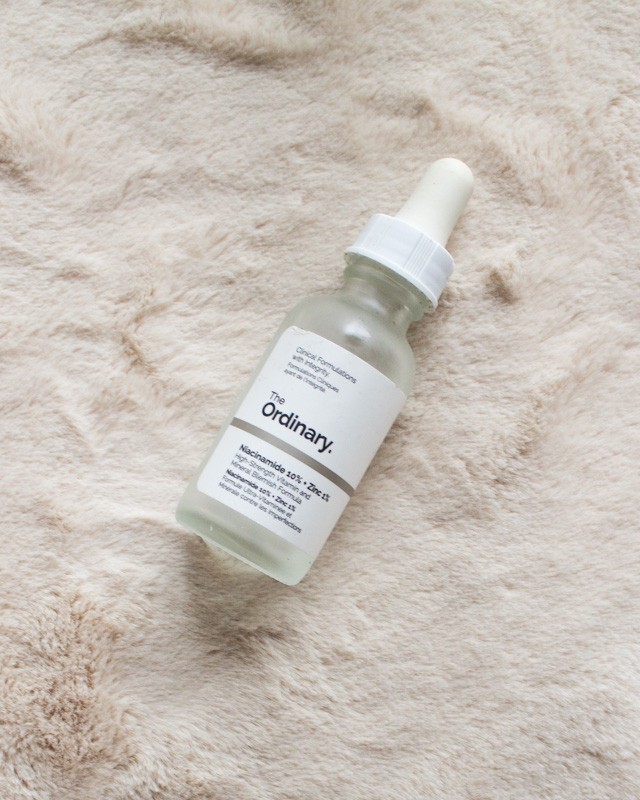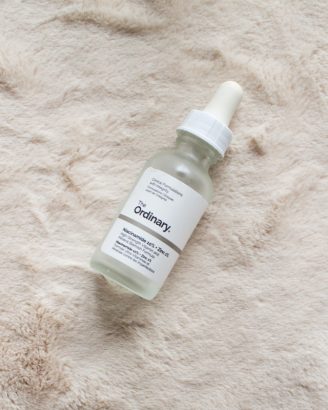 Combating the two problems often don't go hand in hand (extra-strength benzoyl peroxide, anyone?). But this treatment from The Ordinary combines both ingredients to create a soothing, anti-acne gem.
It comes out of its white glass dropper bottle with a true slippery jelly consistency. Seriously, something about it makes it want to run off your hand really quick.
Even though it's not the thinnest product in my moisturising steps (and we usually go thin > thick, don't we everyone?), it goes on first because active products need to sit right up against bare skin to work their magic best.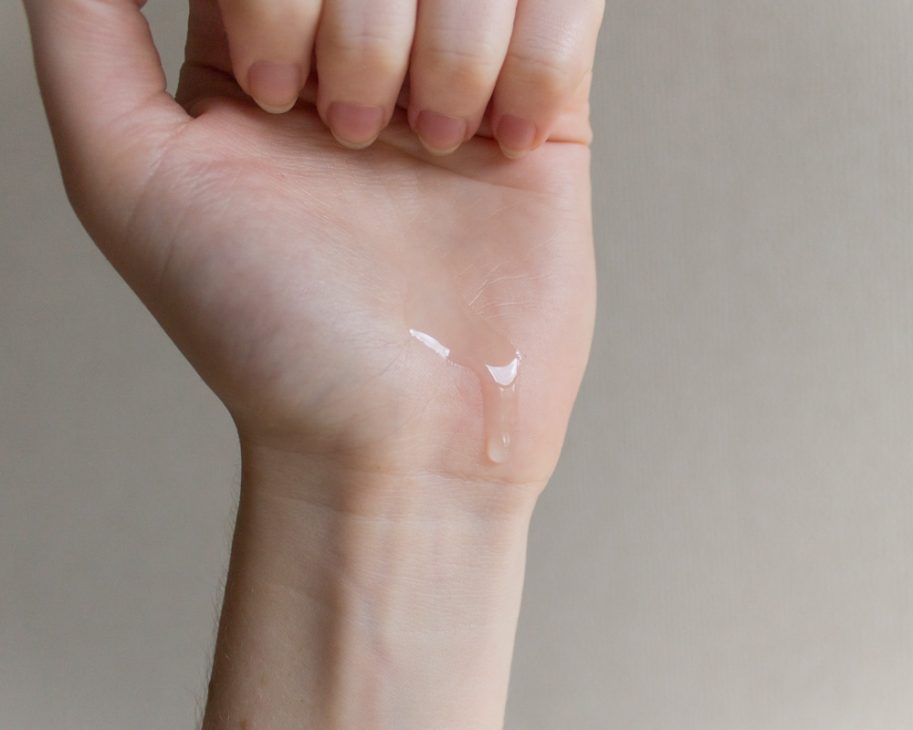 This formula boasts Niacinamide (Vitamin B, great for the above mentioned reasons and also for doing the impossible and reducing apparent pore size) and Zinc (a mineral shown to reduce acne and oil production) in a hydrating base. There's no stinging or risk of overdoing it, either!
Lotion (light hydrating serum) – Hada Labo Gokujyun Premium Lotion
If you're unfamiliar with the world of Asian Beauty (capitalised for dramatic emphasis and called AB for short), the name of this step might confuse you. Lotion is the word used in places like Korea and Japan for a hydrating product that's thicker than something like water or toner, but still clear and not as thick as a jelly or a cream. Don't confuse it with what many people use the word for, something like 'body lotion' that's a thick cream. That's not this!
This step is purely for hydration – plain and simple. Right after my active treatment I'm feeling a little dry so this is the perfect next step.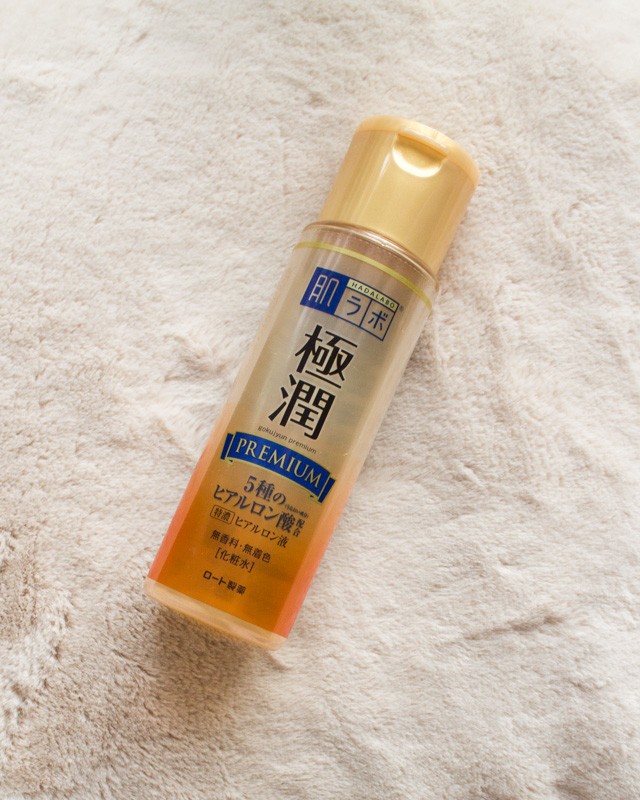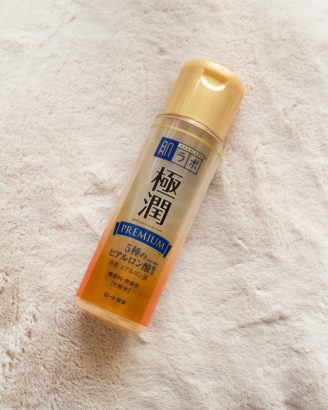 This Hada Labo Gokujyun Premium Lotion is a wonderfully fresh serum packed full of deeply hydrating humectant ingredients that pull water up from deep down in your skin to the uppermost driest layers. If you've ever wanted to feel what it's like to have bouncy, pudding-esque skin, I urge you to give this a try.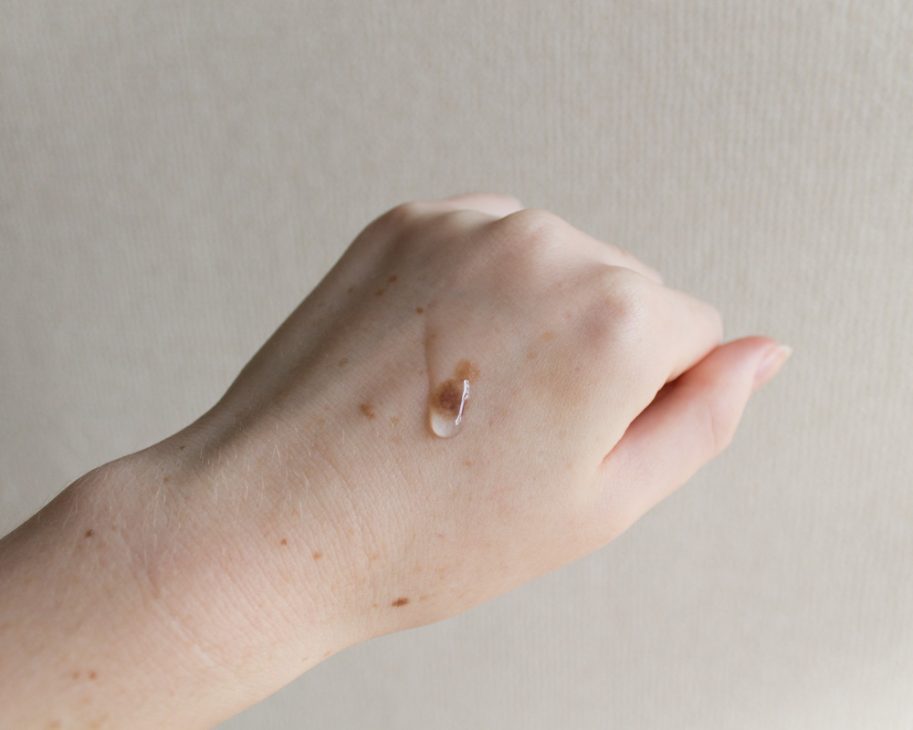 Essence (thick hydrating serum)- CosRX Advanced Snail 96 Mucin Power Essence
Essence is like the next step up from lotion. It's still clear but it has a lot more of a gloopy, 'sticky' gel texture. It's designed to bring all the vitamins and minerals and new-age soothing ingredients to your skin to amp up your routine beyong just 'hydrating' to 'freaking awesome'. And awesome this product is.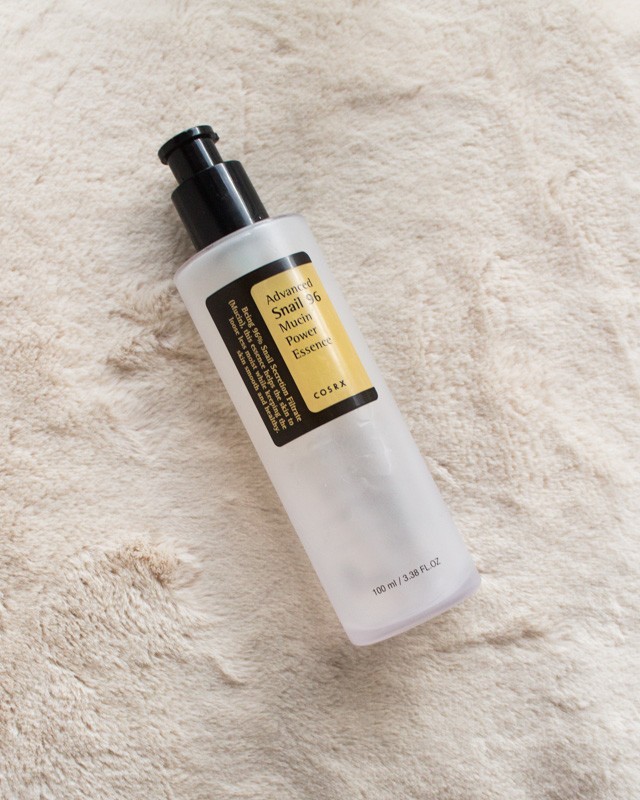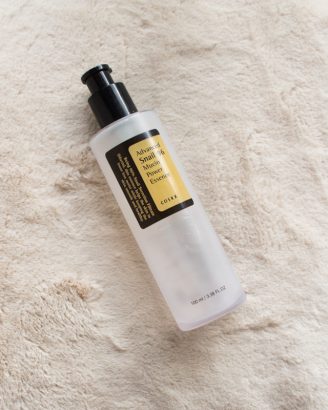 Now, I'll give you a second to go back and read that name properly. No, it's not a mistake. 'Snail Mucin'. This really is snail goop. And I put it on my face every day. And I've not turned into a snail myself (yet – a girl can dream).
This cult-favourite essence-style product from Korean brand CosRX utilises the natural healing and soothing properties of filtered (thank god) snail secretion ("mucin") collected from hundreds of tiny snails. And… there's not much else to the product, actually. Apparently the snails do all the talking.
I like to think of this product as my band aid for imperfections. It covers and protects them, gives them healing juice, and makes my skin hella dewy in a long-lasting way. Fair warning: it is a tiny bit sticky once it's dried, but that's ok because we're moving onto…
Facial Oil – The Ordinary "B" Oil
FYI: No, I didn't forget to mention the moisturising cream. You know, that one product you know about and can rely on being in even the most basic routine?
Sorry to rock your world everyone, but I don't actually use traditional moisturiser! Crazy, I know. Direct all complaints to my twitter (@SkinCareless). I just find that my skin is clearer without it. After a series of terrible breakouts a few years back, I narrowed down the culprit ingredients to fatty alcohols (cetyl, stearly, and cetearyl alcohol, fyi) which gives products their white, creamy 'cream' consistency. So, basically, they're in every cream moisturiser pretty much ever. What works wonders for dry skin types sends my skin into meltdown – oops.
So instead, I just use my clear moisturising gels as described above. No biggie. Unfortunately, these products don't contain anything to soften the skin or lock in the moisture they provide. Think of it like throwing water on fabric and expecting it to stay wet forever – it'll just dry right back out again! (If you're confused by all these moisturiser types, don't fear, I broke the three categories of moisturiser down for you over here)
To get my dose of emollient goodness to keep my skin nice and flexible, I reach instead for a facial oil.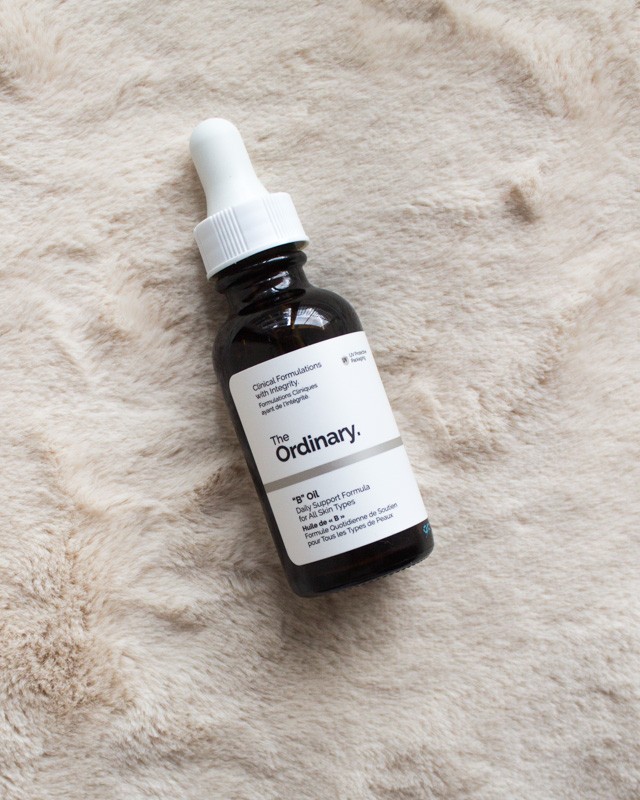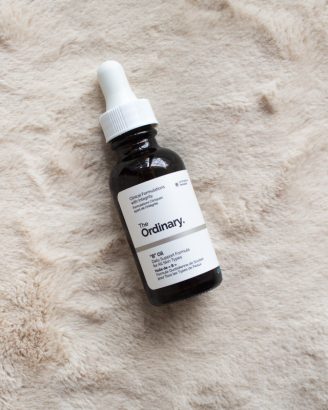 This latest find is once again from the shores of The Ordinary's (presumably heavily minimalist-inspired and chic) headquarters where they discover the secrets of the universe and come up with these incredible product formulas.
Unlike many of their other one-ingredient-wonder products, "B" Oil is a nice blend of a bunch of different oils to cover a whole range of benefits and make a really nice happy medium. I've tried many a facial oil in my time, and this is striking that perfect sweet spot of being rich and hydrating but not TOO oily. But then again, I don't know if I have a "too oily" limit… I personally love the 'oily' look so I'll happily slather this on any day or night, but some people prefer limiting this to their evening routine.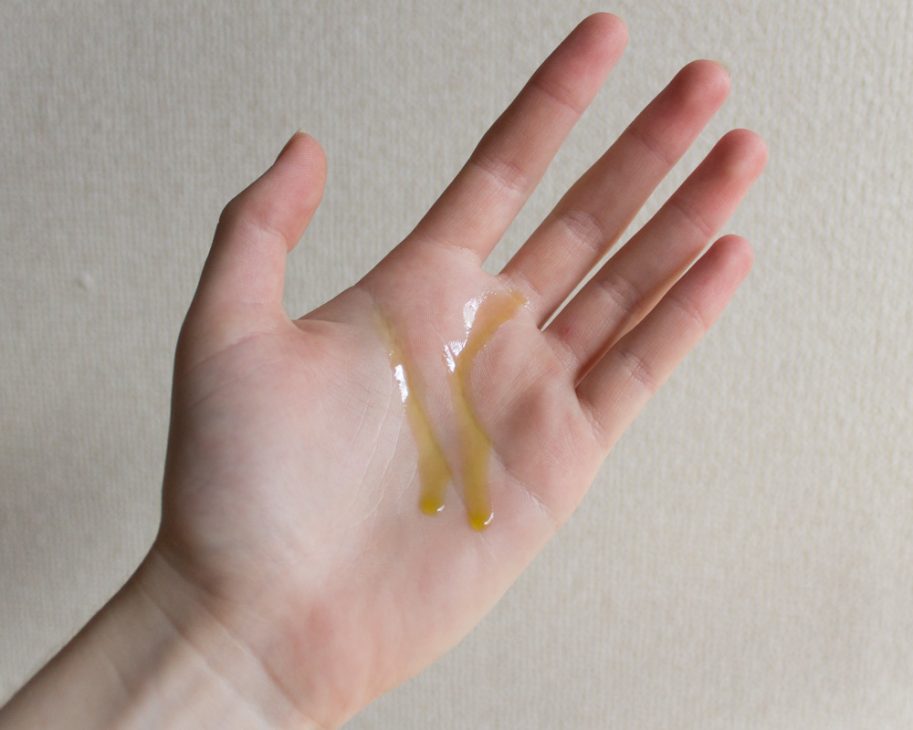 Sunscreen – Bioré UV Aqua Rich Watery Gel (AM only)
The unmissable step. The anti-ageing pièce de résistance. If your money, time and energy is somehow so limited you can only manage to focus on one product, make it here!
Luckily, there's no need for such drastic measures. I've found my perfect sunscreen and it's a freakin' breeze.
In the past, I've leant towards lighter and even mattifying sunscreen formulations. As my oily skin finally starts to settle down approaching my quarter-life (In relative terms, that is. It's now a small geyser rather than a volcano, say), I'm focusing on deep hydration, I need something a little richer. Enter: Bioré.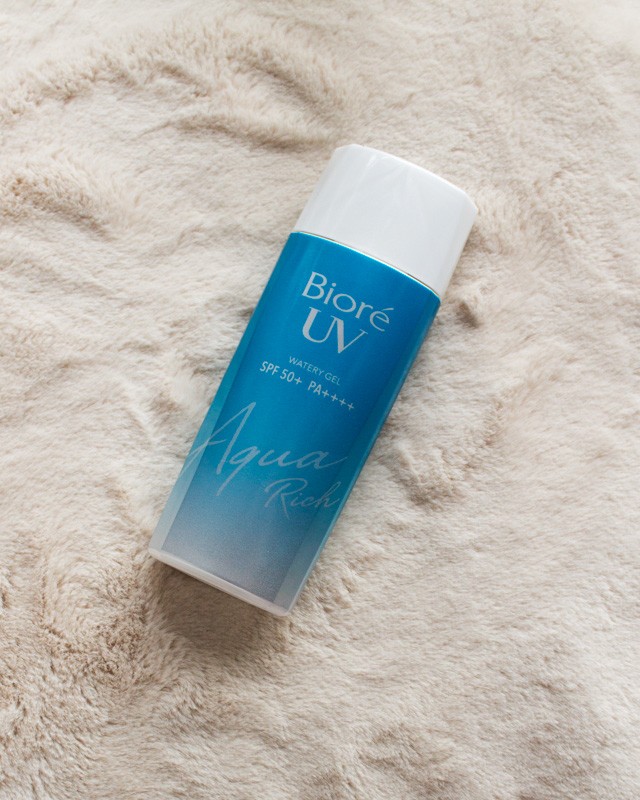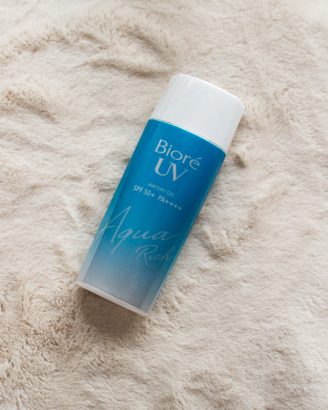 Yet another product from the mega corporation, I know. But they make damn good skin stuff! This sunscreen is no exception. It's lightweight. It's near-invisible. It's hydrating. It smells fresh as hell. It makes my skin feel silky soft. It comes in a big bottle (for Asian sunscreen standards at least…). It's affordable. Most importantly… the packaging is TO DIE FOR.
Unlike its more famous brother (the 'essence' version) this product doesn't have the same alcohol-laden evaporates-on-contact feeling. While this sunscreen does actually have fatty alcohols in it and kind of acts like a light cream moisturiser, I've not noticed any issues with just the one risky product in my routine. Be sure to patch test if you try this out on your own acne-prone skin!.
Plus, it's got all the good sunscreen standards like SPF 50+ and PA++++ yada yada.
The occasional products
While everything above makes up the core of my daily efforts, there are some other products also I couldn't do without but don't need to use everyday. Be it because they're too strong or just because I use them on an as-needed basis, they're just as much part of the krabby patty secret skin formula!
Exfoliant – The Ordinary Mandelic Acid 10% + HA (twice a week)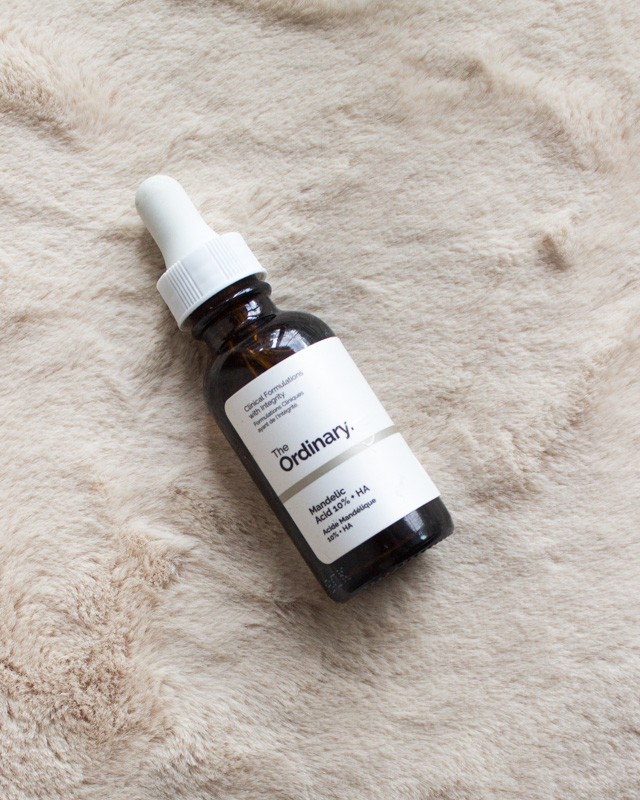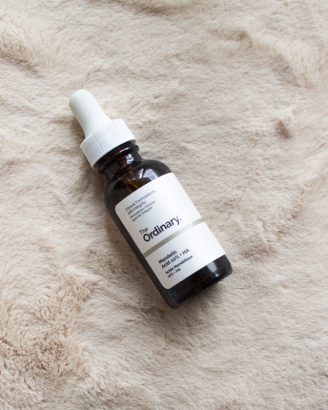 This particular formula uses a less-popular AHA called mandelic acid. While perhaps not as powerful as its big brothers glycolic and lactic acid, almond-derived mandelic acid is a tied winner with salicylic acid for best acne-fighting exfoliant. There's also the added bonus of hyaluronic acid in the formula. So though I'm following the rules by putting the active straight onto dry skin every few nights, I'm also getting the benefits of a hydrating serum at the same time! Woohoo! But don't just take my word for it – one of my most popular posts is my full review of this product, so the people love it too!
Peel – The Ordinary AHA 30% + BHA 2% Peeling Solution (once a week)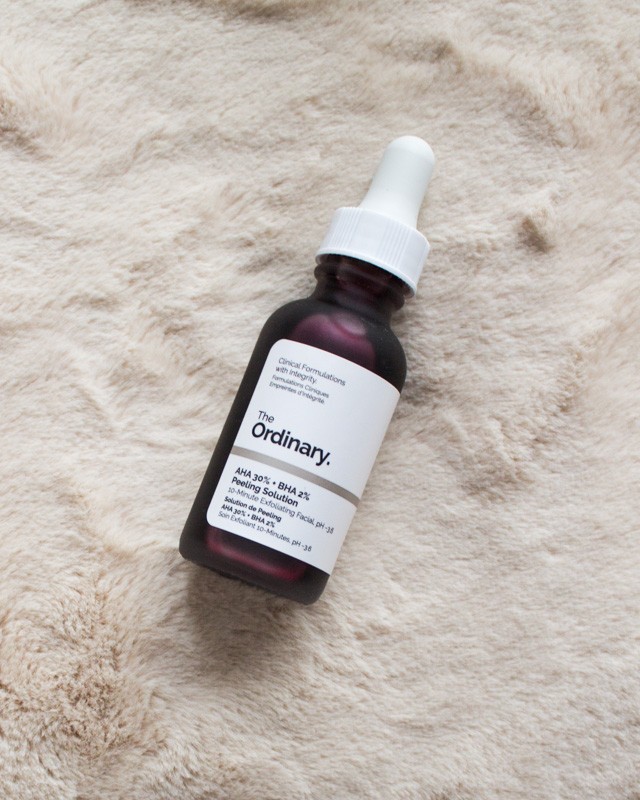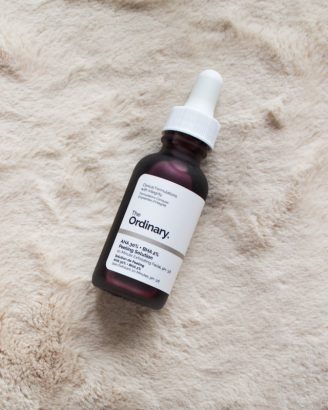 As much as I like to pretend I don't have acne to rival a teenagers anymore, I do. And the real ironic punch in the gut is that I'm dealing with getting expression lines at the same time.
What my skin didn't anticipate is the invention of strong chemical exfoliants that can tackle both my problems at once. (You think you're better than me? Take that, skin!)
And because I can't get enough acids, I backup my mandelic acid with this one too.
The Ordinary's done it again with this no-frills combination AHA and BHA at-home peel. A peel is basically an exfoliator that is stronger than the daily stuff. Most of the time, it needs to be washed off beyond a certain amount of time. I do two layers for the maximum time because my skin is essentially indestructible when it comes to acids.
I've been reaching for this bad boy once a week for the past few months. It's also the first year I've really been able to move on from picking at the deep closed comedones beneath my skin. Coincidence? I think not…
I could get a lot more into why I love this stuff here (despite the colour that makes you look like you literally smeared the blood of those who've wronged you all over your face), but it's so good I've saved that whole review for its own post.
Retinol – The Ordinary Retinol 1% in Squalane (twice a week)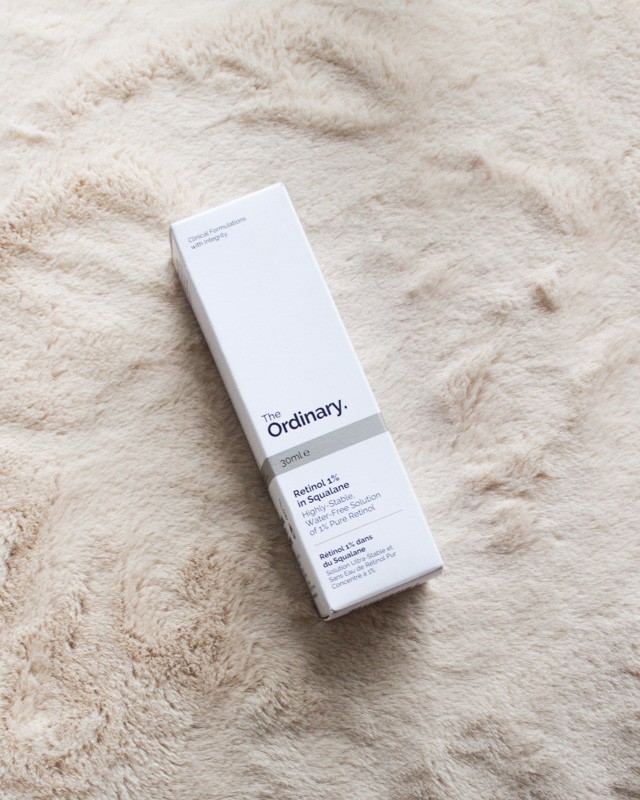 Ah, retinol. I think I would pay cold, hard cash to have this IV dripped into my veins. I don't know how many times I have to tell you guys that retinol is the ONLY ingredient widely proven to be able to not only prevent ageing but actually reverse it. Like a tiny, weird-smelling time machine.
So even though my bottles always go a funny shape over time for unknown reasons, I'll love and use it in some way or another twice a week forever. You can see here that I'm into a new bottle, which is the third I've bought, so if that's not a testament to it I don't know what is.
Honourable mentions
Not every product I've ever used made it into this collection. But that doesn't mean they're not great! Below are the sometimes products that cycle in and out as-needed.
Masks – Mizon Amino Moist, Lululun Blue & Origins Original Skin
Sheet or standard, masks are my way of pretending I have everything under control or telling myself that the next day is going to be great because maybe my skin is just going to sort itself out overnight. News flash: it's not, but these products get me as close to that dream as possible. Depending on how I'm feeling I'll choose a different one, but mostly they all provide short-term cosmetic benefits more than anything else. You can get really creative and have fun with face masks!
Moisturising cream – Weleda Skin Food (as needed)
This is where I backtrack and explain the one exception to the 'no moisturiser' rule I mentioned above.
I moved to Japan this year, and while for most Australians that would mean a humidity – and thus skin – improvement from my desert-dry hometown, I actually travel to work by foot. A LONG way. In the wind and cold and rain. Every single day.
So believe me when I say I've been feeling dry more often than not. When my skin is super brittle and my acne has been mostly under control lately and isn't liable to go bonkers, I'll reach for a little Weleda Skin Food.
All I can say is, get used to the idea of juicing a tub of oranges with your face, because that what this product will make you think you're doing with its mind-blowingly delicious scent. And it's the thickest, oil-balm-salve you've ever felt career your chapped cheeks. Pure bliss on windburned skin.
Once again, you'll need to check out the standalone review for this cult-favourite cream-balm, coming very soon.
Dis-honourable mention – Softymo Deep Cleansing Oil
I need to wear waterproof mascara every day because my stick-straight eyelashes won't otherwise hold a curl. There's just no other way its coming off other than with some sort of double cleansing situation. When I first arrived in Japan I bought this cleansing oil to try out, and while it does a good job as a cleansing oil in terms of breaking down makeup, it is very rich and thick and perhaps too heavy for my skin, because I have a really hard time emulsifying it and rinsing it all off. Plus it stings when it gets into my eyes! So once my bottle is finished I'll be moving onto something else.
Final words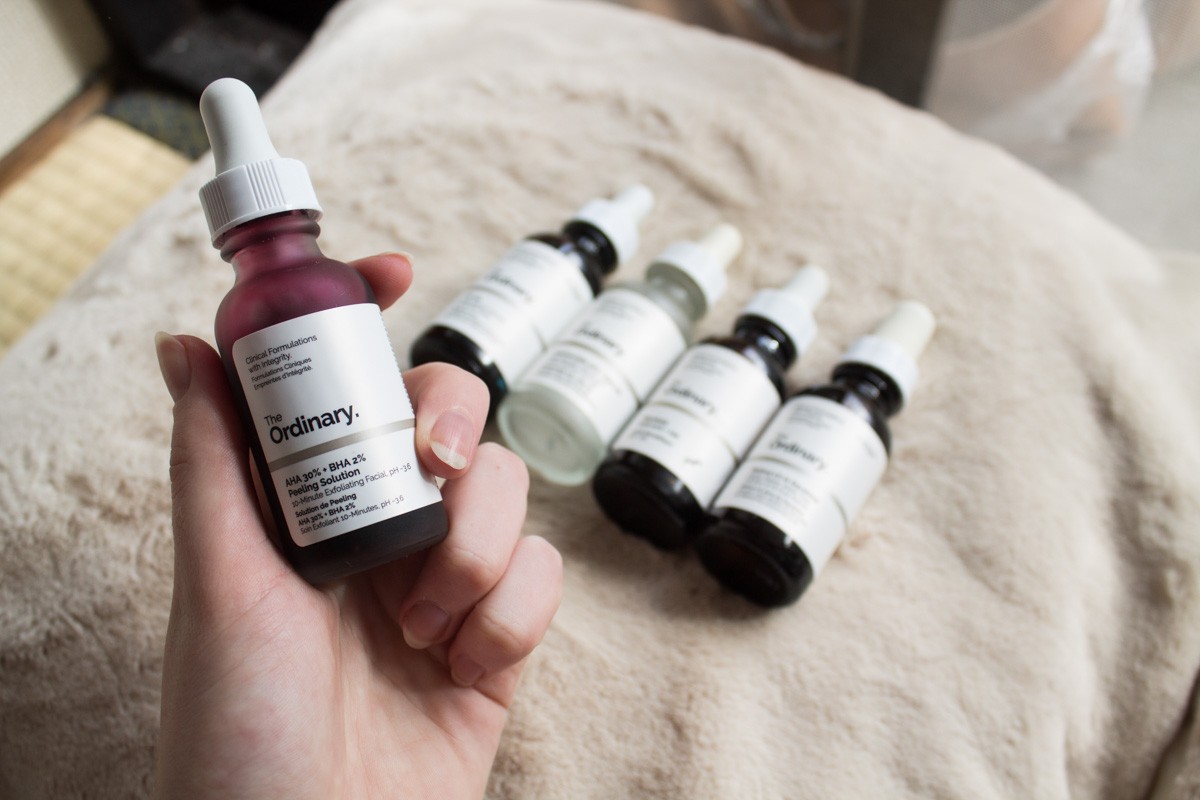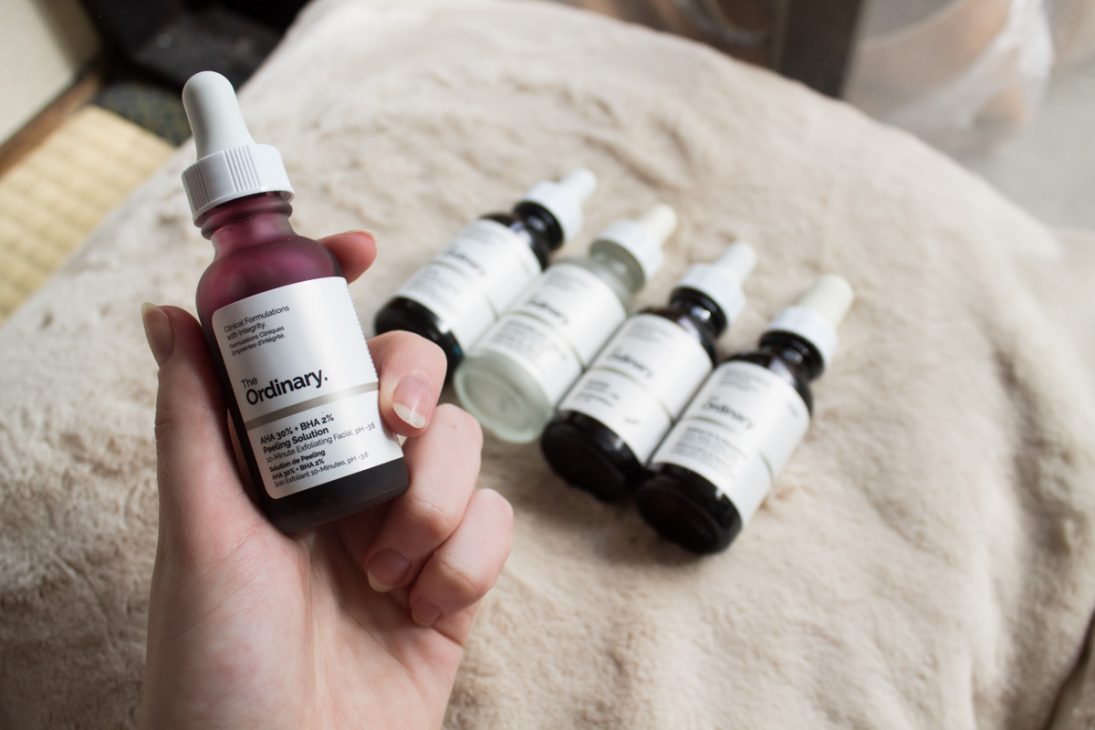 And that's it! We made it through every product that's going on my face on a regular basis heading into 2020. It's the perfect blend of what Asian and Western beauty has to offer.
It's not a huge amount for a skin care junkie, I don't think. It all fits in my tiny bathroom and barely takes me any time or thought at all.
Seriously, I can whiz through these steps in under 9 minutes in the morning while eating toast in one hand and putting on clothes with the other. I know all the carefully curated ingredients are working their magic, all without breaking the bank.
And seeing as my skin is looking this bomb 9/10 times lately, I'll take it. You want to see?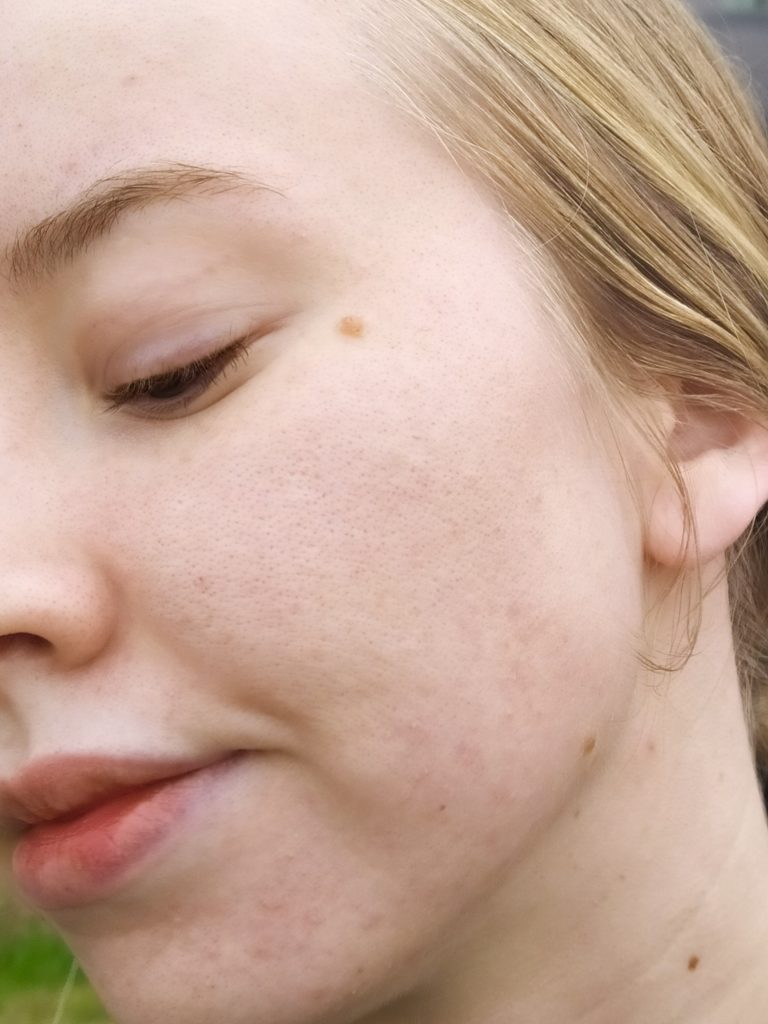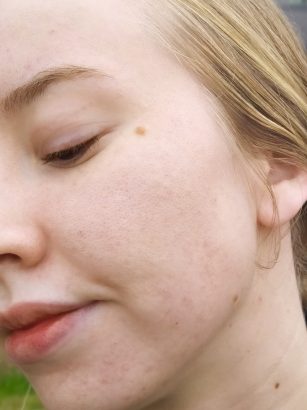 If you also want to check out the routines I've been through in the past, you'll find them here (Summer 2017) and here (Winter 2018).