It's time we recap some basic human biology.
Every cell in your body is part of a fine-tuned machine: sending thousands of signals, molecules and energy all over the place to keep things chugging along. Your DNA acts as an instruction manual for the production line of new cells, outlining how they should be made.
Over time once billions of copies of these cells have been made, the DNA instructions start to get old and damaged by outside aggressors, making them hard to read any more. That's when the signs of ageing begin – deep in the skin, as the DNA starts producing damaged cells which perform poorly and cause things like water retention, elasticity and pigmentation issues.
If only there was a way to rejuvenate the cell production again, and stimulate healthy, young, skin from the bottom up.
Turns out, there is!
The story of retinol
Through the 1940s-1960s they found an 'Elixir of Youth' in Vitamin A. As one of the essential vitamins to life, you probably already eat a ton of Vitamin A without noticing. It's found in carrots, eggs, spinach, peppers and more.
But, surprisingly enough, forms of Vitamin A like retinoic acid (stronger) or retinol (weaker) applied topically can also break down comedones (pimples) before they fully form, encourages the timely shedding of skin cells, interacts with receptors that produce collagen and hyaluronic acid, prevents inflammation and regulates things like elastin in cell production. That's a long list!
This makes these retinoids safe, non-invasive, highly effective, and some of the most popular anti-acne and anti-ageing treatments since the 1960s. This article offers a great, easy-to-understand overview of all the features of retinol.
Why I'm using retinol
Now, I'm always trying to stave off ageing. Prevention is better than a cure, so though I'm only 22, I want to get in early to keep my skin as good as it can be for as long as I can and prevent serious issues from ever cropping up.
But naturally, the texture of my skin has gone downhill in the past decade. After many of battles with acne, dehydration and infection, my pore size and fine lines are out of control. So I decided over a year ago to add retinol to my routine.
Safety precautions
High levels of Vitamin A has a high correlation to birth defects. To be safe, do not use retinol or retinoids (or overdose on oral vitamin A for that matter) when pregnant or planning on becoming pregnant.
Always wear sunscreen if you use retinol in your routine. Not just on the days you use it, but every day, because retinol dramatically increases photosensitivity. It's not reactive in the same way as citric essential oils where the ingredient itself becomes toxic when in the sun. Instead, retinol thins the upper layers of skin, which while offering a beautiful smooth texture, also decreases your natural SPF.
Because you'd be causing even more sun damage, you'd be better off skipping retinol altogether than using it while also not wearing sunscreen. To that effect, retinol is also broken down and made less effective by sunlight, so just keep it to the evening portion of your routine.
The Ordinary's Retinol 1% in Squalane Review
As one of the cheapest and simplest products on the market containing retinol, The Ordinary's Retinol 1% in Squalane Oil is a no-brainer for those trying a retinoid out for the first time. It's a low-strength over-the-counter formula which is a great stepping stone to prescriptions products like Retin-A.
Affordability
As some retinoid products can run you a huge sum, you'll want to check that it's something your skin can tolerate first; retinoids are known to cause irritation in some people. When you start to see results you'll feel confident to splurge on a luxury product. The Ordinary's Retinol is a great way to get your feet wet, at a shockingly low price.
What's on the outside? – Packaging
There's nothing new in terms of packaging here: The Ordinary's classic UV-protective glass dropper bottle with a minimalist design. And as always, my only qualm is the glass, which is a pain to travel with.
At this point, I have a stupid amount of these bottles, and they look cute as hell all together in with my monochromatic black and white apartment decor.
As an interesting side note, these photos were taken when the product was new. I've now had this bottle for… well, a lot longer than I should have. Which is great, because it means a little goes a long way and this product is so worth the price. But, my bottle has… changed since I first bought it. I don't know why, but the top part of the dropper, which is made of some kind of silicone, has swelled and grown in size about 2x! It's also discoloured yellow. Here it is compared to another Ordinary product: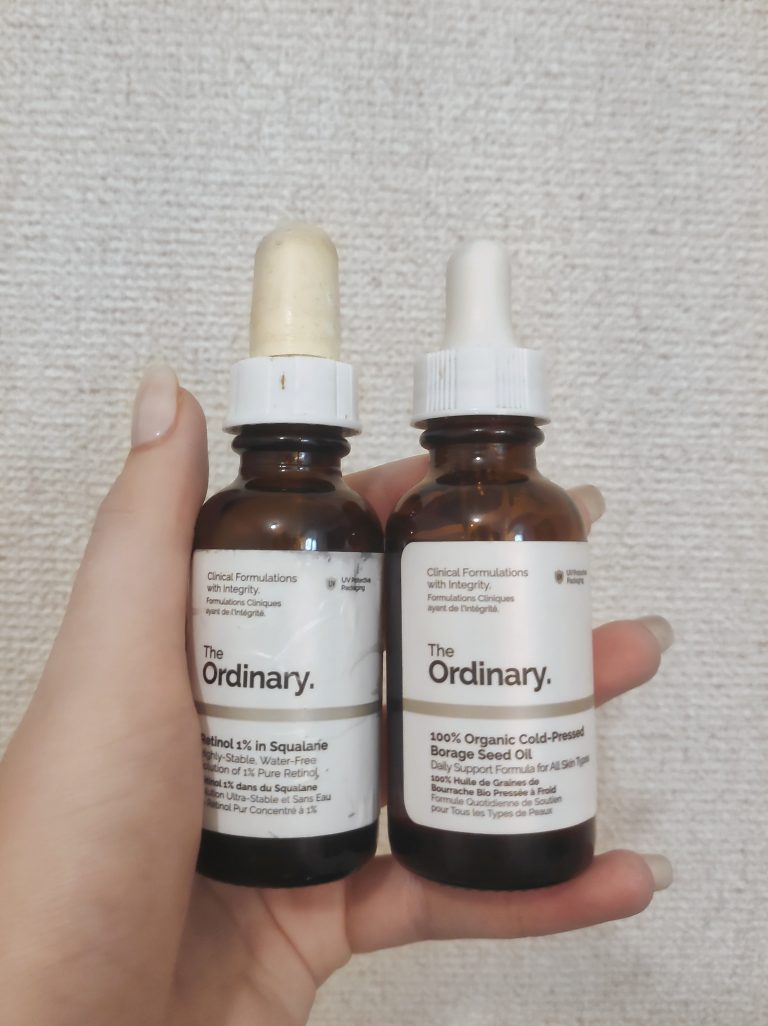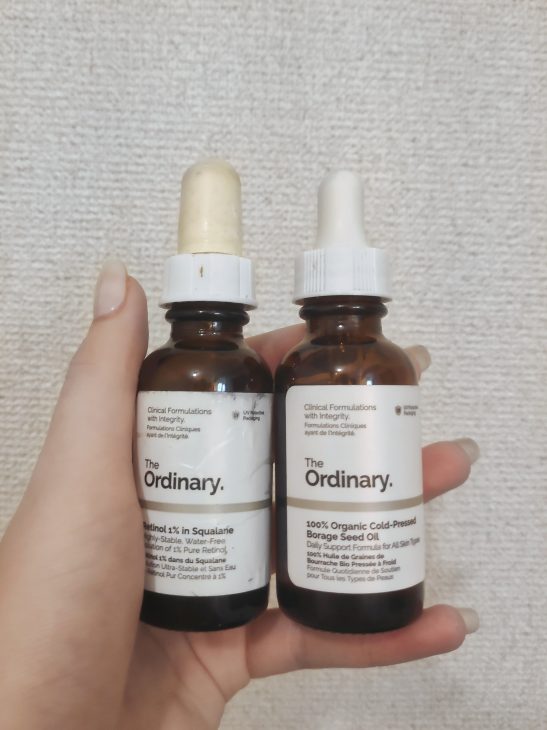 I imagine this is from the product sitting up inside the dropper from some overly-vigorous squeezing, but I don't know why it had that effect and it hasn't happened to any of my other Ordinary products!
It still works fine though, so it's just an ugly duckling on my shelf.
What's on the inside? – Ingredients
I personally love the lack of ingredients in all The Ordinary's products. I've said it before and I'll say it again: if your skin is fussy then you'll be able to pinpoint exactly what the issue is faster and easier. Yes, you'll need to buy more products for your routine but it offers you the flexibility to layer, add and remove things to your heart's content.
This product is no exception, boasting only 7 ingredients! Squalane and Jojoba oils, a broken down non-comedogenic coconut oil derivative, a preservative, and some vaguely antioxidant extracts of grain of paradise, tomato and rosemary – though I'd prefer it without those to be honest!
Application & textural impressions
The Ordinary's Retinol 1% in Squalane has a unique scent – it reminds me of tomato juice, with an acidic and herby edge. While strong, I personally find it quite pleasant and it dissipates quickly.
The serum-oil comes out very thin (just like The Ordinary's Squalane) but slightly golden-hued. It leaves barely any residue behind and feels surprisingly dry for an oil-based product – that's thanks to the combination of Squalane and Jojoba 'oils' which thanks to their unique structure, don't feel or act like like many other oils I've come across.
It doesn't irritate my skin whatsoever – however I'm careful not to use it every day, nor after I've done exfoliating treatments.
Long-term results
After a year of using this product only 1-3 times a week (aside from a period of time where I was suffering from fungal acne), I'm hooked. I find that the best way to describe it is that iit gives my skin a more refined look. Pores and fine lines seem smaller and more blurred, and redness is reduced in the morning. Everything's just a little bit better behaved.
Knowing that it's doing so much good deep down, and that I've had the best skin lately than I've ever had before, I'll keep this in my routine until it's finished and then perhaps graduate onto a stronger formula.
Recommendations
Retinol is FANTASTIC. If you're wanting to dip your toes into the world of advanced, preventative skin care for the first time. When you're overwhelmed with everything beyond cleanser, moisturiser and sunscreen (I don't blame you), then retinol is what you need. It does a multitude of wonderful anti-aging and skin-improving things, all with little effort and minimal risk. And especially at this price point, you've got little to lose. Get your hands on some!
Start small and use only every two or three nights and work your way up if you can handle it. Then simply keep a retinol in your routine from now until forever and enjoy the proven, long-term benefits.
You can take a closer look and purchase the product here.
Similar products
I know that some people want more out of a product than just the bare-minimum. Something like Sunday Riley UFO Oil is perfect – containing retinol and a plethora of other emollients and antioxidants (…and unfortunately some fragrant/irritant) ingredients, you'll feel luxurious and moisturised, and reap the benefits of retinoids, but at a slightly higher price. If something more glamorous like that will encourage you to wear it and make it part of a night 'ritual' more than bare-bones The Ordinary, go for it!
Let me know what you think of this product and if you have any other retinol recommendations for me to try next!