I regularly loiter around The Ordinary in my local mall, scanning the shelves to look for the 100th time at their offerings. So in my last haul I bit the bullet and strayed a little from my usual purchases (and because I know you'll ask, that's Borage Seed Oil, Retinol in Squalane, Mandelic Acid, Alpha Lipoic Acid and Niacinamide + Zinc) and finally snatched up my first ever bottle of Buffet to round out my collection.
Quite frankly, this product called out to me because I'm conscious of my need for anti-ageing. Not that I think I'm looking old (I'm only 22) but I have fair, pigment-prone skin, live in Australia where it's gorgeous but extremely sunny, love the outdoors and pulling funny faces. So I'm already starting to see hints of fine lines especially across my forehead (and as a self-proclaimed skin care fanatic, this will not do!).
Even more so, when I started to research Buffet I became super interested in the science of the ingredients and wanted to see them in action myself.
Something you might not realise is that the product is actually called "Buffet" – as in, with the quotation marks. Why is that? From reading what The Ordinary has to say on their website, Buffet was so named as a slight tongue-in-cheek move because other companies used the boujee term in their marketing to "…[compare their] products to buffets that offer various kinds of food in one sitting." From that alone we get the feeling that Buffet's going to come with a veritable cornucopia of powerful claims.
What does The Ordinary claim Buffet can do?
The Ordinary comes right out of the gate boasting multi-tasking abilities thanks to a "comprehensive array of studied technologies to target multiple signs of aging at once".
Interestingly enough, the Ordinary make very few specific claims about what concrete results you can expect to see from this product.
There's a lot of trademarks and scientific jargon at the heart of the general anti-ageing claim, mainly centred around a series of peptides and other powerful ingredients, including Matrixyl 3000 & synthe'6, SYN-AKE, Relistase, ARGIRELOX, probiotics, amino acids and hyaluronic acid.
Basically, if you're looking for that all-in-one wonder serum that means you'll never have to think about anti-ageing again and you can live out your life in blissful ignorance, this claims to be it. Think firming, lifting, smoothing, plumping, and so on.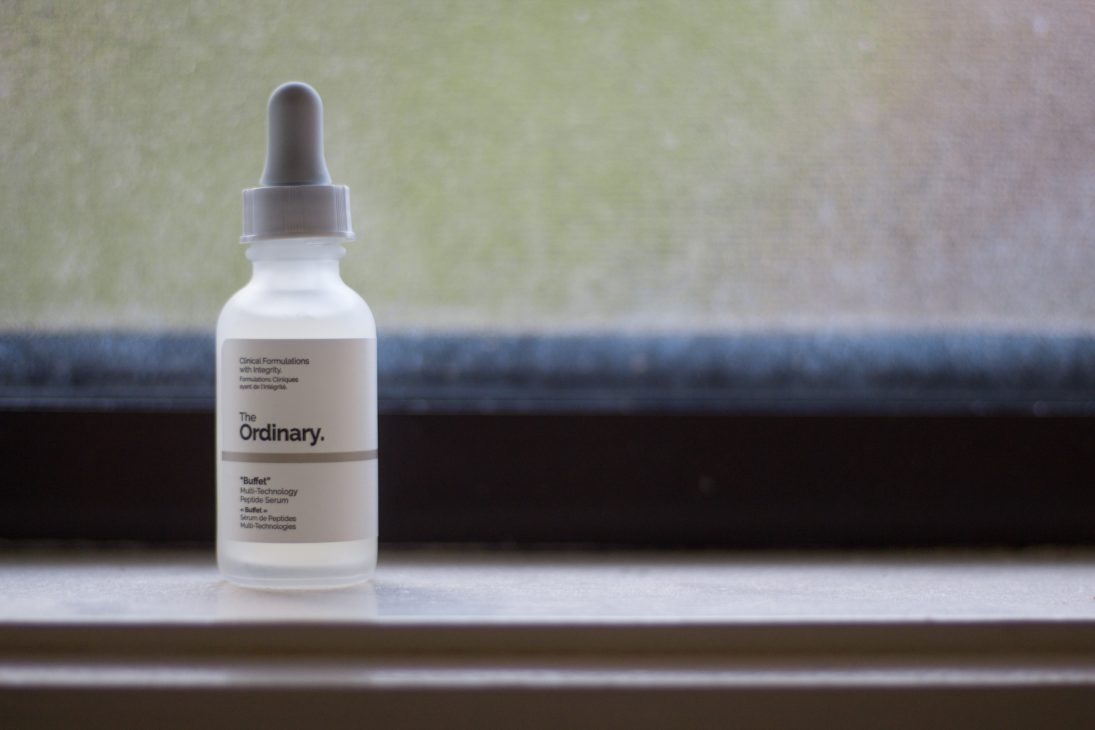 Price: How much does Buffet cost?
Though still affordable, Buffet is sitting near the top of The Ordinary's stellar price range at $24.90 AUD or $14.80 USD for 30ml of product. I've been using mine a few times a week for 4 months and I'm not even 1/3rd of the way through, so I'd expect my bottle to last me almost a year, making it something that won't break the bank or give you buyer's remorse if it ends up not being for you.
Packaging: What will it look like on my shelf?
As with all of The Ordinary's minimalist and matching packing, Buffet comes in a white frosted glass dropper bottle with a white label. While it looks sleek and trendy on your skin care cabinet, it's a little sketchy for travel (especially if you have 8 glass bottles like I do and they all roll around and clink together – eep!). It's easy to see how much you've used so you know when to restock.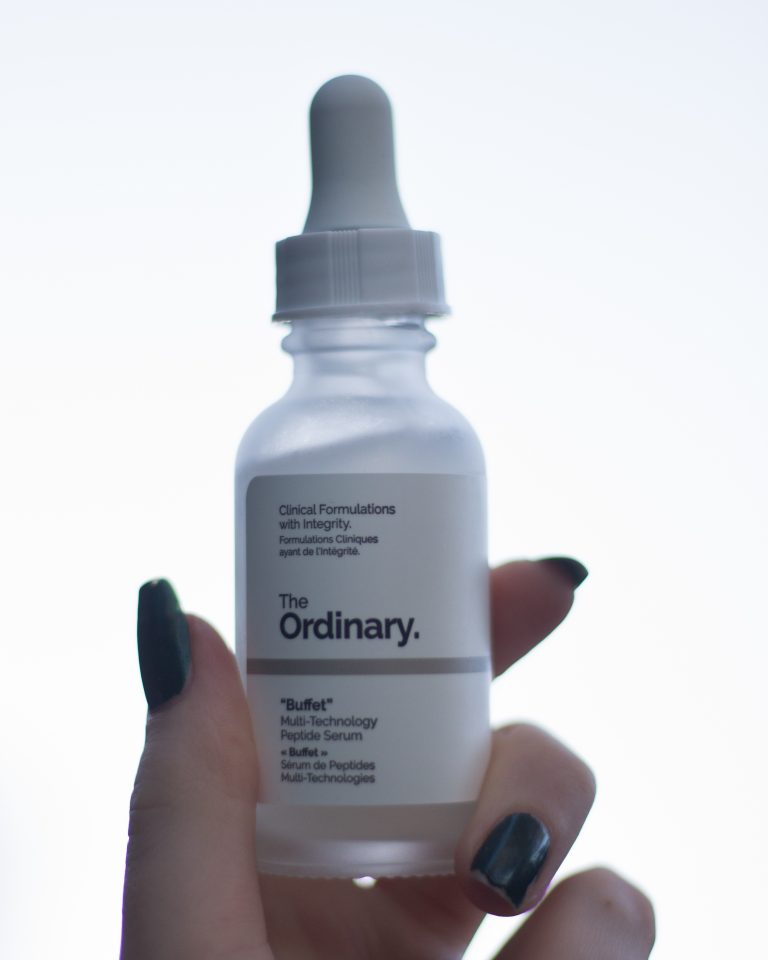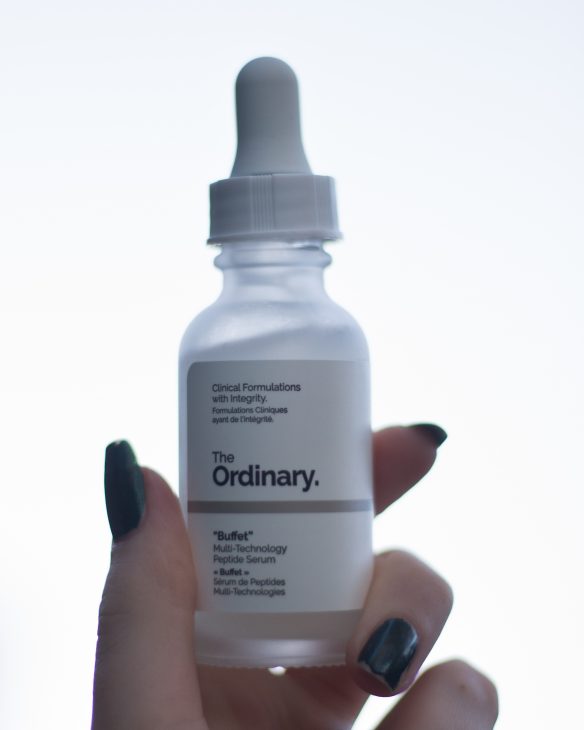 Ingredients: What's inside a bottle of Buffet?
The higher price tag of Buffet is almost certainly due to its unique formulation for the brand. Unlike most of The Ordinary's products which boast a shockingly short ingredients list, Buffet packs in a lot into its tiny bottle. While this leaves more room for irritation, allergies and contraindications, it also means you're getting a rich and 'all-in-one' product which is to some people's tastes. The exact ingredients are:
Aqua (Water), Glycerin, Lactococcus Ferment Lysate, Acetyl Hexapeptide-8, Pentapeptide-18, Palmitoyl Tripeptide-1, Palmitoyl Tetrapeptide-7, Palmitoyl Tripeptide-38, Dipeptide Diaminobutyroyl Benzylamide Diacetate, Acetylarginyltryptophyl Diphenylglycine, Sodium Hyaluronate Crosspolymer, Sodium Hyaluronate, Allantoin, Glycine, Alanine, Serine, Valine, Isoleucine, Proline, Threonine, Histidine, Phenylalanine, Arginine, Aspartic Acid, Trehalose, Fructose, Glucose, Maltose, Urea, Sodium PCA, PCA, Sodium Lactate, Citric Acid, Hydroxypropyl Cyclodextrin, Sodium Chloride, Sodium Hydroxide, Butylene Glycol, Pentylene Glycol, Acacia Senegal Gum, Xanthan Gum, Carbomer, Polysorbate 20, PPG-26-Buteth-26, PEG-40 Hydrogenated Castor Oil, Trisodium Ethylenediamine Disuccinate, Ethoxydiglycol, Sodium Benzoate, Caprylyl Glycol, Ethylhexylglycerin, Phenoxyethanol, Chlorphenesin.

Peptides
The stars of the show, of course, are the peptides. Peptides appeared on the science scene in the late 80s but didn't take off in skin care until the invention of a wider range in the 2000s. There is emerging evidence to show that they form a part of the proteins that your body eats up and uses to fuel the repair of age-related damage to tissue like collagen. They can do everything from relaxing muscles, to firming the skin, restoring texture and increasing resilience. While definitely not quote as provenly effective as some other star anti-ageing ingredients such as retinol, peptides do show promise to be one of the most powerful upcoming anti-ageing players when used as part of a wholistic routine. Think of them like the latest essential vitamins and minerals for your skin.
Interestingly enough, it's important to note that some acids (like AHA and BHA) or Vitamin C products, or other strong active ingredients may have a reaction with the peptides in Buffet. As such, try to keep them in separate routines – either on different days or split over AM/PM.
Hydrators
In this lengthy list, we also see notable supporting ingredients played by tried-and-true serum ingredients such as hyaluronic acid which is a humectant and will plump up the skin to fight dehydration.
Amino acids
The items ending in '-ine' are even more amino acids – which you can think of as even further broken down version of peptides and are the 'building blocks' of the human body.
Probiotics
There's also an interesting inclusion of the less common Lactococcus ferment – a probiotic bacterial culture related to Lactic Acid and made from milk which supposedly yet again supports skin growth and strength.
Clearly, Buffet delivers when it comes to providing an arsenal of various anti-ageing elements.
Texture & Use: What does Buffet feel like to apply?
Even the best ingredients list can be ruined by an unpleasant final product, but Buffet – despite its pretty gross name – is really pleasant to use. It has a medium consistency that's runnier than honey, but thicker than water. The water-based serum's not sticky nor is it scented or coloured – score! After applying about 3 generous drop to your hands and spreading it across your face, it dries down to a semi-glowy moisturising finish quite quickly.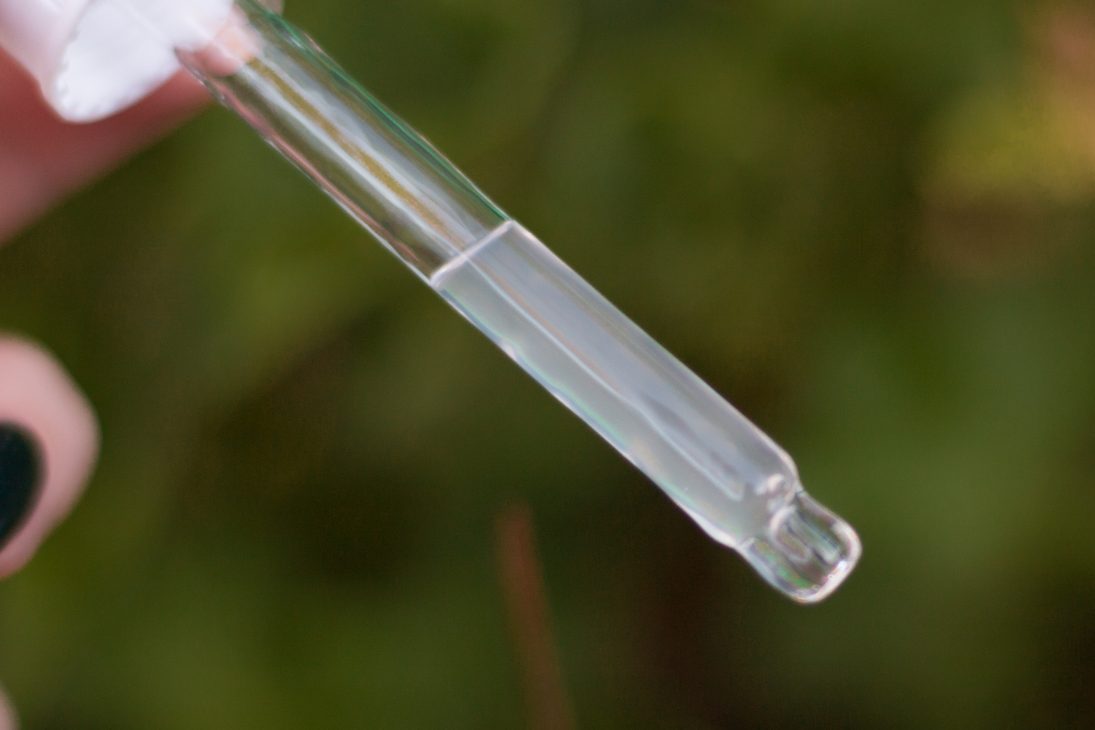 I apply Buffet in the morning every other day as a replacement for my holy grail hyaluronic acid serum Hada Labo Premium Lotion, as the hyaluronic acid in Buffet performs the same job but I get all the other benefits of Buffet too.
Results and thoughts after 4 months
Buffet made huge waves when it first came out – and it's easy to see why. A scientifically-backed hydrating and anti-ageing serum that wasn't mind-bogglingly expensive? People saw it as groundbreaking and forcing other companies to re-evaluate their own offerings.
Online, the opinions on the product while generally positive seemed pretty divisive. When the reviewers weren't completely unimpressed and disappointed, the reaction seemed nothing less than reverent. Like Alpha Lipoic Acid, this product is touted by many as something that makes a change you can't quite put your finger on – fresher, younger, firmed, more radiant skin. Yes I still felt oddly skeptical. After all, you can't see peptides at work, and I know that anti-ageing ingredients tend to be a long game and the placebo effect can be powerful.
Personally, I'm not seeing wonders in tangible results, but I didn't expect to. I'm not in middle or late age, and I certainly don't have terribly aged skin, so maybe this product isn't targeted to me. My skin looks hydrated but mostly unchanged after using this for 4 months.
Luckily I'm not phased – I'll continue to use Buffet because I love how it feels and the affordable price where I can still get the super cool benefits of peptides that I know are working behind the scenes as a core part of my ageing defense strategy. In combination with other targeted treatments like antioxidants, retinol, lasers and a healthy lifestyle I should be set for whatever the future holds!
Editor's update from the ~future~: Buffet is still going strong in my latest routine lineup a year later.