There's a new kid on the block when it comes to trendy and groundbreaking skin care science. Which makes me, as a certified skin care geek, extremely excited. Lately, I've been hearing all about Alpha-Lipoic Acid (or ALA for short) and how this amazing ingredient does, well, everything. I want to look a little deeper into the proven benefits of Alpha-Lipoic Acid, and share with you my review on The Ordinary's ALA serum.
Chemical structure of Alpha-Lipoic Acid
Alpha-Lipoic Acid or ALA is a water and fat-soluble antioxidant sulphuric fatty acid that can penetrate the cell membrane. It's naturally produced in the body as a part of metabolism.
Traditional uses of Alpha-Lipoic Acid
You'll most often see ALA sold as an internal supplement for whole-body antioxidant benefits, and one that can cross the blood-brain barrier to provide brain health support, nervous system support and liver support.
Benefits of Alpha-Lipoic Acid for skin
Some smart people figured that since ALA is amazing for regenerating antioxidants with the body (it's able to help replenish stores of both Vitamin C and E), perhaps it would work on the skin. And boy were they right. The proven benefits of using Alpha-Lipoic Acid topically include a reduction in inflammation and slowed ageing thanks to prevention of free radical damage and increased collagen formation that improves fine lines and sagging. It's been shown to benefit all skin types.
When I heard all this, I knew it was time to give it a go for myself. Onto the review…
What does The Ordinary's Alpha Lipoic Acid claim to do?
In line with the trials mentioned above, The Ordinary's Alpha-Lipoic Acid serum claims to restore skin tone and texture. Many reverent reviewers seem to mention the appearance of a 'glow' and freshness the morning after using this.
Where can you buy The Ordinary's Alpha-Lipoic Acid?
You can buy this from Amazon. It retails for around $12-13 AUD, but click here to check the current price.
What's on the outside – Packaging
Alpha-Lipoic Acid is in a classic The Ordinary glass dropper bottle with a white pipette and lid. It's aesthetically pleasing, but a pain to use and not ideal for travel. I personally pack an overnight bag several times a week and I'm always worried that when I unpack I'll have a smashed bottle! Luckily, the three tiny drops you need for each use mean a 30ml bottle lasts a long time, and the glass is recyclable and better for the environment than plastic.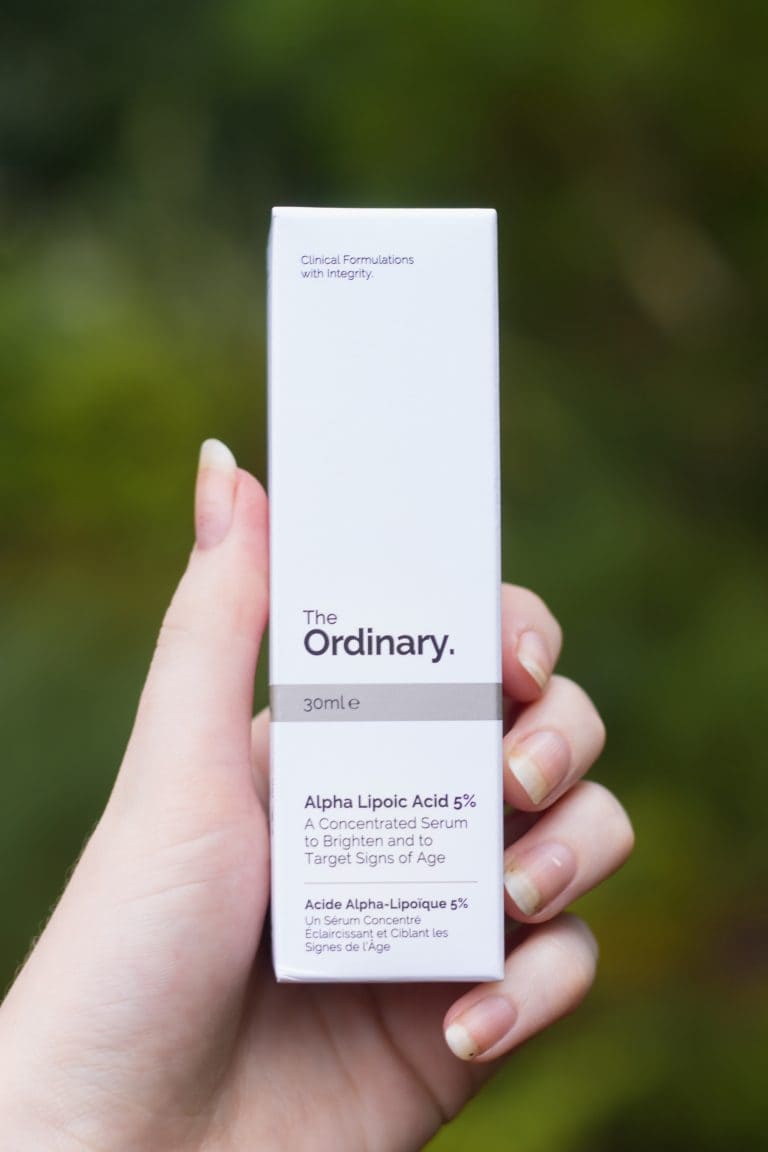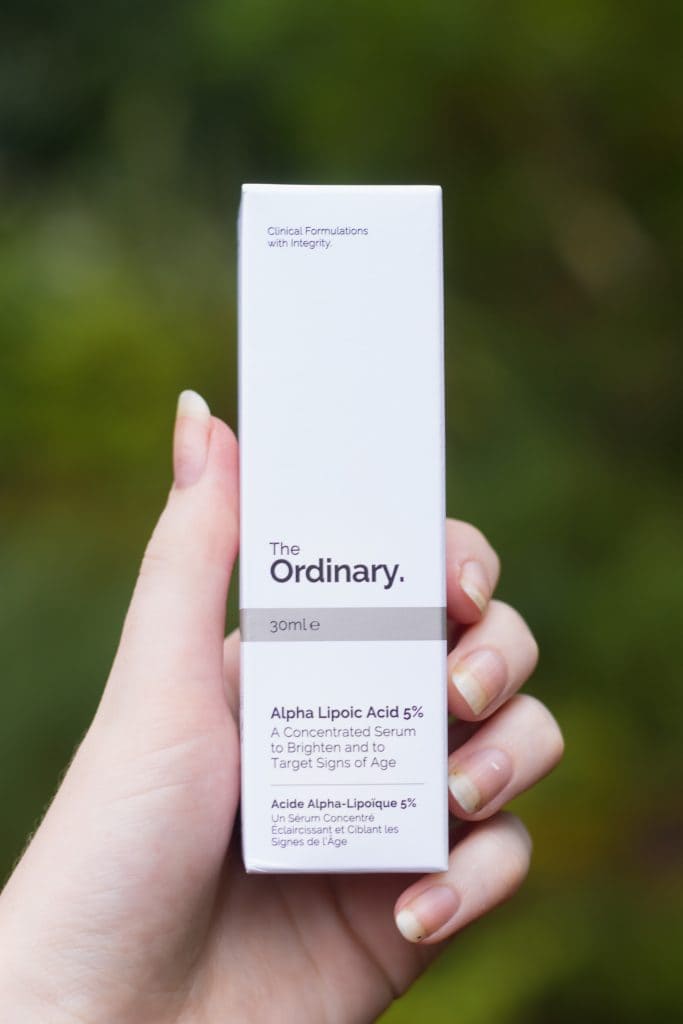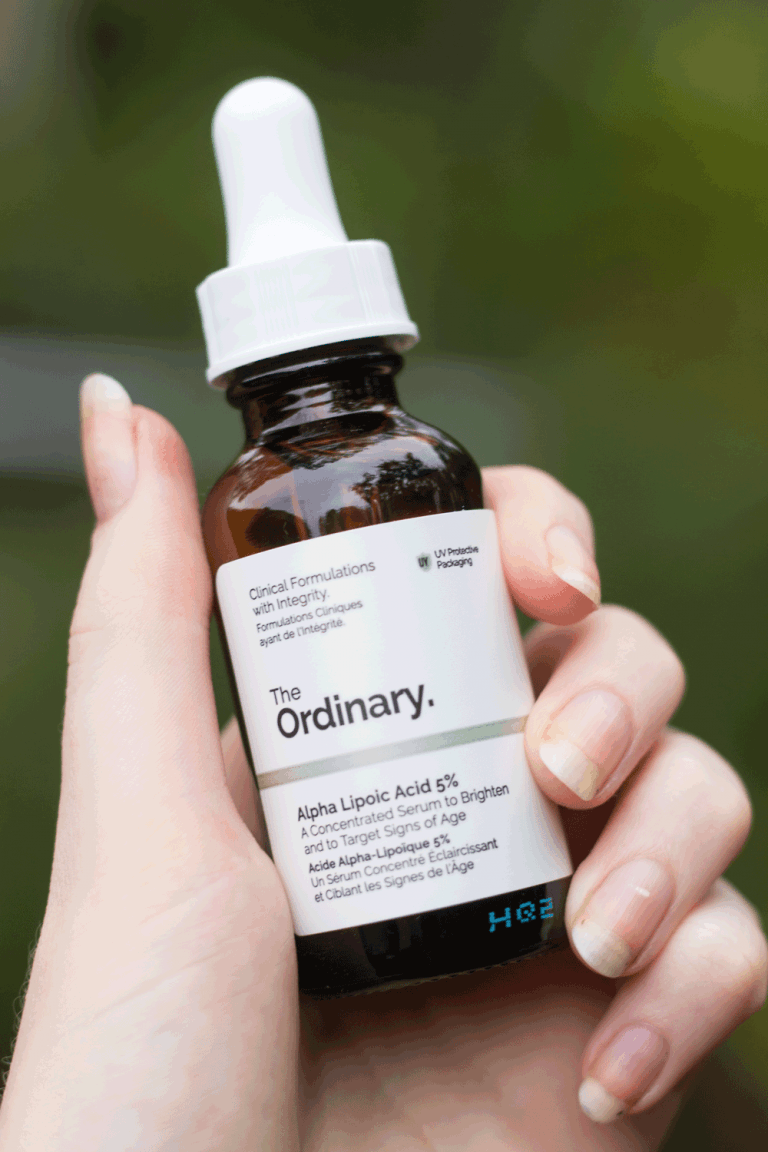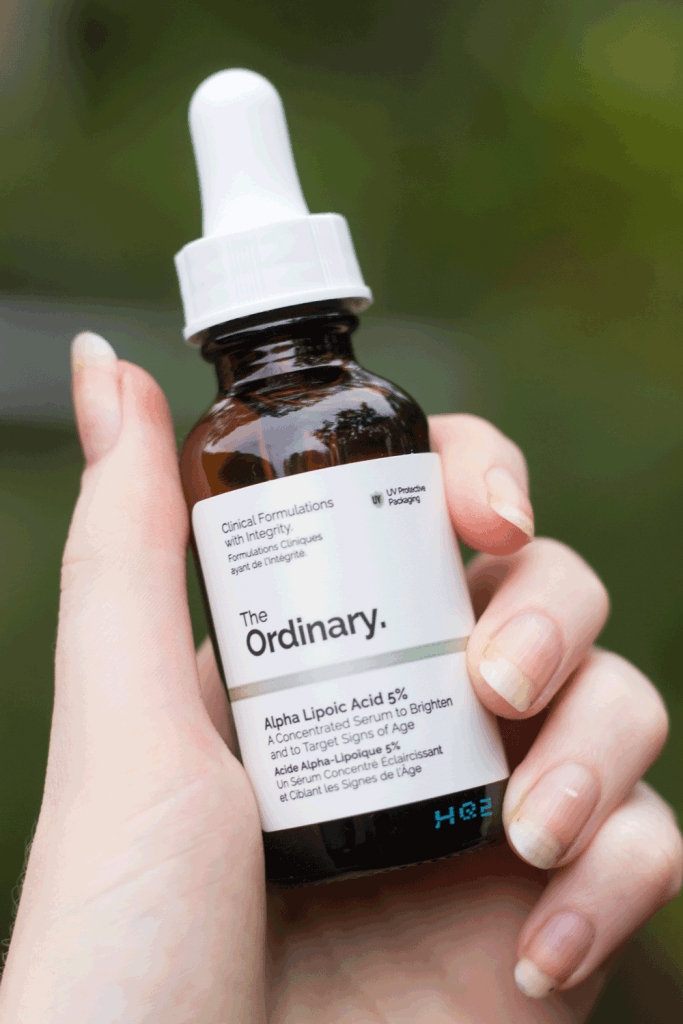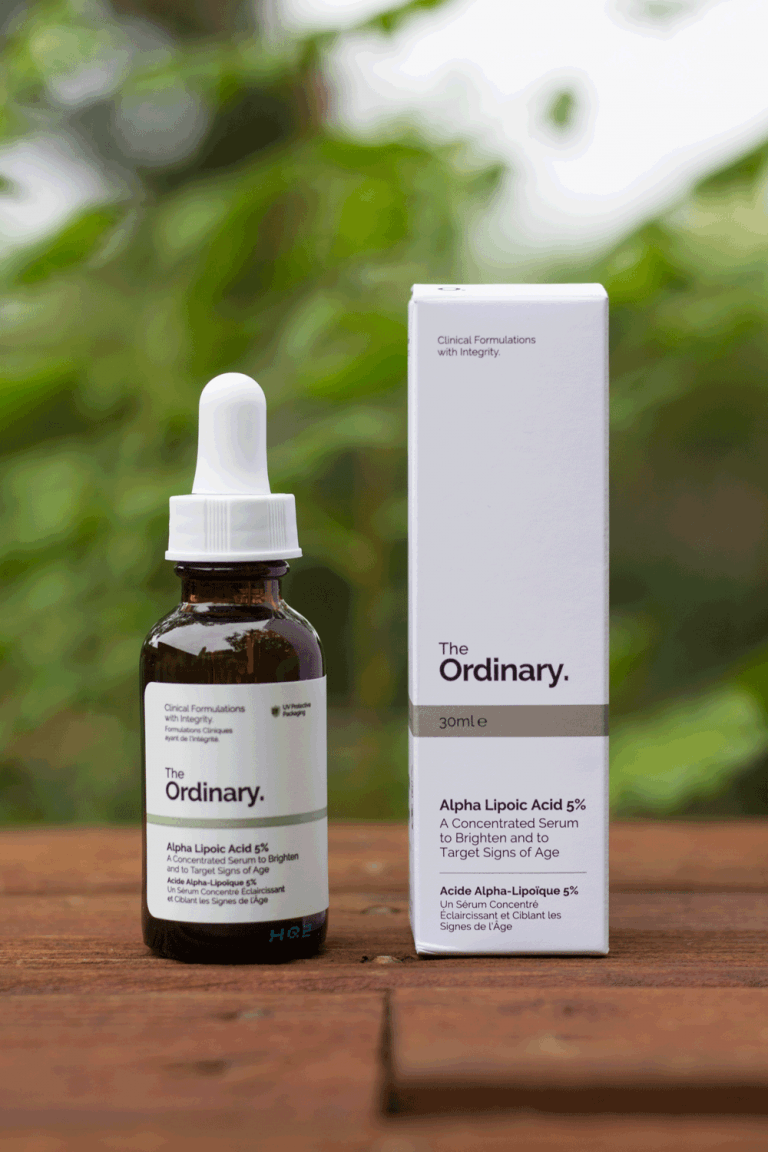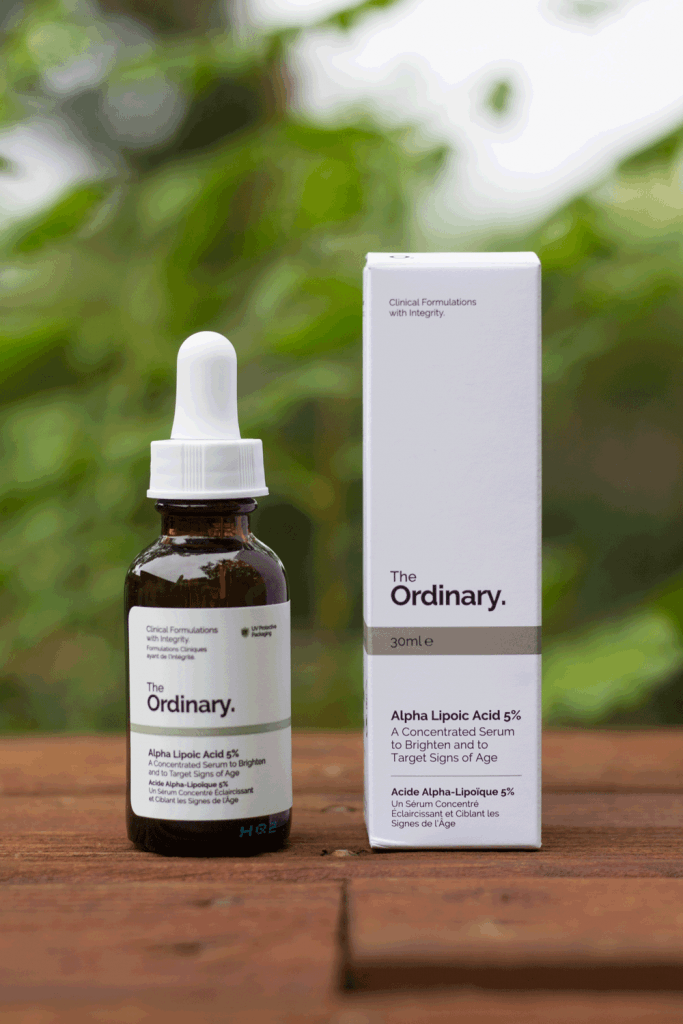 What's inside – Ingredients
This one's pretty simple: it's made up of Propanediol aka. Propylene Glycol, and 5% Thioctic Acid aka. Alpha-Lipoic Acid. That's it!
My skin really appreciate simple ingredients lists and it makes it tons easier to figure out which things my skin likes and which it doesn't like. Of course, this means that with almost all The Ordinary's products, they aren't one-n-done products – you have to be sure to include a healthy variety of moisturizing agents, antioxidants and more. This means your routine can get pretty long!
How does it apply?
The Ordinary's Alpha-Lipoic Acid has a dry, oil-like texture that absorbs fast and leaves a light film behind. It's surprisingly hard to spread. Then, the infamous tingle begins. It feels like you've put a bit of warm chilli on your face – not prickly stinging like a strong glycolic or lactic acid, but a subtler and longer lasting sensation. I will say that if you have any irritated or broken skin, or eczema like me, you'll want to avoid putting this on those areas – the sting will last a while and packs a punch! Despite what Paula's Choice Beautipedia has to say, this product does not have a strong odour. It's a little herbal, a little smoky, but nothing offensive.
My results & final thoughts
Basically – and this goes against my very analytical nature – I really enjoy this product despite not being able to pinpoint exactly *what* it does for my skin. It's just seemed that ever since introducing this a few months ago, I've noticed a lovely plump and smooth texture and glow about my skin. It doesn't make me flake like crazy like some AHA's I've tried, either (and I've tried tons and tons). I've enjoyed a really smooth and soft complexion and reduced redness. My headless acne seems flatter and heals faster. The fine lines on my forehead seem less prominent, and I think my skin looks clarified and clearer.
My only gripe is that I can't determine exactly what this is – is it an antioxidant or an exfoliant! But I guess that's just the nature of using products with fresh scientific ingredients: they've not been tested for very long yet. I can't say I've noticed specific exfoliative benefits, like improvement in closed comedones, so I wouldn't count on this as your only exfoliator.
I will continue to use this product indefinitely. I love the way my skin is looking so I see no reason to change what I'm doing, and knowing that Alpha-Lipoic Acid is doing good deep down in my cells to prevent ageing is an added bonus!
Who is Alpha-Lipoic Acid for?
I think this product is for people with generally non-problematic skin – no huge skin conditions like eczema or acne – who are feeling a little lacklustre. It wont tackle the big problems, but it will make the skin in between softer and more supple. It's also for those wanting to delve into the long-term anti-ageing benefits of antioxidants.
I hope you've learnt a little something about this wonder-ingredient and maybe you feel inspired to give the serum a try yourself. It sometimes pays off to be adventurous and try something out of the ordinary!
You can check the price and purchase a bottle here.
PSA + important update:
It's a while since I've written this post, and I'd let Alpha Lipoic Acid fade out of my routine. Wanting to pick it back up and get the awesome benefits, I found a backup bottle in my cupboard. And what I found growing in it was terrifying. My bottle had clearly gone off while it was in disuse and, well, is no longer something I'll be putting on my skin. You can see pictures of the expired product here. Picture a shrunken head in a jar, but it's a fungal colony. Ew! Be sure to keep an eye on your own bottle for signs of expiry!