If you aren't a hardcore skin care fan like I am, then the name and appearance of The Ordinary AHA 30% + BHA 2% Peeling Solution might scare you.
"AHA" and "BHA" sound more like exclamations that ingredients, should you face ever really be 'peeling', and oh, did I mention the BRIGHT BLOOD RED colour of the mystery goop inside? What the heck even is this product?
Well, The Ordinary has knocked it out of the park yet again with bringing affordable prices to effective skin care formulas. And this time it's in one of their more unusual (but my favourite) ways – with a combination high-intensity chemical exfoliating treatment.
Read on to find out what The Ordinary AHA 30% + BHA 2% Peeling Solution can do for you.
What The Ordinary claims AHA 30% + BHA 2% Peeling Solution can do
So why on earth would you want to put this on your face?! Let's check out what The Ordinary has to say about their product.
Reading The Ordinary's website, I can see that this dual exfoliating treatment is supposed to offer a "brighter and more even appearance" and "help clear pore congestion". The result of combining the two types of acids – AHA and BHA – which are usually separate, is "deeper exfoliation to help fight visible blemishes and for improved skin radiance".
Basically, BHA is a unique type of oil-soluble acid that helps break down built up pore matter, like sebum and blackheads and dead skin cells, but is also anti-inflammatory. In this way it's a great anti-acne treatment! AHA doesn't have the same pore-cleansing properties as BHA, but it does a superior job in resurfacing the skin, being able to break down the bonds that are keeping old and tired dry skin stuck on there. By very minimally sloughing off and thinning out the outermost layers of skin, it frees closed comedones and improves the look of the skin's surface, improving glow and smoothness.
By combining them together, the two acids can get to work on their areas and support one another. The BHA breaks the way through the pore and any debris, while the AHA treats the skin itself and clears the way for a fresh new layer to come through. Layering these acids isn't a new concept, and neither is combining them together in an in-office peel, but rarely are they used at once in an at-home treatment. That makes this product quite unique on the market.
Over time, we can apparently expect to see an improvement in skin texture and a reduction in fine lines. Sounds pretty great!
I'm a huge fan of peels and acids and as someone with highly problematic skin, I jumped on the chance to order this for myself and give it a go.
How much does 30ml of the Peeling Solution cost?
Do I even need to say? The Ordinary is known for being one of if not the most affordable skin care brand. What they lack in packaging pizazz, fragrance, and filler ingredients they well make up for in price. For such a strong and effective treatment, this little bottle only costs you around USD $9. Seriously. Considering a professional treatment of a strength like this or another similar product is more like $100, it's definitely worth a try to dip your toes in first and see if you like the results. You can check out the current price here.
Ingredients in the AHA 30% + BHA 2% formula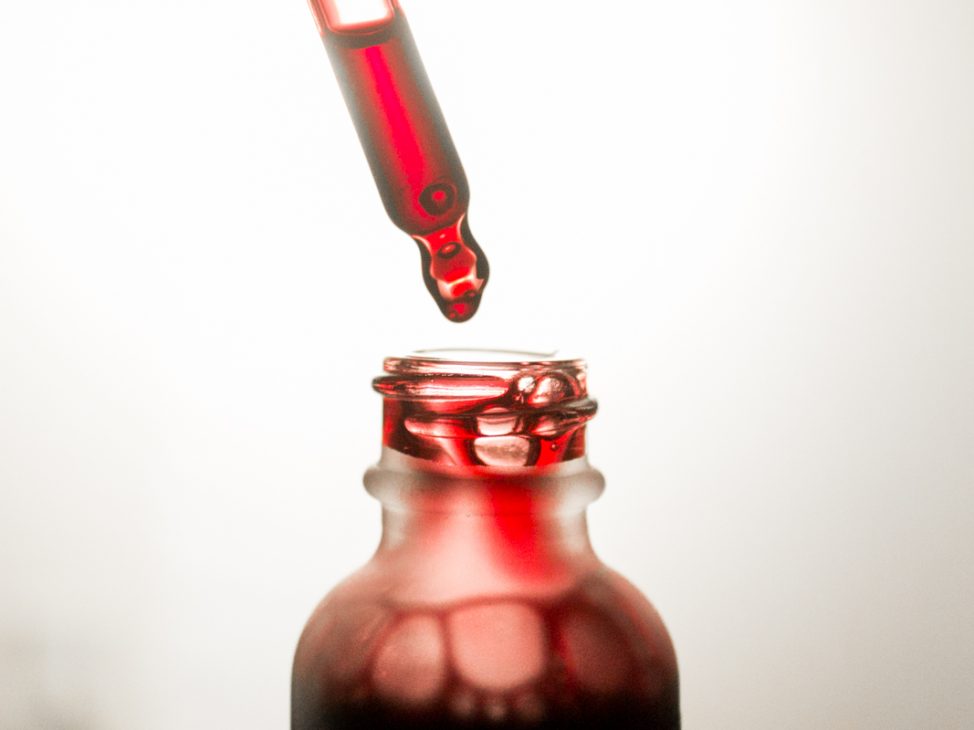 From just the name we can tell this is going to have a longer ingredients list than most of The Ordinary's super minimal products. Looking at it however, it's still not even that much!
Glycolic Acid, Aqua (Water), Aloe Barbadensis Leaf Water, Sodium Hydroxide, Daucus Carota Sativa Extract, Propanediol, Cocamidopropyl Dimethylamine, Salicylic Acid, Potassium Citrate, Lactic Acid, Tartaric Acid, Citric Acid, Panthenol, Sodium Hyaluronate Crosspolymer, Tasmannia Lanceolata Fruit/Leaf Extract, Glycerin, Pentylene Glycol, Xanthan gum, Polysorbate 20, Trisodium Ethylenediamine Disuccinate, Potassium Sorbate, Sodium Benzoate, Ethylhexylglycerin, 1,2-Hexanediol, Caprylyl Glycol.
As the name suggests, the 'active ingredients' (the important ones that create results) in this product are the 30% AHA (Alpha Hydroxy Acids) and 2% BHA (Beta Hydroxy Acid aka. Salicylic Acid).
Glycolic and Lactic are the two big AHAs, whereas Tartaric and Citric I believe are present more for a pH fine-tuning effect. 2% Salicylic Acid isn't a hugely high amount, but in this particular formula it does increase the intensity of the AHAs.
Also important to note are the supporting ingredients of Hyaluronic Acid Crosspolymer, Vitamin B5, Black Carrot and Tasmanian Pepperberry, which are antioxidants and vitamins that help to protect and heal the skin during the treatment. The Pepperberry is to thank for the vivid and frankly frightening colour of the treatment.
The rest are preservatives and other parts of the formula that are more texture or chemistry based and we won't delve into.
A little science note:
One important thing to keep in mind with acids is, well, the acid! So how do acids work?
The pH level of an acid formula dictates the strength of exfoliation, but only indirectly. As the formulas pH is lowered and becomes more acidic, more 'free acid' becomes available to exfoliate the skin instead of just sitting inactive in its salt form. The ideal point is where the pH isn't too low (risking acid burns) while still maximising free acid availability. While artificially increasing the pH of a formula to make it less acidic sounds like it would be a good idea to make the exfoliation more gentle, actually as the free acid converts into salts, not only does it no longer exfoliate but it can actually also cause even more irritation. The point of perfect balance for each type of acid with maximum free acid at a safe pH level is called its 'pKa', and every acid's pKa is different.
Skin care acids are carefully chosen and formulated so their ideal free acid content is still at a safe pH level for the skin. Therefore the correct choice of acid and pH is crucial.
The main acid in this product is Glycolic Acid, which has a pKa of 3.6 and thus the product is designed with a 3.6pH. This is still in the safe range for skin.
That's a roundabout way of saying formulas are not just tossed together and acidic for the sake of it, but it is also designed to be STRONG while being as gentle as possible. You can't just use any old acid like lemon juice at any random pH on your skin and expect exfoliation magic!
Appearance (outside & inside)
Packaging: outer cardboard box & glass bottle
The Ordinary doesn't really branch out when it comes to packaging. Here, we're looking at the classic packaging of a slim white cardboard box with minimal labelling like every other Ordinary product. Inside is the usual glass dropper bottle, this time in a frosted transparent colour as there's no chance of UV light damaging the active ingredients in this particular formula.
Each 30ml/1 fluid ounce bottle comes with a screw-off lid with a silicone top attached to a glass pipette to retrieve the product.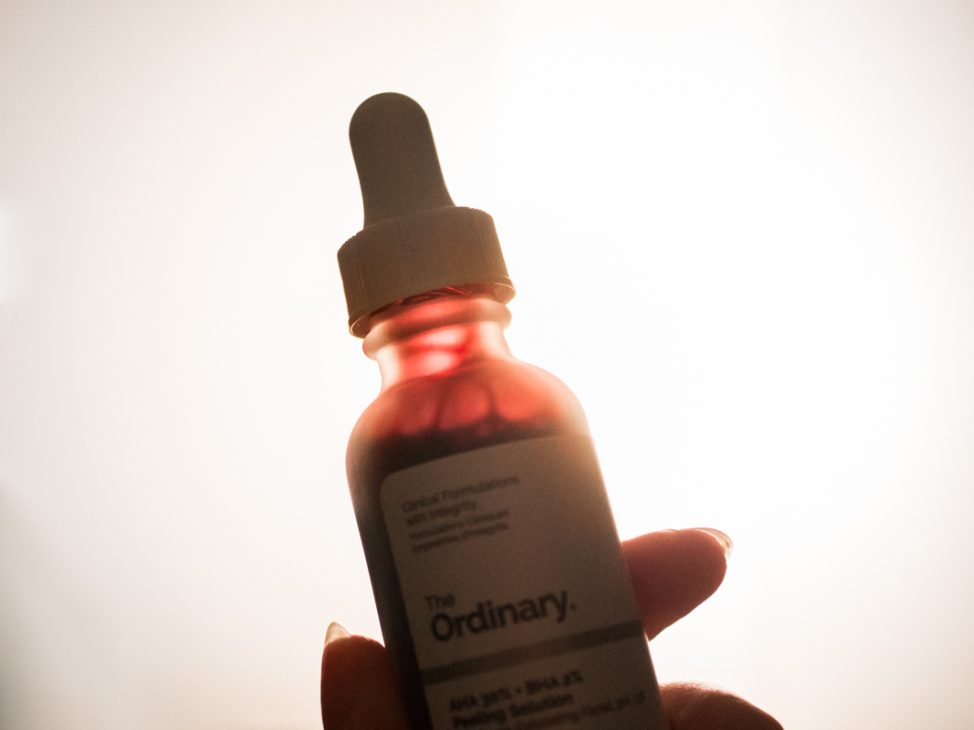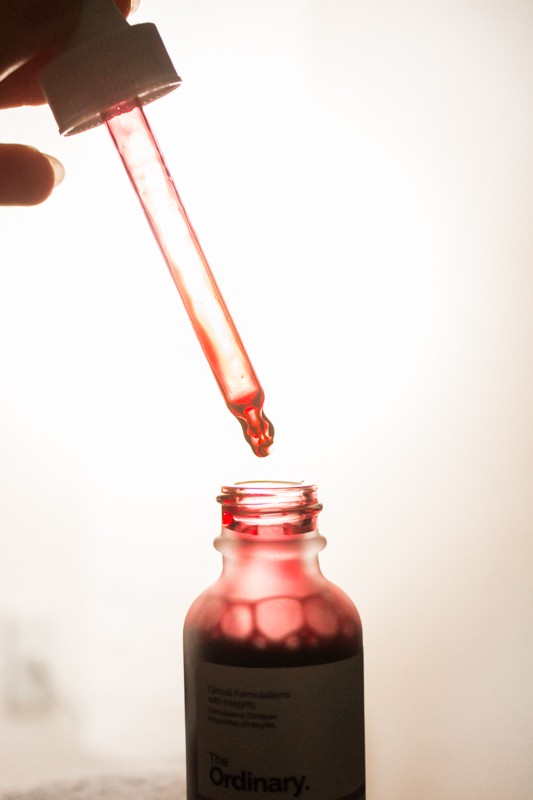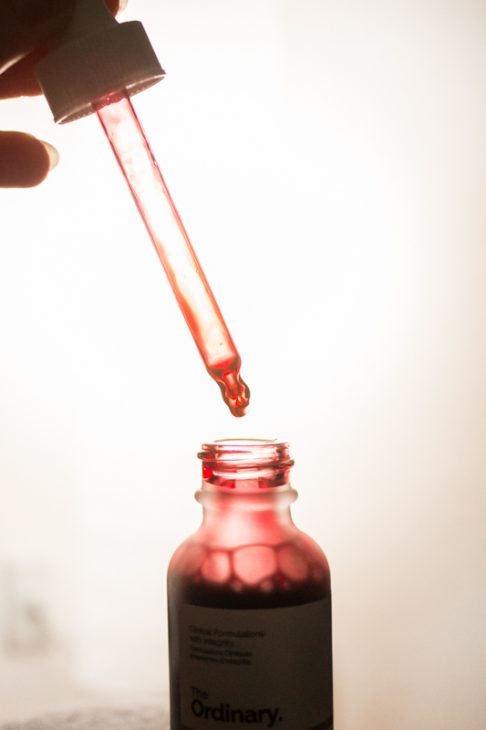 How the product looks
The peeling solution comes out of the bottle in a translucent, thin jelly-like formula that will slowly run down your hand and drip if you're not careful.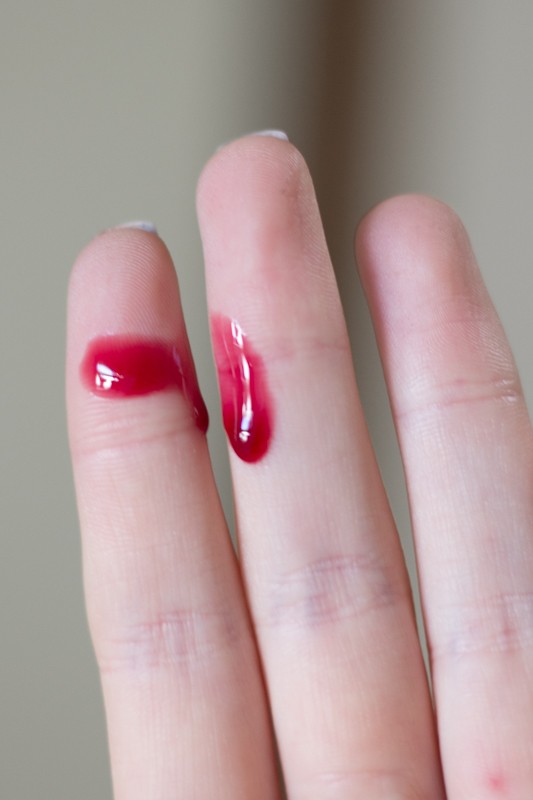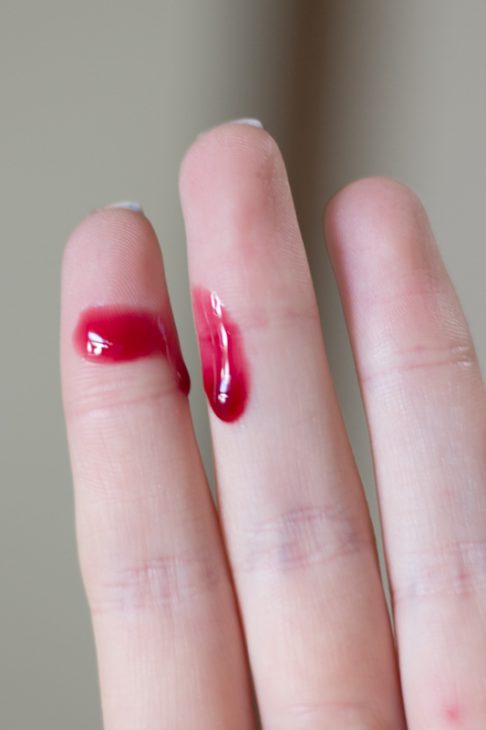 The first thing you'll notice is the deep berry red colour of this peel. It's reminiscent of something like beetroot or cranberries, and I'd imagine it might stain light fabrics just the same, so be careful!
It has a very faint sweet and sour berry smell. But pro tip – don't taste it! I got some on my lips and accidentally did and it's incredibly bitter and not in a good way.
Application of the peel
I'll sum up applying this product in one word: Horrifying.
Wonder no more how you would look if you went full on 'Carrie' and murdered a bunch of people. You can just smear this on your face instead and immediately get the visual. Its berry-red, transparent jelly consistency really (really) makes me think of blood.
I have to use about half a syringeful to have enough to spread over my face. If you're using it once a week like me, I'd say you're going to get about 6 months out of the bottle.
Once you spread it out and rub it in a lot, it does sheer out and actually foam up the tiniest bit and becomes a lighter shade of purple-red. It definitely looks like a bad sunburn and it's a little concerning when combined with the fact that you're totally aware you're playing with an actual acid on your skin.
After that, you've got about 20 seconds until it dries down to a very sticky, shiny finish and stays that way until it's time to wash it off.
The suggested application time is 10 minutes. I can leave it on a little longer as I'm very experienced with acids and have worked my way up to it, but definitely try just 5 minutes if it's the first time you use it.
I experience minimal stinging beyond a slight initial tingle and quite easily forget I'm wearing it, so be sure to set a time on your phone.
After rinsing, my face feels squeaky clean but I have no redness at all – hallelujah!
The following day or two after using The Ordinary's Peeling Solution, my skin looks very taut and sometimes has some tiny areas of very minimal flaking, easily covered with moisturiser. Contrary to what the name "peeling solution" might suggest, it's not strong enough to make your skin peel off in the way a much stronger in-office peel with a dermatologist does.
Results from The Ordinary AHA + BHA Peel
Well, it's safe to say I've found a new holy grail exfoliant.
Since beginning to use the peeling solution a few months ago, I've seen huge improvements to my skin texture, clarity, and calmness. It's really levelling up my skin from 'meh' to something people are complimenting me on!
This product does everything I need it to: from fighting off my stubborn acne to making me literally BEAM. Specifically, my extremely oversized pores have calmed down and now blend in better with the rest of my skin, and my under-the-skin acne bumps are way less noticeable.
You'll have to check out my latest updated full skin care routine for my acne-prone dehydrated skin to see a picture of my skin as it is now. Safe to say it's never been this good in my life.
The peeling solution strong (which is what my skin needs) and yet it's still so affordable. It's fun and quick to use, and best of all, you can scare your friends by wearing it. That's pretty much all my boxes ticked.
Final thoughts
Of course, this product isn't magical. It won't totally transform your skin overnight. After all, it's just a topical product and it can't make the same amount of drastic improvement as something invasive like a deep fraxel laser can. There's also always the risk of overdoing it with strong acids like these if you're inexperienced. But as a regular part of a well-rounded routine with plenty of moisturising, antioxidant and protective elements, it is an awesome way to step up your skin care from so-so to WOW.
You can get a bottle for yourself here – at this price, what have you got to lose?