I'm a simple lady, In my ideal world, there would be only two truths:
1. I'd be out in nature.
2. My skin would be glowing.
Those are really the only two things I want in life. That makes taking care of my skin while out in nature a big priority. Here's a venn diagram which hopefully reiterates my point: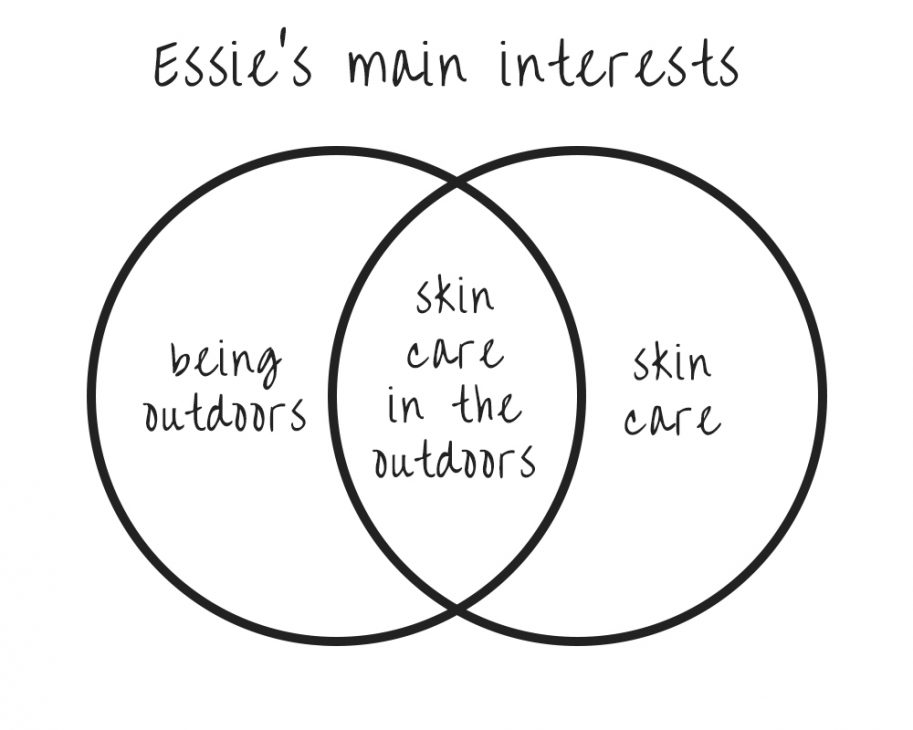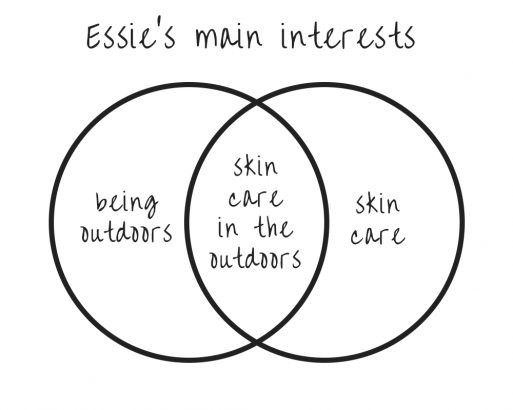 I love to hike and road trip my way to undiscovered beautiful locations in my gorgeous home country of Australia. I feel so lucky to be able to spend my time taking in nature's beauty, feeling the sand between my feet on a remote beach, or challenging my strength on a tough rock climbing route.
And the only way to really sink your teeth into these kind of experiences is to camp out where they're found. That way, there's no limits to what you can explore.
Unfortunately, my other life goal – to have great skin – is kind of at odds with this lifestyle. While you're exploring the wilderness, things can get sweaty, smelly, dirty and frankly pretty unglamorous. The big issues are a lack of running water, and being limited in what you can reasonably pack. That all adds up to some unkempt skin, that possibly sets you back in your progress towards your skin goals.
You don't need to look your most beautiful while you're camping, but you do need to be comfortable, confident and protected from the sun and insects.
So over the years, I've perfected my camping skin care routine to find a happy middle ground of being lightweight and simple, but also up to my high skin care routine standards.
Without further ado, these are the skin care products to bring camping and how to take care of your skin while camping in the great outdoors, all without access to a sink.
Baby Wipes
Hygiene first.
If you're camping then it's very likely you won't have a sink nearby. Without a sink, washing your hands is pretty tedious and unappealing (think: friend pouring freezing water bottle over your hands while you frantically scrub with a dirty bar of soap). Especially if you're already cosy in your tent.
But of course you shouldn't go touching your skin with grubby hands from being outside all day. (It's one of the most important skin hygiene rules)
To tackle this, I rely on my favourite baby wipes by Naty that are fragrance and alcohol free, contain very few ingredients and are compostable. Because of this I can use them without worrying about possible reactions, and I know that if they somehow escape my rubbish bag they'll do less damage to the environment!
I use these to start my routine by wiping down my face at night, then clean my hands and especially under my fingernails. (I've also been known to use them as a poor man's shower under my armpits too shhh).
Micellar Water
No access to a sink and no running water makes using a traditional cleanser pretty much impossible. But thankfully, I have my trusty Garnier Micellar Water. You just need to pour onto a cotton pad and wipe away the day's sweat, oil and dirt! There's no rinsing and it's so satisfying seeing what comes off your face too. Remember, you should always be traceless when camping (i.e. leaving no garbage behind), so always pack up your used cotton pads and take them home.
Cleansing cloths
But if you don't like the idea of carting too many used cotton pads around with you, you can instead get a microfibre cleansing cloth. These soft cloths are dampened just from a water bottle and used to wipe down your skin to remove dirt like any other cleanser. I especially love these if I have a lot of makeup on and want to get rid of it without using lots of cotton pads and micellar water. They're not only really affordable, but machine washable and reusable too meaning there's no waste.
Decanter Bottles
Traveling light is key to keep your car or backpack roomy.
I'm very picky about my skin – I use the same products day in and day out. I don't let camping get in the way of the rock solid routine I've developed. Unlike others, I don't like to use many new or different products than usual when I'm travelling. So, to avoid carrying huge bottles of skin care with me when I'm trying to pack light, I decant everything! You can purchase travel bottles and jars to pour small amounts of your various moisturisers and serums into. This way you'll stay on track with your usual routine and your skin hopefully won't freak out! (Side note: these are perfect for long flights too as they'll be able to get through security and come on the plane with you.)
Multipurpose salve
Good for fixing just about everything, from chapped lips to bug bites, an all-purpose ointment is a lifesaver when you're roughing it. My personal favourite has always been cult-classic Lucas Paw Paw Ointment.
Sun Safe

Tent
Unfortunately, camping outdoors means more exposure to harmful UV rays. If you're like me and afraid of sunburns, ageing and skin cancer, you might want to get yourself something like the tent I have.
It's made with a high UPF material (that's like SPF for fabric). It's great for when you sleep in in the morning or take midday naps. But while you're outdoors in the sun all day, you need to be always wearing a heavy-duty SPF to stay protected.
Sunscreen
I love my sweat and waterproof Sunplay Superblock SPF 50+ PA++++ for my face. As a bonus, it gives my skin an awesome looking glow. If you're after something more mattifying though, Neutrogena Clear Face SPF 55 is great. I've also recently started using Neutrogena Beach Defense Lotion SPF 70 on my body (as opposed to the handy aerosol version) because it's kinder to the environment and feels slightly less greasy.
Easy Makeup Products
Sometimes, your skin won't cooperate and you've just gotta create that freshly-washed, glowy look yourself. That's where makeup comes in. While I'm camping, I like to focus on the fun activities I'm doing, so looking natural and feeling comfortable is what I aim for. But there are a few products I like to use when I want to amp up the glow and look my best. They're easy to apply quickly and without a mirror!
Base
You can't go wrong with a good tinted moisturiser or BB cream. It's lightweight and hydrating, but has a bit of coverage to even out the skin tone. My favourite is La Roche-Posay's Uvidea XL BB (Aus/Europe only) which also boasts an impressive SPF with a high UVA protection (if you wear enough of it). At a more affordable price point is the Maybelline Dream Fresh BB, which offers great longevity and a more matte finish.
Illuminator
If coverage isn't your thing, The Body Shop's Instaglow is a light-reflecting, translucent cream that makes your skin look glossy and luminous with a hint of colour! It can be used just on the high points of the face or all over for a super hydrated look.
Bronzer
If you're after some colour, an illuminating bronzer can be a great way to fake a tan from the sun, while you're still diligently wearing sunscreen. e.l.f. Sunkissed Glow Bronzer in Warm Tan is a beautiful powder compact that's easy to take on trips and is super affordable.
(Psst: Also check out the full glowy guide)
So those are my favourite things to bring camping to stay clean and look glowing! In reality, when I'm camping I just try to enjoy myself, look at the scenery, and spend quality time unplugged from the internet and with my boyfriend. But skin care is supposed to be fun and I just love to do it! What travel-friendly products do you love?