There's nothing I love more than buying and trying a cult-favourite skin product. It feels like joining some sort of elite club of people who know the secret. Who are in. Especially when the bougie-status product fits an affordable budget. And this skin cream in question today – Weleda Skin Food – definitely hits that sweet spot, as a raved about must-have that's somehow still pretty easy on the wallet.
Introducing: Skin Food
Weleda is a german company centering their marketing and formulation around plant-based naturals – like their company tagline, "plant-rich body care". The creation of their all-purpose moisturiser Skin Food sparked a frenzy, and led the company to develop a whole line of products based on this formula. But today, we're just looking at the OG – Skin Food Original Ultra Rich Cream for Face or Body.
Skin Food (as I'll call it) is a staple of those cool-girl french pharmacy skin care routines. Even the name – skin food – harkens to something beyond regular moisturisation. It's visceral. Instinctual. It says that this cream will satiate some sort of desire your skin has for ~nutrition~. With a name so recognisable and unique, in my mind that's partly to thank for the global success of the product. Say what you will about marketing vs. a product's performance speaking for itself, but a great name can't hurt.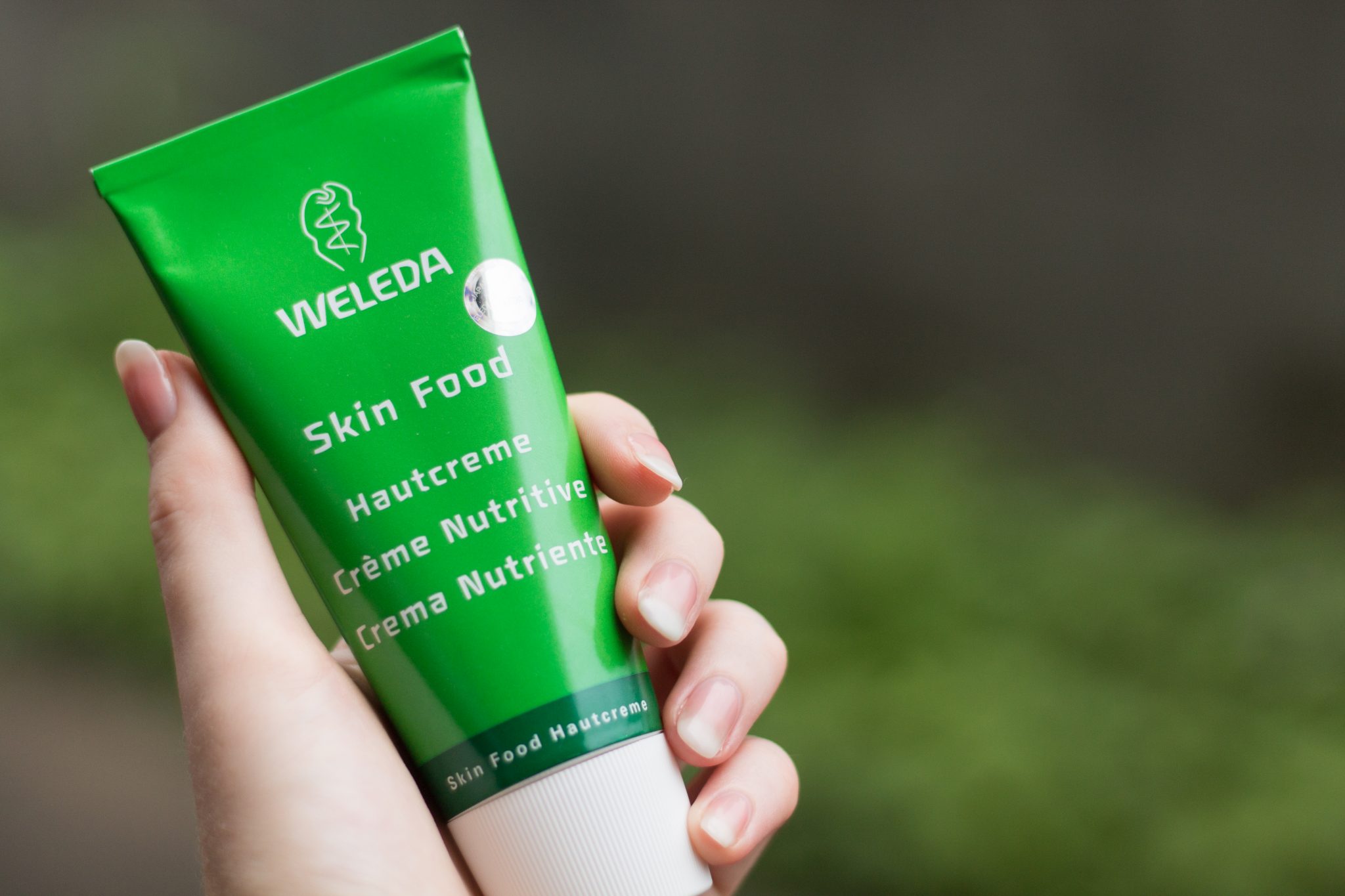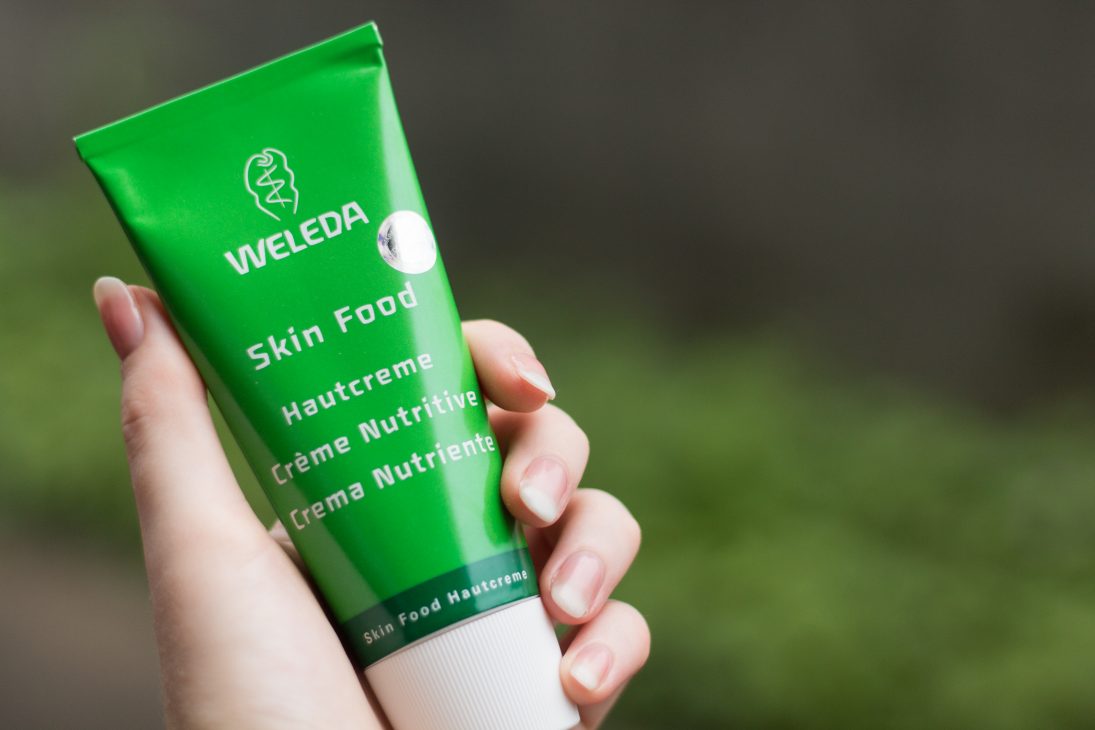 What Weleda Claims Skin Food Can Do
Weleda describes Skin Food on their website as follows:
"The ultimate moisturizer for dry, rough skin. Skin Food is a universal savior of dry, rough skin on faces, elbows, hands and feet. With extracts of gentle viola tricolor, calendula and chamomile, in a rich, thick base of oils and beeswax, Skin Food hydrates skin to give you a healthy-looking glow."
Pretty simple and straight to the point. No claims about anti-ageing or other benefits. Just a straightforward moisturiser.
Skin Food's Distinctive Packaging
And of course, a product like this comes in equally distinctive packaging.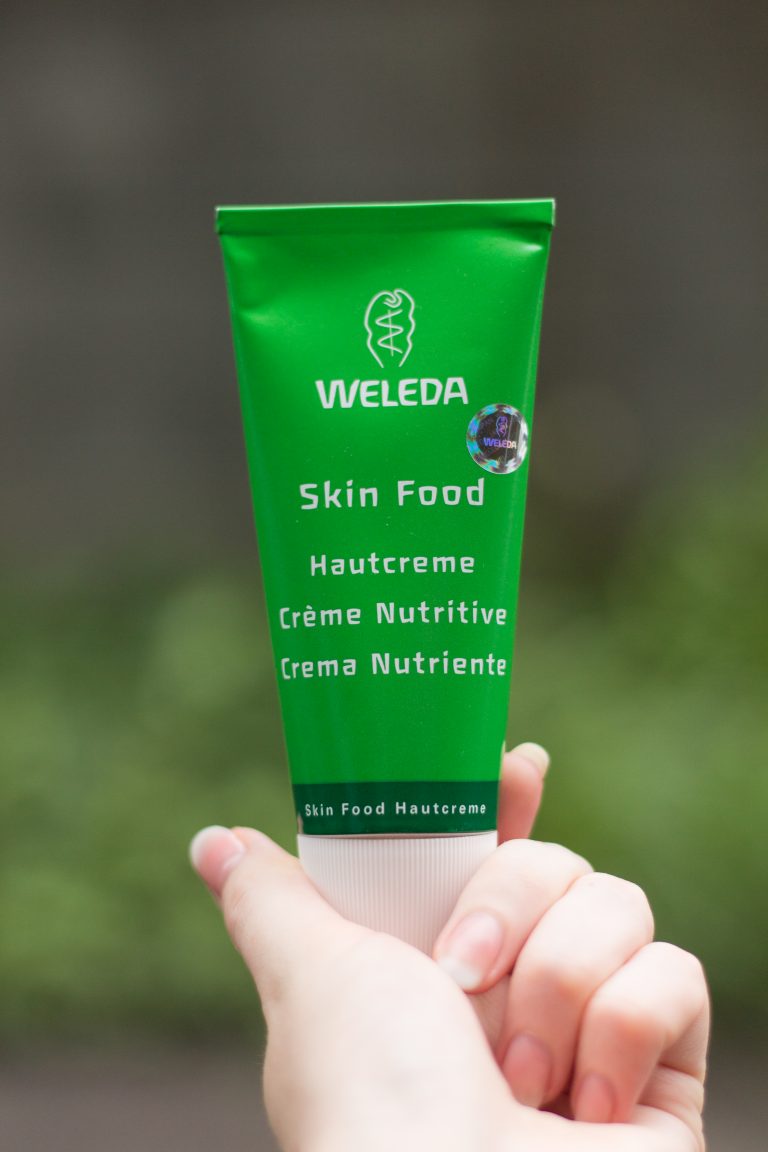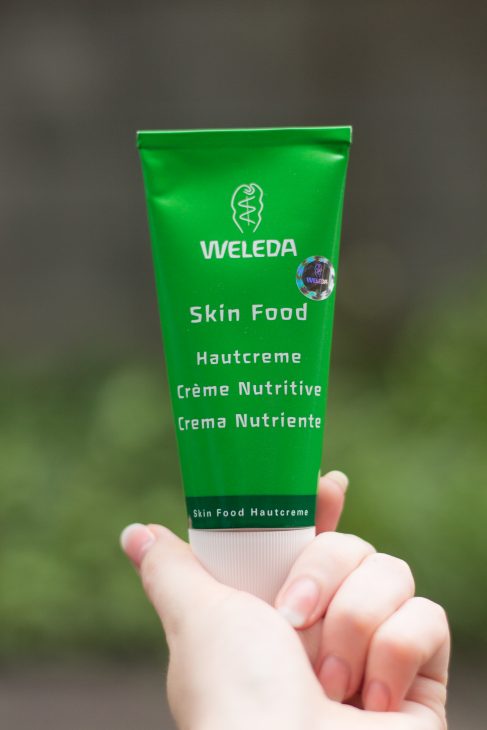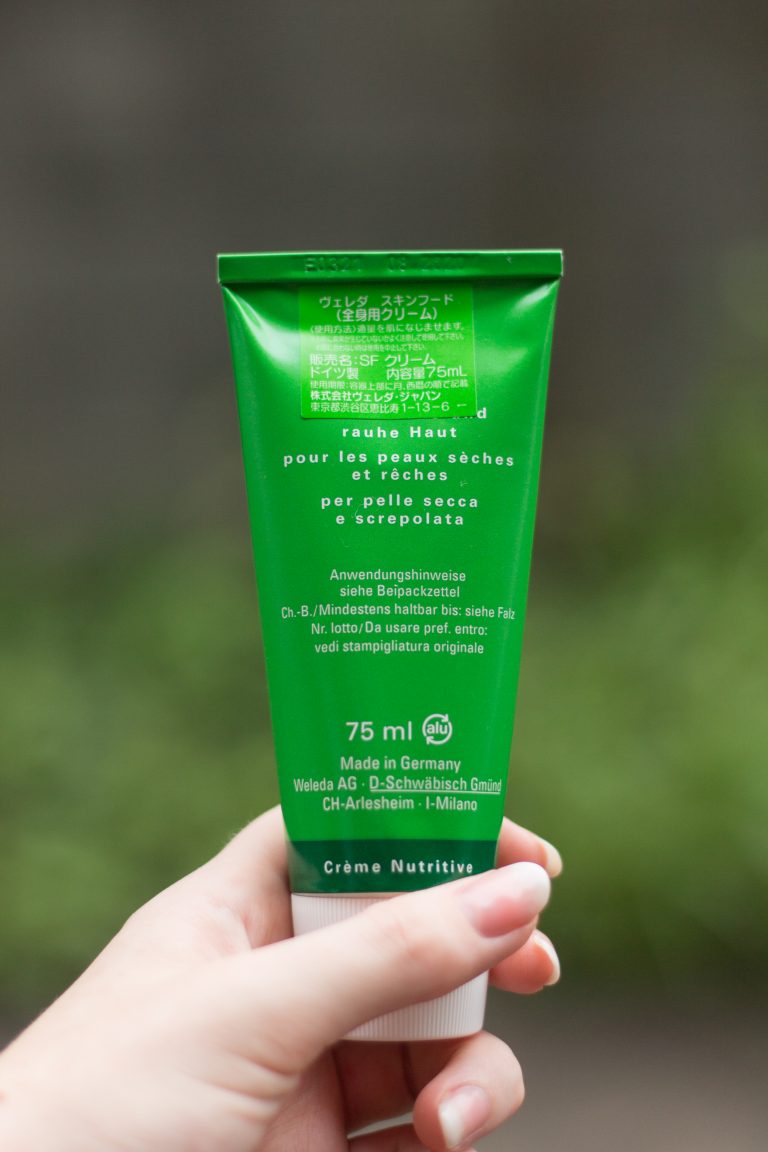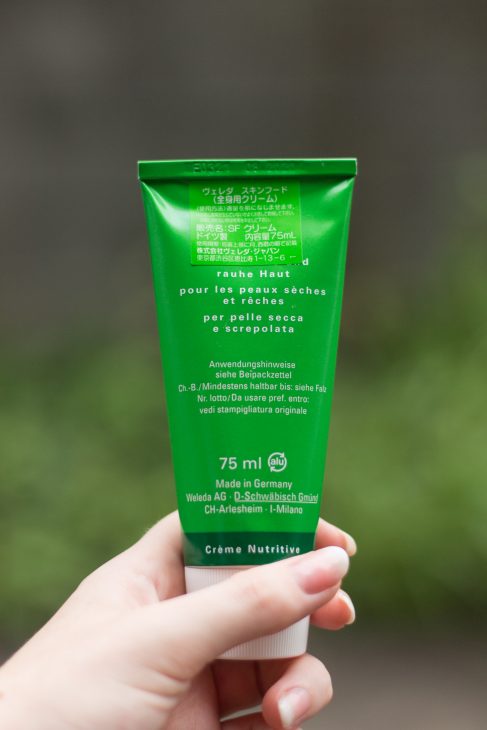 There are some things I LOVE about this packaging. These aluminium tubes are really great. Every time you press it leaves a little dent to mark the use. There's something so satisfying about seeing them slowly crinkle and deflate as they're used. And you don't get any of that annoying situation where the tube is 90% air and you're struggling to get the last of the product out.
Depending on your locale, however, the product may instead be sold in a flip-cap plastic tube. So depending on what you'd prefer, you can find both versions.
On a more superficial note, the colour of the tube is not great in my opinion – a primary-paint coloured green. And I don't like the bulky screw-off cap, as it's difficult to remove and unnecessarily, comically large in the hand. The whole packaging, in fact, is large, making it a great purchase for the price – though not a great product for taking travelling.
Scent – What does Skin Food smell like?
The minute you do unscrew that aforementioned big cap from this product, you're transported to orange fields in Spain. Hit with a – what feels like literal – wall of scent, you're suddenly surrounded by a swirling mix of something that feels like a blend of fresh verbena citrus, warm vanilla and geranium. It's honestly breathtaking – and a lot. If you're not a fan of fragrance then definitely consider yourself warned. Maybe I'm used to my fragrance-free products and so am being oversensitive, but I've previously read reviews where people describe the scent of this cream as only 'lightly herbal' – which, in my opinion, could not be understating it more. And unfortunately, that beautiful smell comes at the cost of the product containing essential oils. Yikes (if you know, you know). That unfortunately makes this product unsuitable for daytime wear, in my and many professionals' opinions.
Full of Oils and Waxy Ingredients
Water, Sunflower Seed Oil, Wool Wax, Sweet Almond Oil, Beeswax, Alcohol, Polyglyceryl-3, Polyricinoleate, Glycerin, Limonene 1, Viola Tricolor Extract, Hydrolyzed Beeswax, Sorbitan Olivate, Rosemary Leaf Extract, Chamomile Flower Extract, Calendula Flower Extract, Arginine, Zinc Sulfate, Fragrance 1, Linalool 1, Geraniol 1, Citral 1, Coumarin 1
Basically waxes, carrier oils, and essential oils. No hydrators here, just emollients and occlusives. That means this will work best as a final step in your humectant-filled routine (read here to learn more about the types of moisturisation).
The zinc is a nice, soothing touch.
Think Balm/Salve Texture
It's easy to see from looking at the ingredients that this will be a thick, waxy product. And that it is. A dense, cold and stiff cream, Skin Food is almost difficult to get out of the tube. Once it's out, the slightly off-yellow, opaque, shiny cream you are greeted with has that distinct texture of a salve or balm, which sometimes separates a little (with all those carrier oils it's no surprise).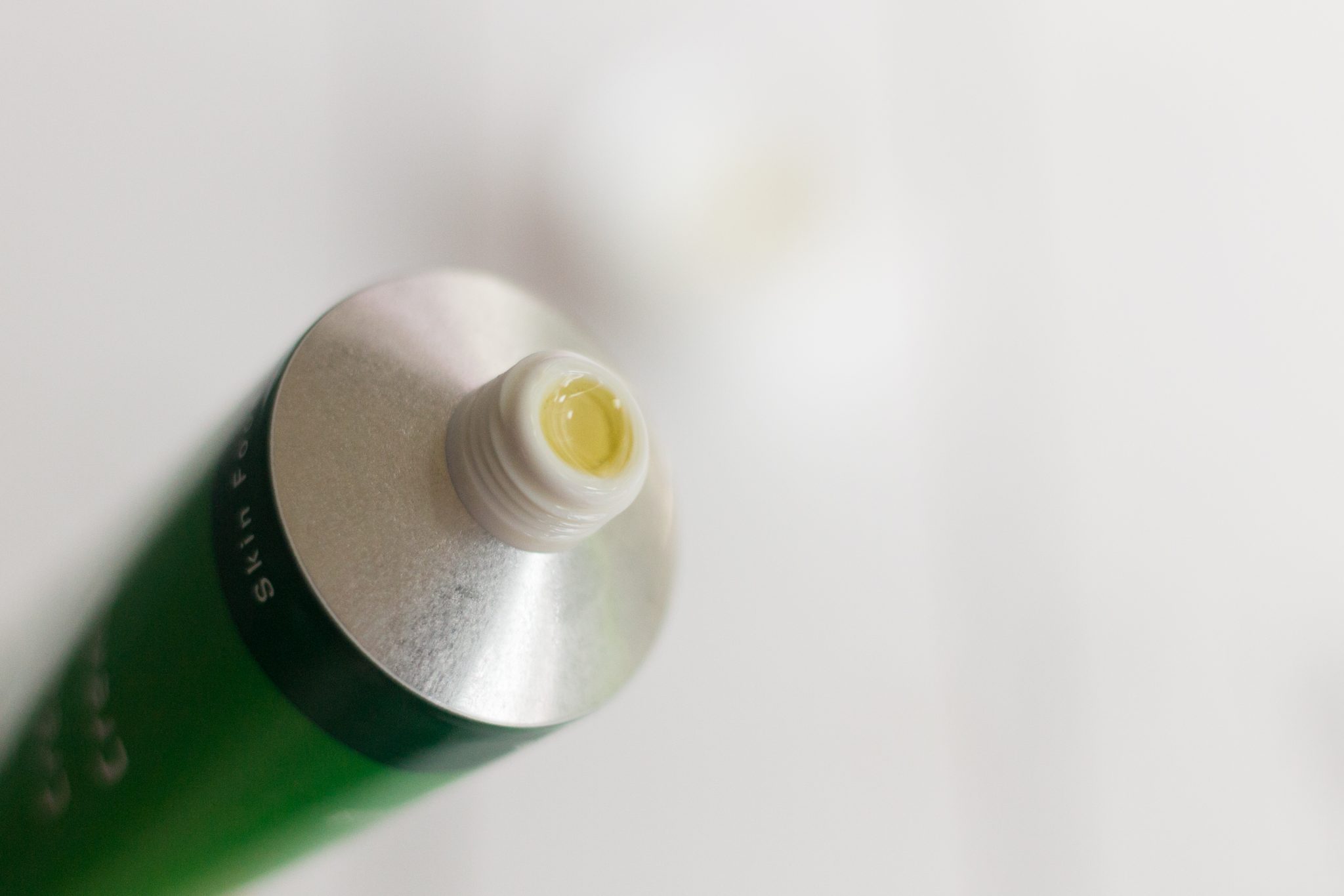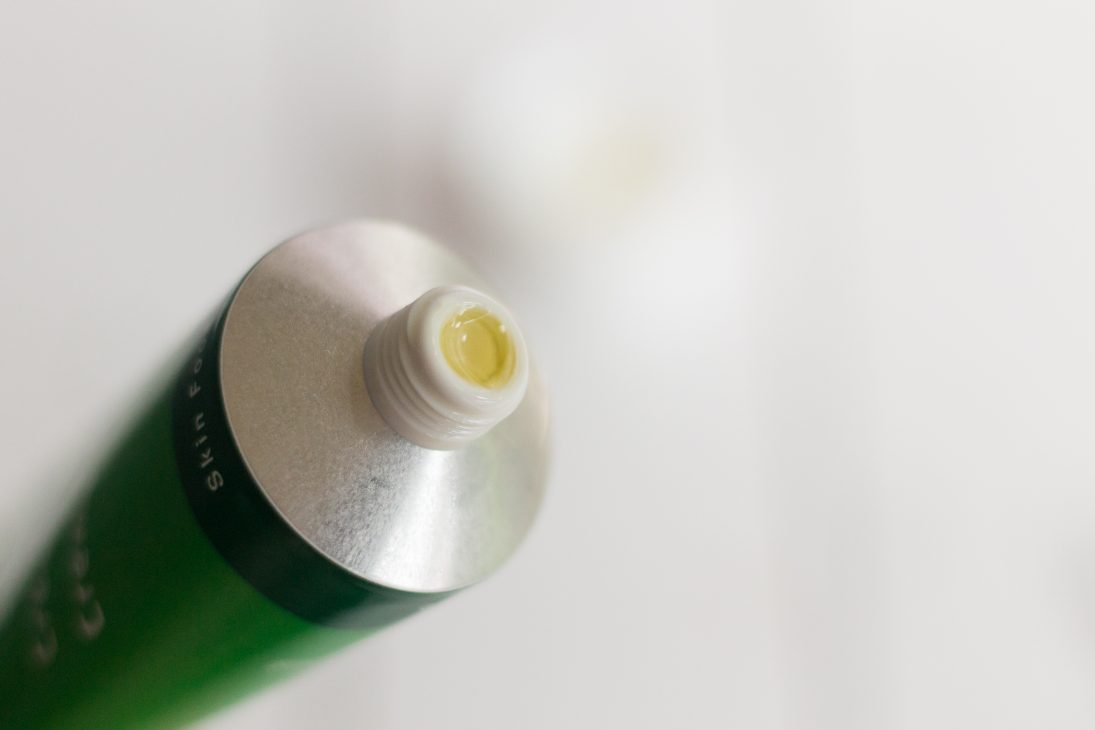 It's THICK. And it's not just a quick swipe-on deal either: it definitely needs to be warmed up a little in your hands before it starts feeling creamy and spreadable.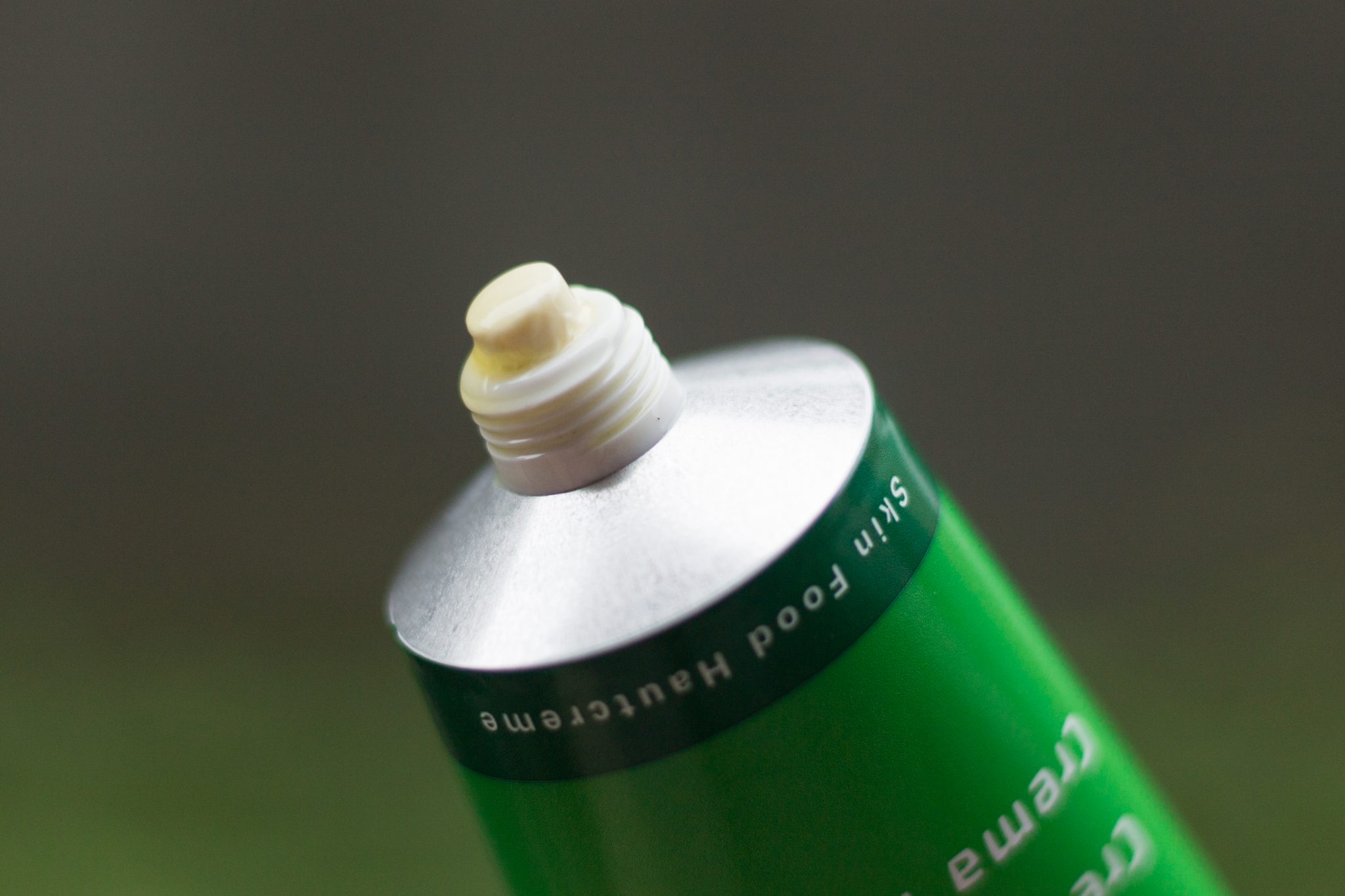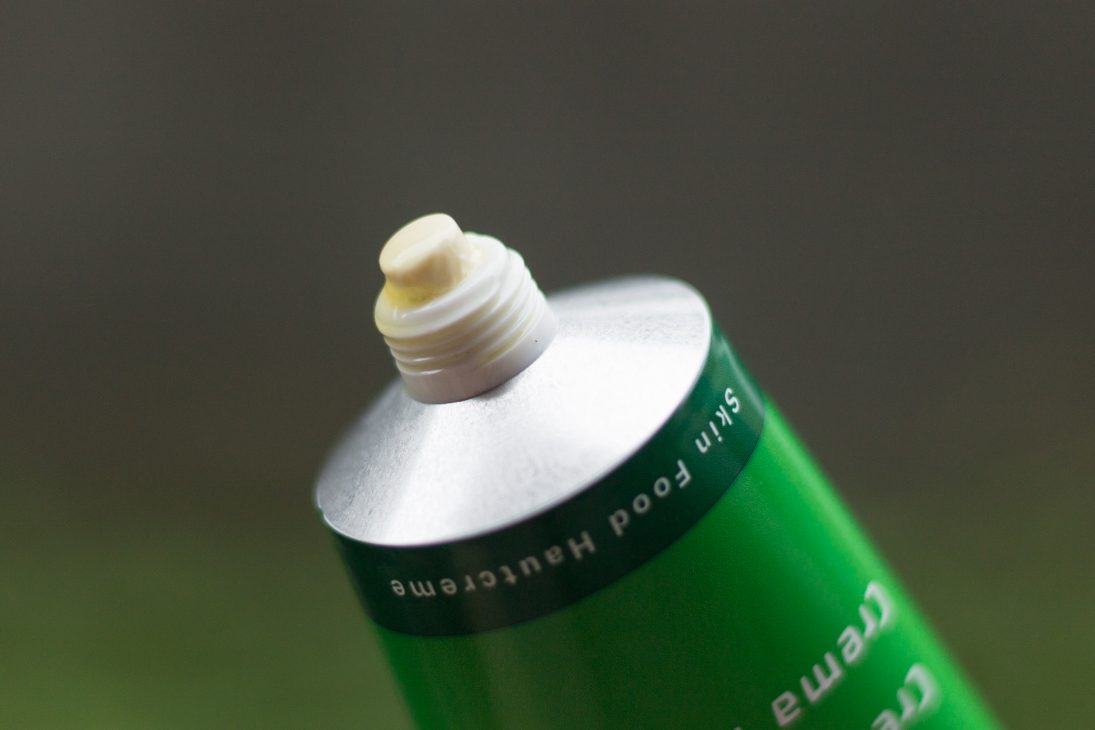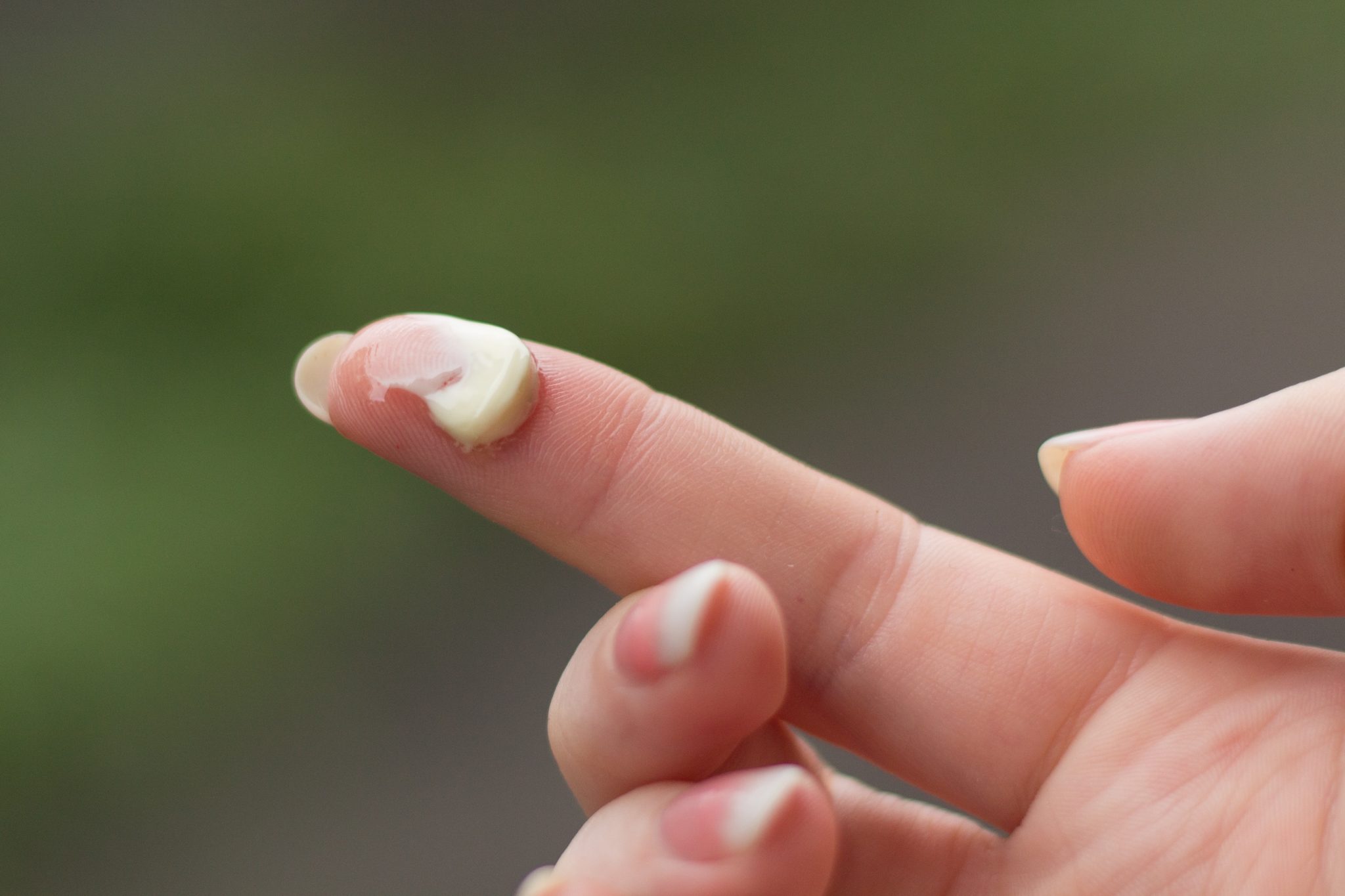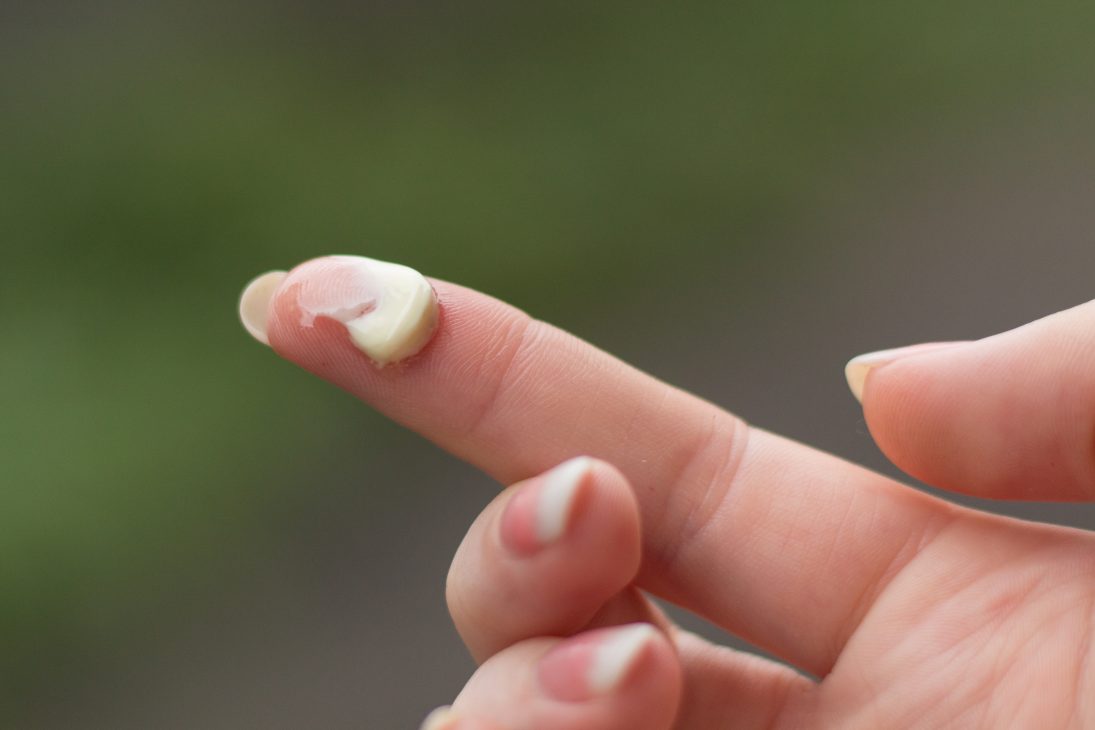 On the skin, it's not hydrating and plumping like I expected- it's oily, rich and a little bit hard to spread around. It's almost so rich it doesn't sink in. Rather, it has all these heavy waxes and oils to repel external water and trap internal water in the skin, making it a great choice as an emollient and occlusive. This definitely means it's best suited for going on very last, after all your other wonderfully hydrating products.
Reasonable price point
It depends on where you live, but this product sits at a pretty average price point. Not drugstore super-cheap, but nothing expensive either – around the $12 mark. You can check out the current price on Amazon here. For the size, that's pretty reasonable!
Application + testing experience
I feel surprisingly neutral about this product. It is truly like no moisturiser I've ever tried before. So in that way I can see how for some people it's uniquely life changing – but it's just not perfect for me.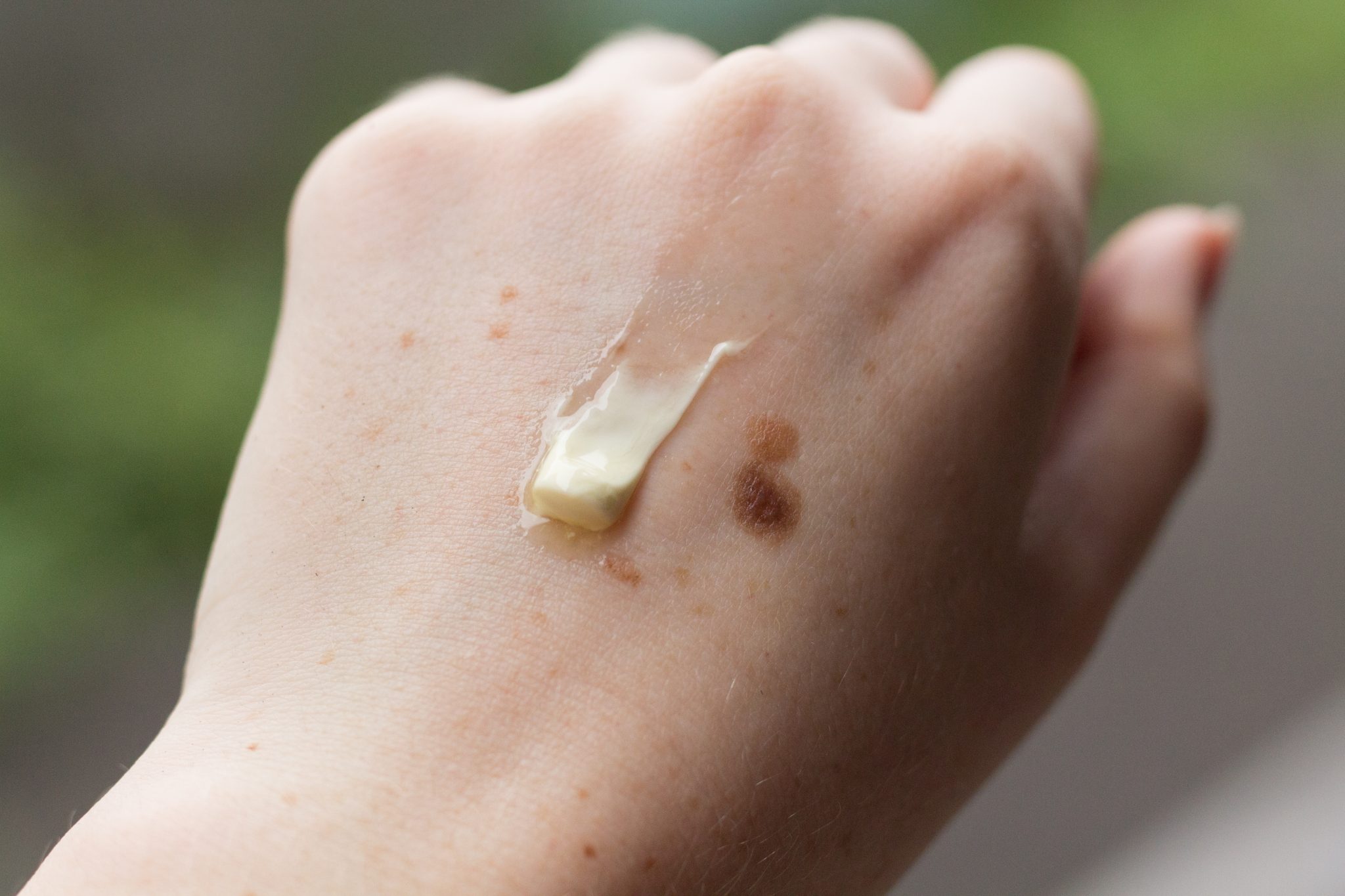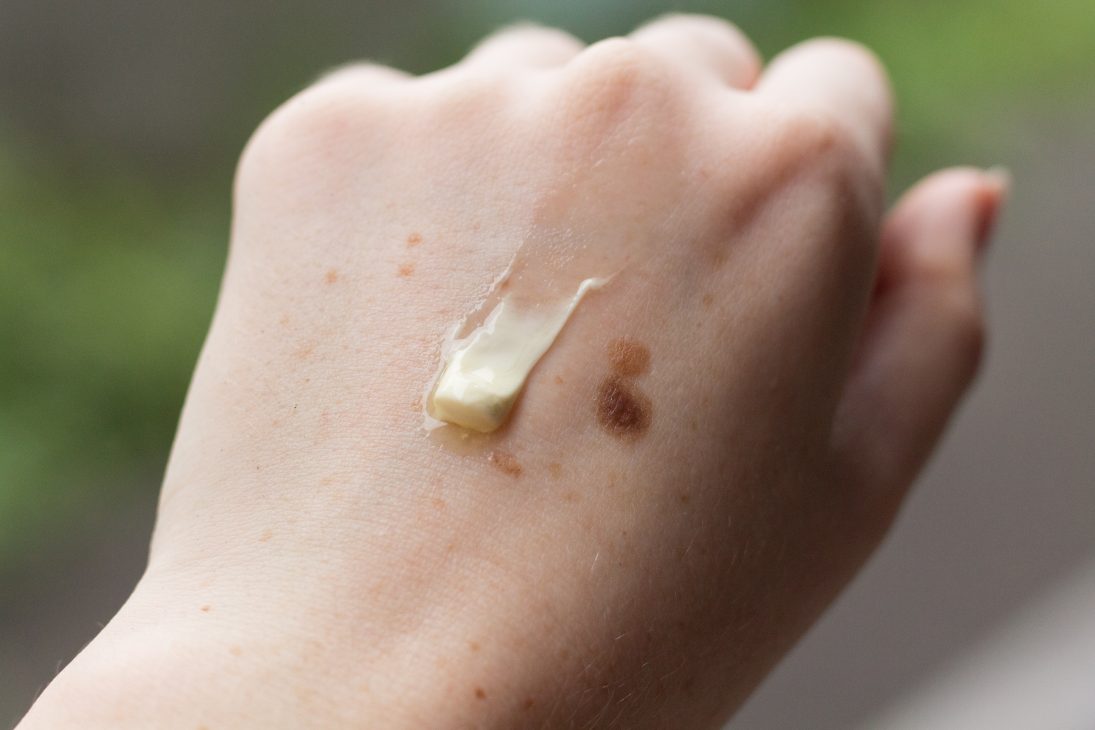 First, it's a little difficult to apply. I do my routine pretty speedily day to day, and – especially in the middle of winter – this stuff just takes ages to get out of the tube and on my face in an even fashion. I also have very oily skin, and it's worth noting that this adds just a touch too much emollience and ends up looking greasy. To be fair, it doesn't *feel* greasy – probably because of how thick it is – which is surprising and welcome, but after application I'm beaming like a light. Really this isn't a huge problem; as I said before I don't wear this during the day and oiliness isn't a huge concern while I'm sleeping. But if you're greasy like me, beware. Dry-skinned folk looking for moisture and that high shine factor anywhere you can get it: you might like it.
The main reason I'm not blown away by the product is the lack of hydration. There's no water or humectant ingredients in here, and it shows. If your skin is already dehydrated like mine, this will go a long way to keeping it protected, but it's not going to add any extra hydration you might need. It's treating the surface but not any deeper. Products claiming to do double-time for both body and face can concern me a little; I feel like it's not possible to cover that spectrum of needs – and Weleda has definitely leaned more towards handling the body side of things in this formulation. I feel that what my body needs is very different from my face. For example, my elbows and heels don't need hydration, they need rich emollients and protectants to keep them from chapping. This product is perfect for that! But my face needs a lighter balance – more things that sink into the skin between the cells, plump up my skin and work deep down.
The density of this product and all those waxes it contains scream "breakouts" to me. But when I tried Skin Food in my routine as my only face moisturiser for a while, I didn't notice any bad reactions long term. No extra pimples, rashes, or reactions of any kind. But there nothing particularly good either. My skin looked pretty average, and definitely not as good as when I'm doing my usual super-hydrating multi-layered routine. It's just not what I need.
Where does Skin Food belong in your routine?
If you have acne-prone, dehydrated skin like me and aren't sure where this would fit in your routine if not as a standalone moisturiser, here's some suggestions for uses of Weleda Skin Food where its unique formulation would really shine.
As a pre-flight, swimming, or outdoor activity occlusive
This formula would block water loss nicely and effectively waterproof the skin. I think that's especially useful for people venturing into low-humidity environments or going out for an activity where they'll be exposed to lots of wind or rain. Think of it like a final seal over all your other skin care. Just be cautious about too much time in the sun with all those essential oils.
As a makeshift perfume
Seriously, I can't stress enough that the smell is strong. It's delicious and fresh, so if you're looking for a mostly natural-scented cream perfume this could be right up your alley.
As a face mask
Like a sort of pseudo sleeping-pack, this could work as a tissue-off face mask. Apply generously, chill out in front of the TV and let it soak in and soften any dry patches.
As a hand/heel/dry patch cream
Probably the best use for this product is just as the body cream it's intended to be. My eczema-ridden hands, flaky elbows and overworked heels love this product. Take the time to warm it up in your palms and massage it in wherever needed. Just don't apply it all over your feet, then immediately stand barefoot on your polished wood floors – you'll slip dramatically. I speak from experience.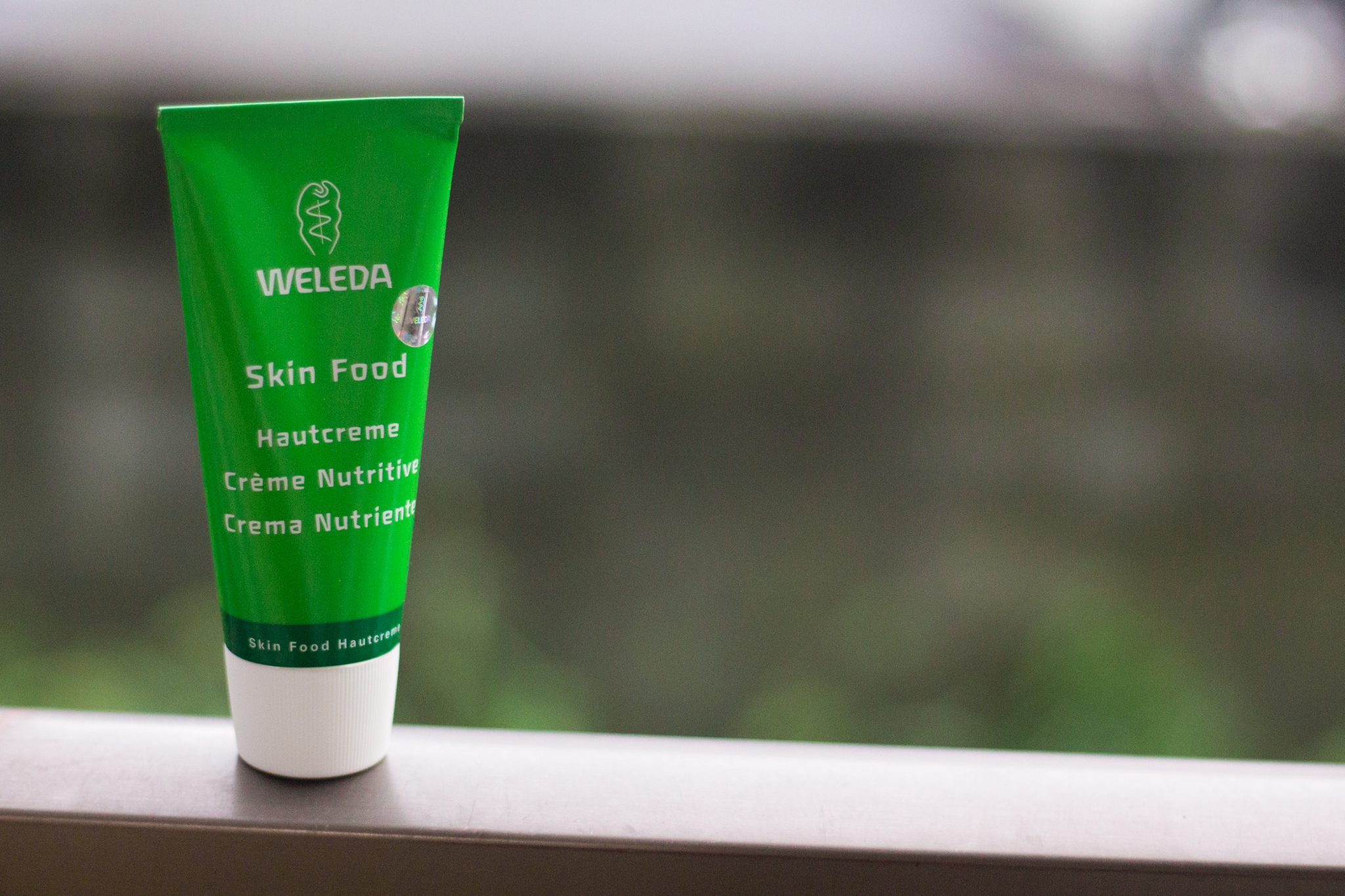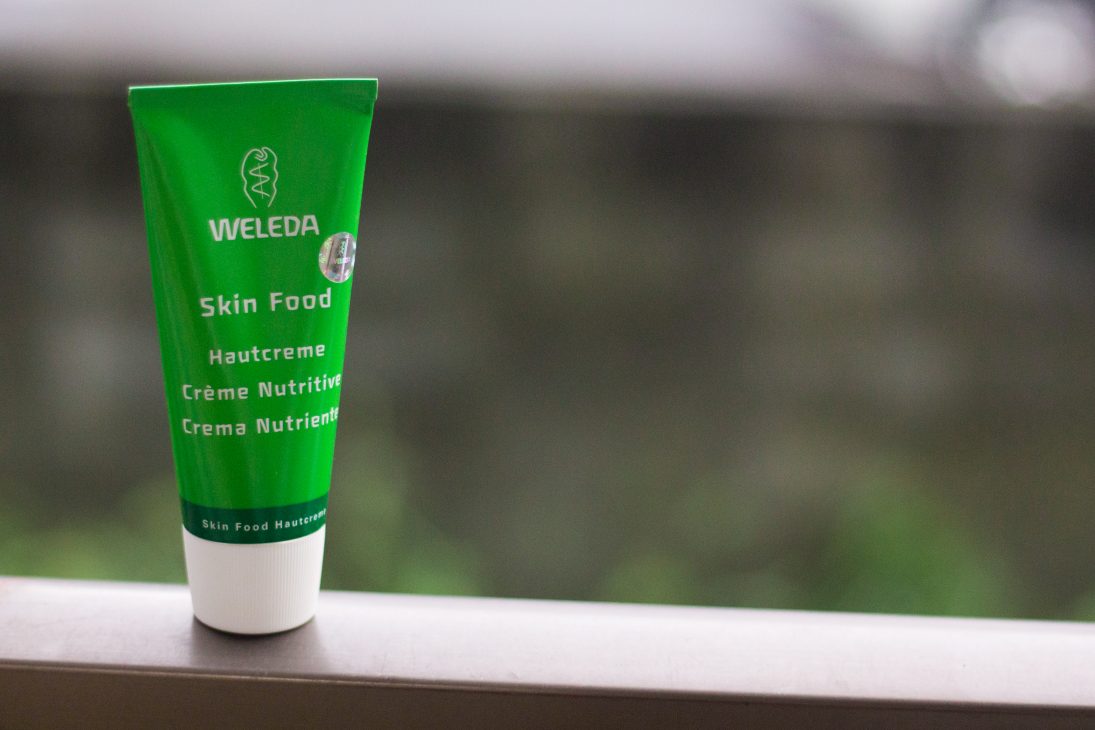 Overally, I was just moderately impressed with this cream. It's unique in how rich and lovely it feels, and I commend Weleda for creating something a little out of the norm. But I don't think it's a magic bullet that's going to fix all your skin woes. It's not truly hydrating enough in my opinion to be the only moisturiser most people use. I couldn't say for sure whether you'd like it – you'll just have to try it out and see! Often there are testers available in department stores, or otherwise they sell a travel size which would be great for trialling the interesting formula.
I'm tempted to try this product's cousin, Skin Food Light – the thinner, creamier version of this product – and see if it can hit the spot for me. But for now, Skin Food the original has been relegated to live in my work bag, where it offers me a much-needed mini aromatherapy session every time I take it out at my desk to pop it on my parched hands.