Recently I've been struggling with my skin more than usual (think bumpy texture, dullness and huge pores) and I decided it was time to re-evaluate my products and incorporate some new things into my routine. Tons of moisturisation is still my key to success, but sometimes you have to bring in the big guns!
After a bit of research online and some gentle encouragement from r/AsianBeauty, I treated myself to 3 CosRX products that I'd been eyeing – AHA 7 Whitehead Power Liquid, BHA Blackhead Power Liquid and Advanced 96 Snail Mucin Essence! I'd never used any products from Korea before so I was really excited to give these a go.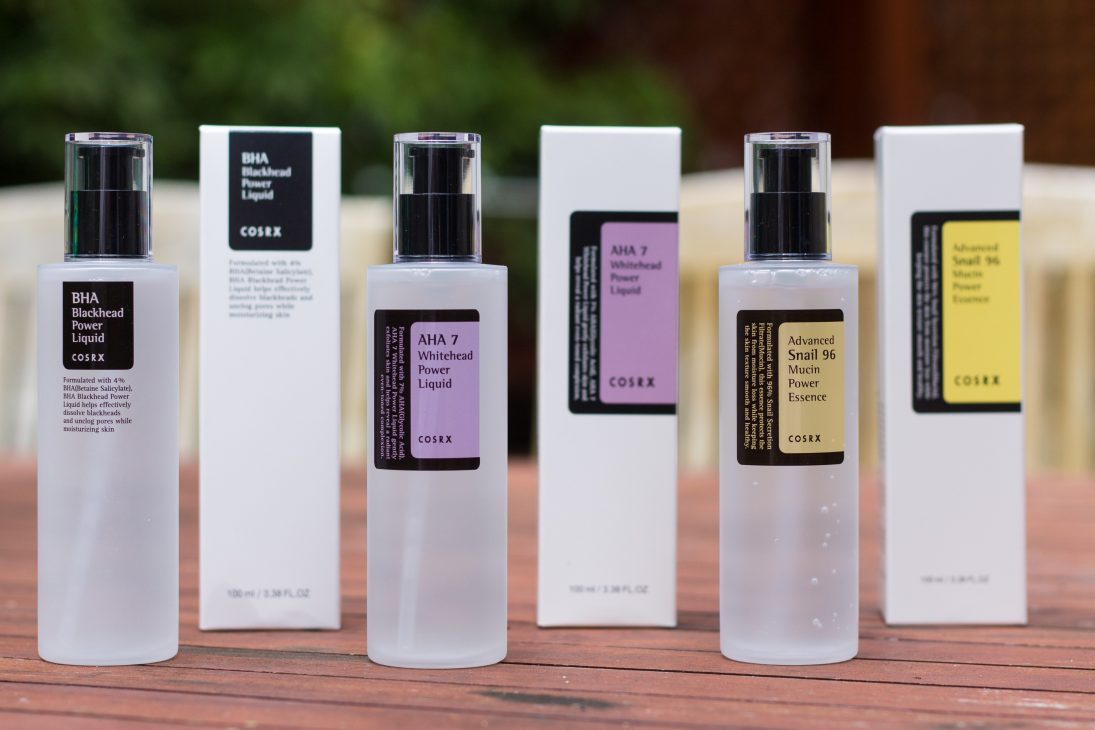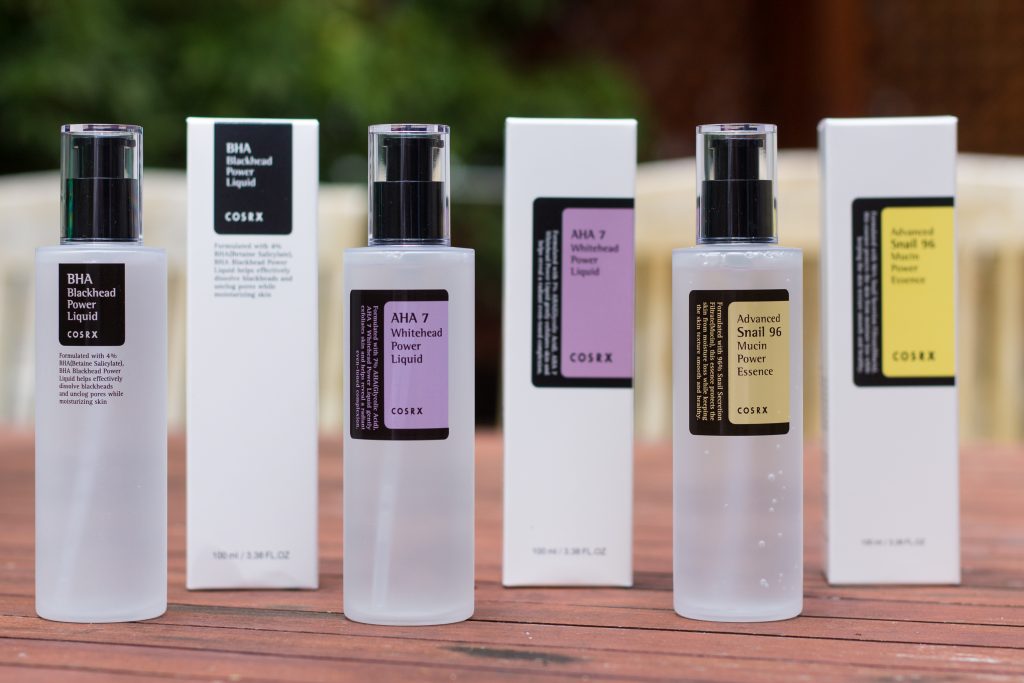 Products in the line come in wonderful, matching minimalist plastic frosted packaging with a pump that holds a lot of product and makes it easy to travel with. Each one is clearly distinguishable with a different brightly coloured label.
Check out my quick thoughts on each:
BHA Blackhead Power Liquid
The CosRX BHA Blackhead Power Liquid was the product I was most excited for and what really drove me to make this order. I hadn't yet found a salicylic acid product that was fatty alcohol free other than Stridex.
I knew that the awesome benefits of the oil-soluble power-exfoliant salicylic acid (aka. BHA or Beta Hydroxy Acid) of reducing sebaceous filaments and closed comedones were two things I really needed. But I do have a history with dehydration and sensitivity so the inclusion of a gentle salicylic acid derivative, betaine salicylicate, seemed like a nice way to dip my toes in the water.
BHA and any other active products should be used on clean, dry skin before moisturiser. The power liquid is a very watery, clear product with a slight smoky smell if you get really close. There's absolutely no stinging on application and it dries down quite quickly, leaving behind a very slight filmy feeling on the skin.
While I've not seen any mind-blowing changes, I've really been enjoying this product, and I think that this has been the extra push I needed to clear up my stubborn closed comedones and provide some anti-inflammatory goodness!
AHA 7 Whitehead Power Liquid
To follow up the BHA and make the most of my newly squeaky-clean pores, I also ordered the CosRX AHA 7 Whitehead Power Liquid.
AHA (Alpha Hydroxy Acid) is essential in my routine for keeping it smooth and flake-free. I already have the Mizon AHA which I reviewed in the past and liked a lot, but being the skin care junkie I am I'm always wanting to try something new!
The CosRX AHA 7 Whitehead Power Liquid is a chemical exfoliant created with glycolic acid, meaning it can dissolve bonds in the upper layers of the skin to loosen old skin cells and keep the top layer nice and fresh. Why does the product have "7" in the name? Because it contains 7% acid, making it only a mild chemical exfoliant.
This product, like the BHA Power Liquid, is also incredibly watery, with barely any smell, and doesn't sting on application. I use this a few minutes after my BHA, as the oil-soluble nature of BHA means it perfectly preps the skin for this product. I leave this AHA on my skin for about 10 minutes before continuing with the rest of my routine. Unlike the BHA I don't find that this leaves any feeling behind on my skin at all.
My skin feels super smooth after using it for some time and overall seems a lot brighter and glowier! It's such a nice gentle exfoliant and a great introductory product for beginners.
Advanced 96 Snail Mucin Essence
Of course, with all this chemical exfoliation, I was fully aware of the need not to go down the path to dehydration again. So I decided to also order the Advanced 96 Snail Mucin Essence.
That's right, snail essence.
This product is made of 96% snail filtrate! What's that you ask? Well, the snails in question are kept in a container that allows them to travel across the bottom and leave behind their trail of super nutrient-rich natural moisturising slime. That's right, CosRX cares for snails and collects the goo that they leave behind and bottles it up for us brave/crazy enough to put it on our skin. Once collected and filtered, it makes an awesome powerhouse moisturising ingredient. If you think about it, these little soft snails have to be on their feet (foot?) all day on the hard ground. So, whatever they use to hydrate is good enough for us too!
Of course, because of the nature of snails, the CosRX Advanced 86 Snail Mucin Essence has a super goopy serum texture. It's not at all slicky, but rather very lubricating and slimy.
Snail mucin is supposed to be incredibly soothing and speed the healing process, and so far I can attest to that! I've been able to use the AHA and BHA together daily and I've had no redness or flaking, which I think is thanks to this essence.
This product goes on after actives like AHA and BHA, but before any heavy moisturisers, oils or occlusive incredients.
Overall thoughts
First of all, I love CosRX's cruelty free philosophy and cute branding. The packaging for these products specifically is really sleek, being a heavyweight frosted plastic that almost feels like glass but won't smash if you drop it. The pumps are hygienic and convenient and the clear bottle means it's easy to tell how much product you've got left.
The minimalist ingredients lists are so awesome for people like me with sensitivities to lots of ingredients. There's nothing in any of these products that is a waste of space or cheap filler – they're simple and straight to the point!
I'm really happy with my experience with these products. Overall my skin has actually been pretty great these past few weeks and I think that these products from CosRX are the reason! It might be TMI, but I was actually surprised by my period this week because I didn't get my usual breakouts to warn me!
I can't wait to try out some more things from CosRX, and I'd recommend checking out the brand if you're interested in dabbling in some Korean skin care too.